DTC Briefing: Brands ramp up new product launches as Black Friday approaches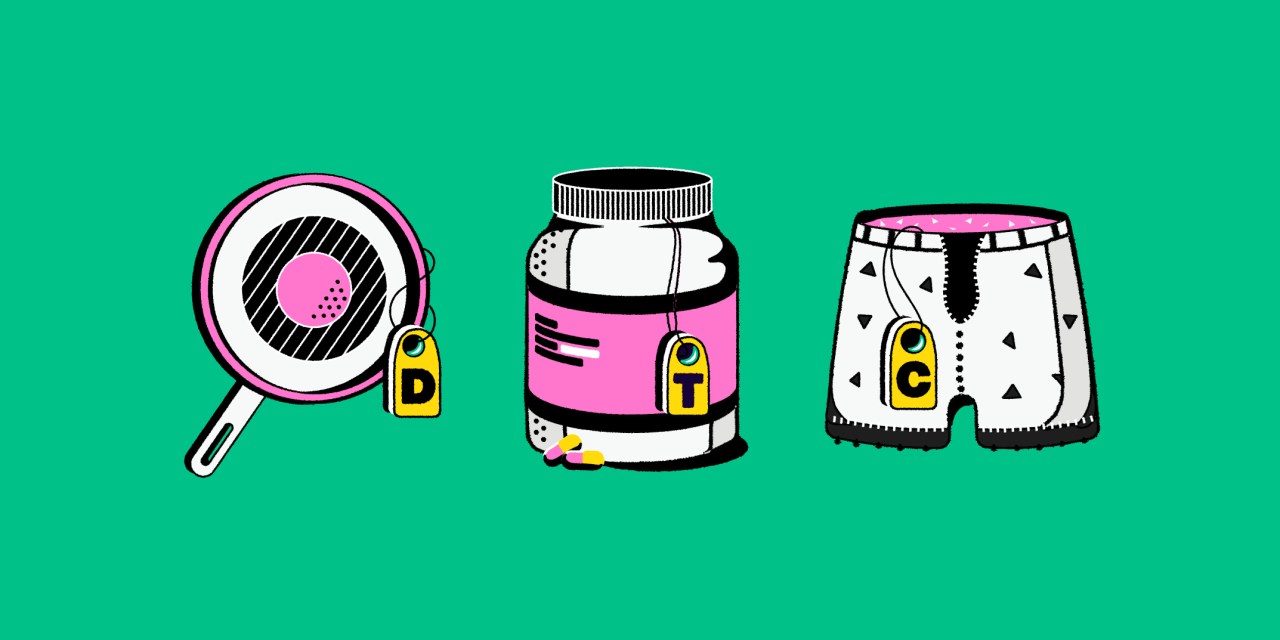 Illustration by Ivy Liu
This is the latest installment of the DTC Briefing, a weekly Modern Retail+ column about the biggest challenges and trends facing the volatile direct-to-consumer startup world. More from the series →
The clock is ticking for brands that want to release new products and ensure they are top of mind for customers as Black Friday approaches.
Despite efforts from the likes of Amazon, most people still won't start their holiday shopping until around November. But now is the time that many brands are unveiling new products, and releasing subsequent marketing campaigns. That's because they need time to educate shoppers on their new product offerings, and entice people to add these items to their holiday shopping lists.
This year's new product launches say a lot about the current state of direct-to-consumer startups. Inflation is still a pressing concern, so many startups are choosing what new products to launch this holiday season with utility and value in mind. More brands are launching cheaper accessories, bundles and holiday-themed kits to appeal to customers who might not be ready to invest in a company's most expensive best-sellers. If a brand is investing in a significant new line or collections ahead of the holiday season, it is one that has a clear through line to its products that are already best sellers.
In short, more brands are taking a more conservative approach to product launches this holiday season. That doesn't necessarily mean that brands are launching fewer products — it depends upon what category they are in, and how much of their sales come from the holidays. For example, Jordan Nathan, founder of cookware brand Caraway, previously told Modern Retail that it was launching more new products this holiday season, to entice shoppers who might not have the money to buy its full cookware set this year.
Others are trying to be more strategic with holiday products launches. Clean beauty brand Three Ships Beauty, for example, has altered its holiday playbook in a few ways this year. The company does most of its sales volume during the fourth quarter. "It really comes down to skincare being such a giftable item," Hemani Kamdar, the brand's director of marketing, said.
On Friday, Three Ships Beauty is releasing a new product — its last before the all-important Black Friday sales period. In Kamdar's eyes, this is around the latest when a brand should launch a new product if they want people to consider it during the Black Friday sales period.
"You want to give your campaign space to breathe, and have people really sink their teeth into the messaging and really understand the product benefits, why that product would matter to them [in time for Black Friday]," Kamdar said. 
This year, Three Ships Beauty is launching slightly fewer new products this holiday season compared to last. In 2022, Three Ships Beauty launched two new products in October and November, compared to one this year. That, according to Kamdar, was intentional, in order to implement a "fewer, better" strategy this holiday season, and to opt for a simpler holiday campaign, to hopefully make it easier to convince people to buy. 
"When it comes to Q4, more often than not, you are converting people who have already heard of your brand or who are already in the consideration stage. It is really about making it kind of the easy choice for the consumer and not having too much going on," Kamdar said. 
One other big change that Three Ships Beauty did make this year is release its holiday kits in October, instead of November. These aren't new products, but rather bundles or miniature versions of some of Three Ships Beauty's bestsellers, complete with special holiday packaging. What's more, if people buy the holiday kit, they can save up to 50% compared to if they bought all of those products individually.
Currently, the holiday kit is the top-selling SKU on Three Ships Beauty's website. This speaks to a few things, in Kamdar's mind. One, that many people are willing to start their holiday shopping earlier and earlier each year. And second, that value is a big driver for people this holiday season. 
On the other side of the equation is M.M. LaFleur, a women's workwear apparel brand. The holiday season has never accounted for a huge portion of the brand's sales, according to M.M. LaFleur's director of brand and integrated marketing, Maria Costa. But, for the past few years, M.M. LaFleur tried in vain to drum up more sales during this season by releasing more stereotypical "holiday" products — think cold weather accessories like scarves and beanies or glittery tops that were positioned as ideal for New Year's parties.
But this year, Costa said M.M. LaFleur is taking a different approach. It is doing more conservative buys for some of the new items it is releasing this holiday season, buying around 50% fewer units. The brand is much more focused on releasing items that pair well with existing M.M. LaFleur items and communicating that in marketing messaging, as well as in promotional photos. "This is the first year where we have cut basically cut cold weather accessories and traditional gifting entirely…we have stuff to sell through, but there was no new development in things like beanies and scarves."
All of this speaks to the fact that M.M.LaFleur believes its core customer "is looking for styles that she can wear during the holiday season, but really carry into her wardrobe the rest of the year," Costa said. Marketing messaging that highlights the "cost per wear" of an item continues to perform well, Costa said, suggesting that M.M.LaFleur's core customers are still being impacted by inflation.
Meanwhile, menswear brand Mack Weldon is launching roughly the same amount of new products this holiday season as it did last holidays, according to founder Brian Berger.
Mack Weldon's biggest new product launch of the year came in September, according to Berger, when the brand launched denim — seemingly a big departure for a brand that's known for comfy basics like sweatpants and hoodies. But it is something that the brand has been working on for a few years, after sales of the brand's sweatpants exploded during Covid, and continued to remain strong in the coming years.
"The brand is all about wardrobe essentials, and denim is an essential part of any guy's wardrobe," Berger said.
Mack Weldon just had to figure out how to come up with a unique offering in denim, which Berger believes it has done with its line of jeans that blends cotton with a antimicrobial silver material.
Mack Weldon is taking a similar approach to the DTC brands that are choosing to expand into new categories this holiday season. That is, brands are launching new product lines that are closely connected to items that are already best sellers. Handbag brand Dagne Dover, for example, launched a new travel collection — similar to many of the handbags and backpacks it already sells, but with items that are specifically designed to easily fit onto airplanes.
But while Berger expects Mack Weldon's new denim line to be a big driver of sales long term, he doesn't expect it to be one of the most popular items this holiday season. "We see it as more of a marathon than a sprint." Rather, he expects giftable accessories and cold weather items — such as socks and sweaters — to be the best sellers this holiday season, as they have nearly every year.
"Q4 is always a time when we have new product introductions that are seasonal," Berger said, adding that the company will have a new outerwear launch before the end of the year. He added that Mack Weldon also does a lot of underwear sales during Q4, and in turn, the company is promoting a "bundle and save" feature for these products, where people get a bigger discount the more that they buy.
Mack Weldon's strategy speaks to the route that many startups are trying to opt for this holiday season, to various degrees of success. They are still offering discounts on the most popular, giftable items, but trying to tout the benefits and values of new products in their marketing messaging, to hopefully offer not as steep of discounts.
"Q3 for us was better than we anticipated it to be, but it was highly, highly promotional across the market," Berger said. "We are expecting that to continue into Q4 and just hoping consumers continue to show up as they have in the past."
What I'm reading
More celebrity-backed brands are fizzling out. Hello Bello, a baby products startup founded by actors Kristen Bell and Dax Shepherd, has filed for bankruptcy.
Kim Kardashian's Skims is adding men's products like boxers, briefs and t-shirts to its website starting on Thursday.
How On's approach to product innovation has driven its meteoric rise in the running category.
What we've covered
Apparel brand Outerknown is doubling its physical retail footprint, with plans to open four new locations by the end of the year, and is rethinking store designs along the way.
How Nugget, a modular couch startup that's grown to be a cult favorite among parents and kids, approaches drops and drums up hype for limited-edition colors.
At the Modern Retail DTC Summit, True Classic's vp of growth shared how the apparel brand trains its marketing staff to operate with profitability in mind.