Chamberlain Coffee names Red Bull alum as CMO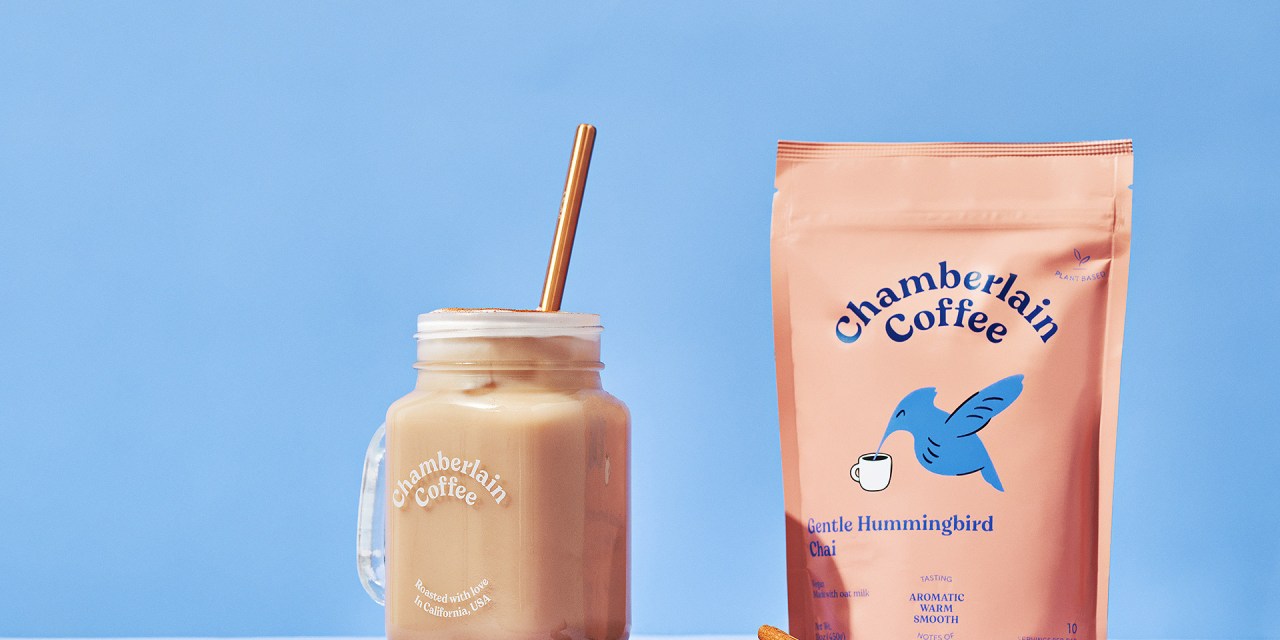 Chamberlain Coffee
As Chamberlain Coffee executes plans to be a multichannel brand, it is appointing a CPG veteran as its new chief marketing officer.
Liz Ahern has held several marketing roles at energy drink brand Red Bull, including senior brand marketing manager and field marketing manager. She spent seven years at Red Bull managing product launches and regional campaigns, among other responsibilities. Prior to her new role at Chamberlain Coffee, she was working at online used car retailer Carvana as its director of brand marketing. 
Since relaunching with a new look and a full suite of products in 2020, Chamberlain Coffee has been expanding to new channels. It has so far joined the assortments of hundreds of stores and a few online platforms like Gopuff and Amazon. As it looks to grow into a multichannel brand, Chamberlain Coffee is hiring strategically to execute its plans.
"What we hired Liz for is really her expertise and taking that creative direction and bringing it to life and activating across every channel," said Chamberlain Coffee CEO Christopher Gallant. "Thinking about this omnichannel approach we now have, how do we attract new consumers and make our current consumers really happy in DTC, how do we interact with consumers on Amazon… that's what Liz is really, really strong at and that's why we brought her on board."
The hiring announcement came just months after Chamberlain Coffee said it raised $7 million in funding in August from several notable e-commerce names like DTC strategist Nik Sharma and Grin founder Brandon Brown. The company said the funding would help it expand into new channels and launch new products. Chamberlain Coffee said it is on its way to more than doubling its revenue this year from last year.   
Chamberlain Coffee was founded by Emma Chamberlain, a content creator with nearly 12 million YouTube subscribers and over 16 million Instagram subscribers. Although DTC takes up a bulk of its business, Chamberlain Coffee is currently available in about 500 stores including high-end grocery store Erewhon and national grocer Sprouts Farmers Market. Its products — such as its coffee bags, matcha powders and chai blend — are also available online on delivery platform Gopuff, e-commerce giant Amazon and ChamberlainCoffee.com. 
"The bulk of coffees are still bought in grocery and so that's a big, big channel for us," Gallant said. "Now as we think about new channels, yes, DTC will still be important for us, Amazon will still be important for us, but retail will be a big focus next year and beyond."
Along with new retail channels, the company has also invested in talent. Gallant joined Chamberlain Coffee last year after holding several roles at beverage brands including Red Bull alongside Ahern and kombucha brand Aqua ViTea. Gallant said the company also hired a sales personnel last year and will be adding more talent in the sales team soon. He said Chamberlain Coffee will be looking to hire a head of finance as well. 
Ahern will be bringing over her decades-long expertise to Chamberlain Coffee. Like Ahern, a handful of senior employees at top CPG brands have also been joining the executive ranks of buzzy younger brands. For example, sparkling water brand Liquid Death hired Fiji Water alum Joseph Lee to be its chief operating officer and premium cocktail mixer brand Q Mixers named Bob Arnold, who held senior roles in companies like Mondelez and Coca-Cola, as its chief executive officer. 
"Brick-and-mortar retail is an old-school legacy business," said Andrew Duffy, co-founder and CEO of incentive management platform SparkPlug. "As much as these operators modernize… the way that they actually assign products to the shelves, purchase those products and continually maintain relationships with the vendors and the purchasers are extremely old school and it's extremely relationship-driven."
Duffy said that bringing in experts from legacy operators is crucial for startups that want to navigate channels that they haven't been in before. In addition to being an influencer-founded brand, Duffy said having experienced executives on board could also help Chamberlain Coffee's next funding round. 
Chamberlain Coffee is also looking to match its omnichannel sales strategy with an omnichannel marketing strategy. Gallant said the company plans to tailor marketing campaigns for specific channels. For physical retail stores, for instance, one of the marketing initiatives the company did recently was to have Emma Chamberlain herself go to a Sprouts store and sign a few Chamberlain Coffee products on the shelves. The products were then distributed to different stores. 
Gallant said the company also plans to develop new products. In October, it launched a Chai blend, its second venture in the tea category after launching its matcha powder products. It has also had product collaborations with brands like Levi's, OffLimits Cereal and Swoon.
"We're just really getting started now," he said. "I see us continuing to look at chains around us right now. There's a lot of chains in the southwest that we're in discussions with."