Brands like Claire's are bringing their metaverse IP to physical retail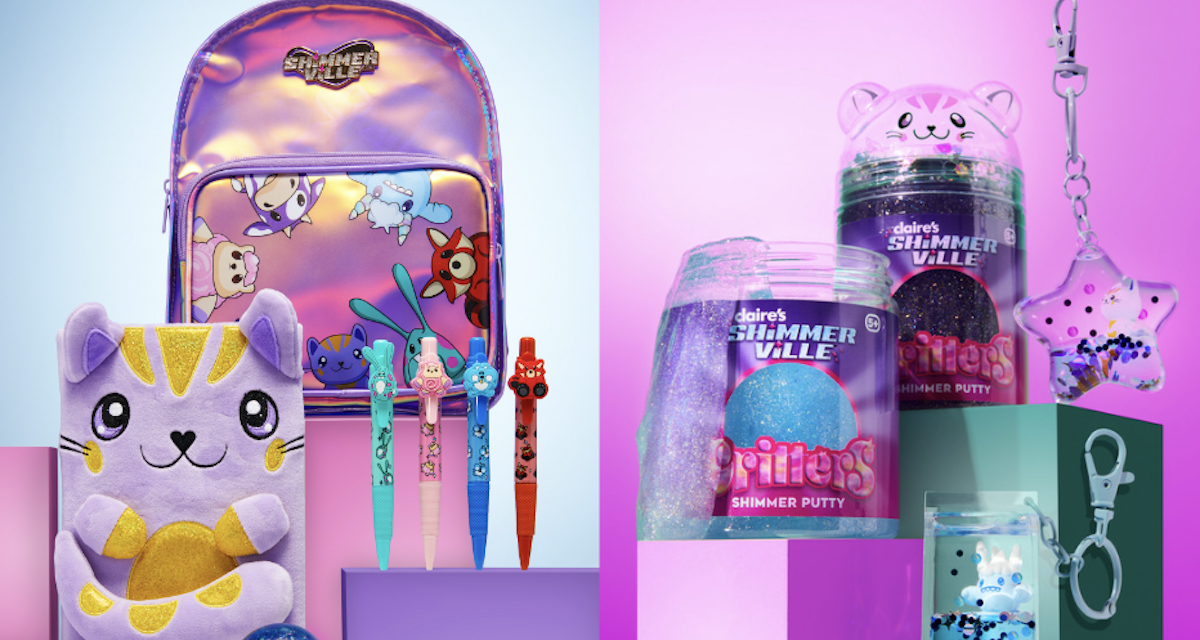 Claire's
Over the past few years, major retailers from American Eagle to Gucci to Claire's have launched experiences on metaverse platforms like Roblox. Now, more brands are trying to sell items tied to that intellectual property in their stores.
This week, Claire's unveils a collection of 11 physical items based on its "Shimmerville" Roblox game, which it launched last October. The items — which include plushies of five in-game pets, as well as plush notebooks, a stationary set and pens, a mini backpack and keyrings — are available to shop online and in Claire's stores in North America and the European Union. Claire's is rolling out the collection the same week that it updates its loyalty program.
Claire's Chief Marketing Officer Kristin Patrick told Modern Retail that physical merchandise was the "natural next step" in how Claire's grows "Shimmerville" — a game in which players can decorate a dream home, own a pet, have a job and outfit their avatars in Claire's accessories and clothes.
For years, Claire's has sold physical merchandise of other properties, including Hello Kitty, Disney and Barbie. "We feel that we have the ability to create our own trends as well," said Patrick, who started her career in the entertainment industry at Disney, learning how character franchises were built.
Claire's rolled out a 23-piece collection, both online and in stores, with the gaming creator MeganPlays last December. Twelve of the items were available on Roblox. The merchandise, while connected to "Shimmerville," did not involve original "Shimmerville" characters or items specifically inspired by the game. This week marks the first time that Claire's is doing so.
"One of the things that we really want to do is think about 'Shimmerville' as a piece of intellectual property that we can take into other business categories," Patrick said. "The reason that is so important is because it's important to our consumer. They really morph between the physical and the digital world."
Claire's made its metaverse debut last year after getting requests from its younger customers, many of whom belong to its 18 million-strong group of loyalty members. Claire's core base of Gen Alpha and Gen Z shoppers said they wanted "more content" from the brand, Patrick said. Claire's rolls out an update to its Roblox experience about once per month, either through new characters or gameplay.
Roblox, which boasts an active user base of 65.5 million people, came online in 2014 but exploded during the pandemic as gamers stayed home. Its revenue for the second quarter totaled $680.8 million, up 15% year-over-year. Many brands have flocked to the platform, largely because it relies on user-generated content and does not have a barrier to entry.
As platforms like Roblox rise in popularity, brands have started connecting the metaverse to actual products or services. In 2021, Chipotle gave 100,000 Roblox players enough rewards dollars to exchange for an entrée code that could be used on the Chipotle app. Last spring, Coca-Cola launched a soft drink within the metaverse, Coca-Cola Zero Sugar Byte, which it then began selling in select retail stores. Last fall, Forever 21 started selling products on its website that connect back to its Roblox game "Shop City."
It's a process that Forever 21 Chief Marketing Officer Jacob Hawkins calls "a great virtuous cycle." "We design physically, and we'll launch those in the metaverse," he told Modern Retail last year. "We now design virtually, and we're launching those into our stores and on our website… We're going to continue to see what does well in one channel and look at launching it in the other channel."
That back-and-forth flow is likely to become more common, said Andrew Douthwaite, the chief commercial officer at Dubit, a Roblox resale partner that has worked with brands including Mattel, Nickelodeon and L.O.L.! Surprise on their metaverse strategies. "The future of that is selling both, and actually having both versions influence each other, whether it's from digital to physical or physical to digital," he told Modern Retail.
"Having fandom within Roblox can and should, if possible, extend to the real world. And I think that's what brands are trying to tease out," Douthwaite said. "Brand awareness and affinity is great, and we're starting to get some great tools to measure that on platforms like Roblox." At the same time, he said, there's a need for other metrics, "things like conversion to physical merchandise or real-world actions."
Claire's will continue to link its "Shimmerville" franchise to its physical products going forward, Patrick said. For instance, all plushes come with a special QR code that unlocks the in-game version of each pet. The brand is also tying in its new "Shimmerville" items to its loyalty program; members got early access to the items on Tuesday.
On Thursday, Claire's will unveil a new version of its loyalty program, rebranded as C.CLUB. The new program will provide more benefits and faster ways to earn rewards. Claire's is giving away one billion rewards points to new and existing members. The first 1,000 members who play and win the C.CLUB Quest in "Shimmerville" will also receive a free pair of earrings, redeemable in Claire's stores.
Going forward, Douthwaite expects more brands to explore that digital-physical crossover, tying a virtual experience to a loyalty program, website, store or event.
"We're looking at that pathway with all our brand partners, not just on merchandise, but just generally with their experiences on Roblox," Douthwaite said. "How do we connect it to an existing reward system or other platform or website? How do we make it so that the experience is not just locked into Roblox?"