How Roblox paves the way for a new era of branded gaming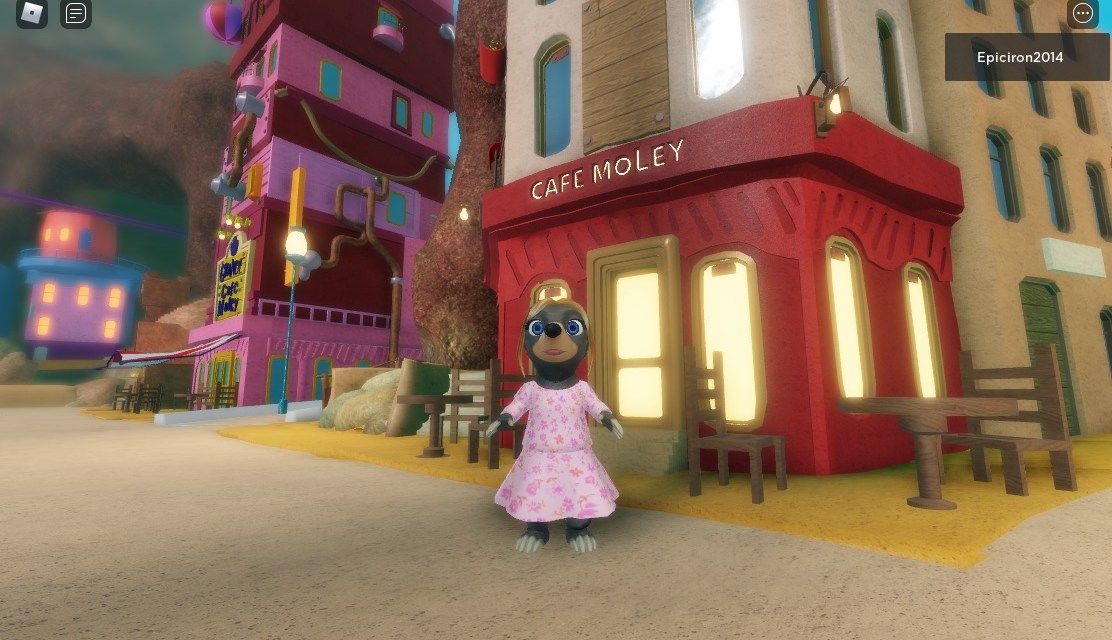 Starting at the end of November, the Warner-Brothers-owned cable network Boomerang will roll out the first tie-in episode of "The Misadventures of Master Moley," its newest animated TV series. But before kids get to watch the show, they can explore the "Master Moley" universe on online gaming platform Roblox.
"Master Moley" follows a mole who lives in a city beneath Windsor Castle, called MoleTown — and the Roblox game, "Welcome to MoleTown," is meant to sell that world to potential viewers. It's one of the most intriguing examples yet of a budding frontier in advertising: branded Roblox games that steer players toward new movies, TV and — increasingly — toys and other retail products.
The marketing potential of Roblox is self-evident. The company, which was released in 2006 and just filed to go public, boasts over 150 million monthly users, and its most popular game, "Adopt Me!," has been played 10 billion times. Roblox has already proven its ability to monetize itself: in the first nine months of 2020, Roblox users spent a collective $1.2 billion on in-game currency, up 171% from last year.
Roblox is still in its infancy as a marketing tool, but over the last two years, the number of brands and retailers on Roblox has grown dramatically. Compared to other gaming systems, it is incredibly easy to discover new games on Roblox, which makes the platform well suited to help even small brands build an audience. In fact, one agency told Modern Retail that retailers — including grocers — are looking into building their own branded games.
Currently, most advertising on Roblox is rudimentary — a mix of banner ads and in-game wardrobe collaborations. Nike, for instance, created virtual Air Max sneakers for use on Roblox last year. The film "Scoob!" partnered with the Roblox game "Adopt Me!" to offer a virtual Scooby-Doo in the game. Roblox is also trying to break into virtual concerts: Lil Nas X and Ava Max each recently held live performances for millions of Roblox users. But branded games might prove to be the platform's most effective form of advertising.
"Master Moley" isn't the first media property to use Roblox to build up hype. The movie "Wonder Woman" and the TV series "Ben 10" each have their own Roblox games. But "Welcome To MoleTown" is one of the first major attempts to promote a wholly new IP on Roblox — and it will test Roblox's ability to get its young user base excited about a new product.
"Whether it's for a sports franchise, a fashion brand, a movie studio or musical artist, there are endless possibilities for building authentic and immersive experiences that bring your brand to life," Tami Bhaumik, Roblox's vice president of marketing, told Modern Retail in an email.
The growing fascination with Roblox arrives as retailers are increasingly striking partnerships with major video games like Fortnite, Minecraft and Animal Crossing. Roblox, though, functions differently than Fortnite or Minecraft; It is a platform that operates akin to an online arcade in one app, hosting millions of smaller, user-created games, such as "Adopt Me!," that users can toggle through. A lot of its advertising potential stems from the fact that it is easy to both find and create games. Users can enter a new game with just a swipe.
"With Roblox there's no additional installation. It's so much easier to acquire users," said Andrew Douthwaite, the chief operating officer at the kids' research and development studio Dubit. Douthwaite has been collaborating with Boomerang to create the "Welcome To MoleTown" game.
While most branded games so far are designed to promote TV shows and movies, there are some hints that even brick-and-mortar companies are eyeing the Roblox universe for their marketing. Hot Wheels debuted a new, free-to-play Roblox game last week. And Douthwaite has been in contact with a grocery giant that is considering making a Roblox game that offers kids healthy eating tips.
Unlike branded Xbox or Wii games from earlier eras, Roblox games are easy to build. The platform is designed so that kids with even a moderate amount of coding skill can craft their own adventures. This easy-to-enter infrastructure also opens up possibilities for brands looking for easier ways to enter the world of gaming.
A more open platform
One appeal of Roblox is that, compared to other video games, Roblox doesn't have a lot of gatekeepers. "With brands launching on Fortnite, you have to get a deal with Epic," Douthwaite said, referring to the developer of Fortnite. By contrast, "Roblox is an incredibly open platform. Anyone can launch a game on there. There's nothing really to stop you."
Plus, according to Douthwaite, "kids on Roblox like seeing the brands they see in real life on the game." He estimated there are 500 to 600 fan-made games for the WWE, for instance. When kids love a product or a media property, they build a Roblox game for it.
Roblox's interface looks more like a scrollable social network in contrast to other gaming platforms. That means it's especially poised to facilitate discovery. Case in point: Douthwaite spent $190 on one banner ad promoting the "Master Moley" game. That one ad generated 11k plays.
Of course, for a branded game to work, it has to be fun. "The important thing with Roblox is that you create space for the kids to be social and almost have their own games in a way," he said. "It has to have flexibility in the form of a lobby where kids can drop in, chat, let's go here together, let's go check out a lake, let's play the racing game."
But that doesn't mean Douthwaite is totally leaving the advertising part behind. Within the MoleTown world, his team has inserted subtle reminders that this gaming universe has a TV show tie-in. At one point, when players walk through a tunnel, the walls feature posters reminding them that they can watch "Master Moley" on Boomerang.
"At the end of the day you want to drive people toward the show," said Douthwaite. "You want to let kids know, hey, you're enjoying the game, here's the show."