Betting on pumpkin fatigue, some brands see apple as the next big fall flavor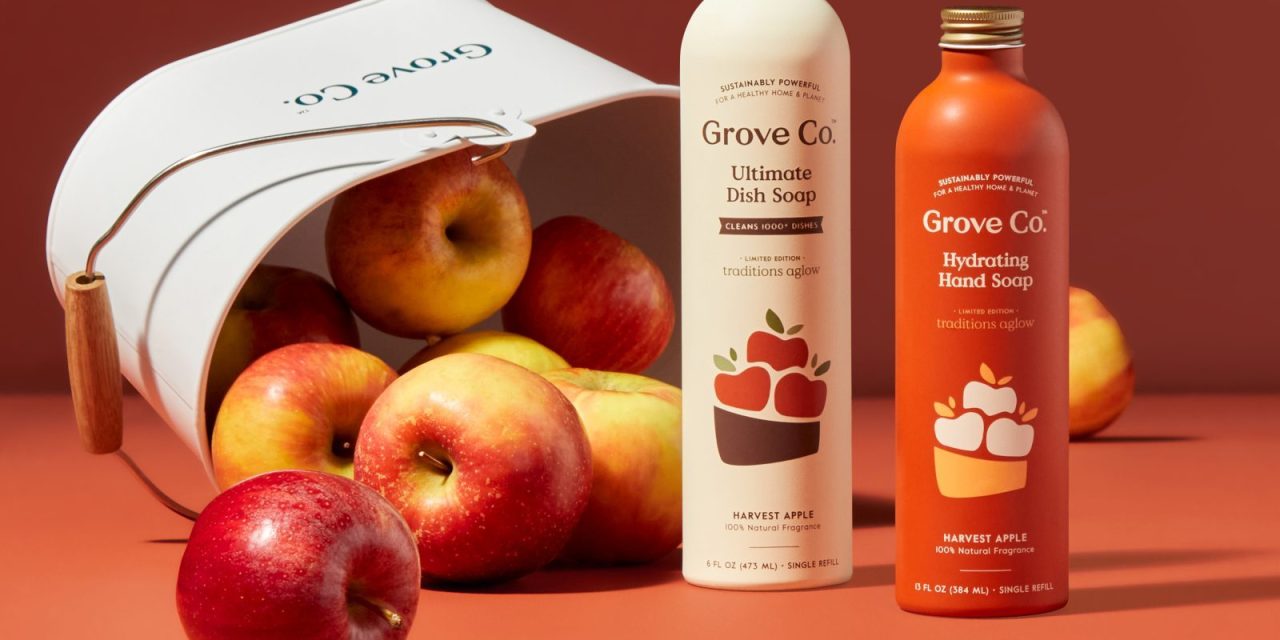 Grove Co.
Pumpkin spice may seem to dominate the flavors and fragrance of fall, but some brands are seeing gains with apple alternatives.
Cleaning company Grove Collaborative put out its first-ever limited edition Harvest Apple scent in late July for its line of hand soaps, detergents and cleaner concentrate. Within the first two weeks, the brand sold 32% more of its apple products than its limited edition Spiced Pumpkin scent, which is back for the second year in a row. Within the first month, apple products was performing 82% better than pumpkin, generating nearly double the revenue.
"For us, apple is balancing pumpkin with something fresh," said Grove's general manager Lucy Leahy. "There's a nostalgic feel to it … who wouldn't want to be out apple picking with their friends?"
While traditions persist, companies are looking to spot the next big thing for fall flavors as tastes change. And some data suggests pumpkin isn't for everyone. Survey tracker Ipsos found in 2021 that just one in five Americans like to drink pumpkin spice lattes — and just under half refuse to even try one. With this, a number of brands spanning from foods to household cleaners are testing out new apple flavors as a potential new fall flavor leader.
To name a few: Mrs.Meyers includes apple cider in its lineup of fall-scented cleaning products. Bath and Body Works released a whopping 35 fall scents for its products this year, including repeat seasonal editions like Honeycrisp Apple, Pumpkin Apple and Champagne Apple and Honey.
On the food and beverage side, Pinkberry has a brand-new fall flavor of spiced apple cider, while Cold Stone Creamery's fall seasonal flavors include a pumpkin bread batter and a caramel apple. Even Starbucks, credited with beginning the pumpkin spice craze two decades ago, launched an iced apple crisp oat milk shaken espresso this year.
Dana Paris, CMO at Jordan's Skinny Mixes, which makes flavored syrups and mixers, said "fall fruits" are having a moment this season, whether that's apple or peach or plum. And though its yet to overtake pumpkin as a top seller, Jordan's will have several apple varieties as the fall season ramps up.
"We haven't seen it yet, but we're predicting and preparing for what I'll call "fall fruit dessert flavors," she said.
One syrup that's already selling well is candy apple, meant to cater to the demand for tart and sweet flavors. It broke into the brand's top 25 best sellers in August, and has seen 250% year-over-year growth as of early September. Paris said she expects sales to continue to increase as the weather cools. In September, Jordan's plans to publish recipes for apple-forward drinks that are popular with fans of "watertok," like caramel apple water. Jordan's also sells "Witches Brew" come October, which is a zero-sugar, low-calorie green apple margarita mix.
"Pumpkin has been such a big flavor profile for so many years, so I do think people are looking for a different variation," she said.
Gabby Wahlin, the PR and brand manager for at-home fragrance brand Pura, said apple is increasingly popular among shoppers looking for an alternative scent. This year, it put out a limited-edition collection of "fall fruits" that includes a top-selling Honeycrisp Oakwood crafted in partnership Anthropologie that blends apple with fall leaves. There's also an Apple Cider Social that's a sweeter take. 
Pumpkin, she said, "gets to be a lot" for some people who are looking for something more fresh, citrus-tinged or woodsy.
"Those sweeter fall fruits are definitely in right now, and do add a different feeling for fall," Wahlin said. "It's elevated and refreshing, but still gives you that fall taste."
At Grove, the top-selling Harvest Apple product so far is the brand's laundry detergent sheets, indicating consumers would rather have their clothes smelling like an apple farm than a pumpkin patch. Leahy credits this success to the "zesty" and "crisp" scent, compared to pumpkin's sweetness and warmth. Overall, people gravitate towards scents that are going to leave their home and items feeling clean, she said.
"It has to smell like it works, it has to have efficacy," Leahy said.
The scent was in development for roughly 18 months, the typical time that it takes to test and try a new fragrances. Apple can be particularly fun — yet challenging — for scent brands because there are so many varieties, Leahy said. But for its seasonal scent, Grove went with a woodsy, citrus-tinted apple reminiscent of what one might smell outside in an orchard.
"There are still plenty of pumpkin spice enthusiasts but we wanted to provide something to create new traditions with your family, "Leahy said. "Not everything needs to smell like Grandma's house."