After a rebrand, furniture retailer Ashley is leaning on live events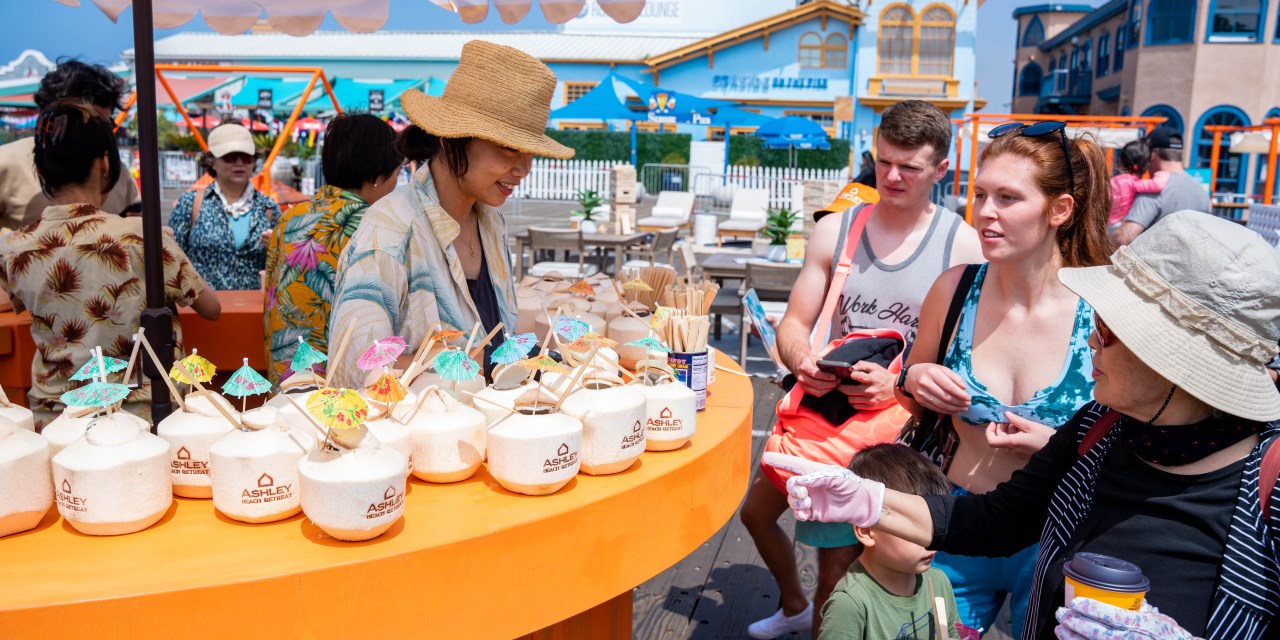 Kyle Espeleta Photography
At the Santa Monica Pier last month, furniture retailer Ashley was handing out coconut drinks, playing live music from DJ Bella Fox and showcasing some of its latest outdoor furniture.  
Experiential events like this are meant to keep Ashley, formerly Ashley HomeStore, top of mind for shoppers and to allow people to see products without entering its stores. These events feature fun activities such as workshops, giveaways and live music from a range of artists, including John Legend and Pitbull. They can draw in anywhere from 40 to 2,000 people depending on the capacity, but its Santa Monica Pier event was expected to draw in 30,000 people based on the natural traffic of the area. 
Brands hosting events are not new, but they remain a critical part of brand building and marketing, especially now as they compete for a smaller cut in shoppers' discretionary budgets. Ashley began launching these events five years ago and it has since become a channel for the company to boost its brand consideration and engage with younger audiences. These events also play a critical role in communicating the company's rebrand initiated last year. 
"One of the things that we found is that our consideration was a bit behind our awareness," said Kelly Davis, vp of marketing strategy at Ashley. "Our goal is to try to be number one in consideration within our category and so that's what really led us down the path of experiential events." Based on internal findings, Davis said that shoppers are aware of Ashley as a brand but sometimes didn't consider it for making a purchase. With this as a strategic backdrop, the company wants more people to take further interest in its products and consider buying them in the future.    
Davis said the success of these events is measured by social impressions, especially when influencers are invited. A small-scale event can bring in 2,000 new Instagram followers on the company's account and an average event can generate 100,000 new leads. For its Home on Tour events in collaboration with Pandora last year — where artists like Pitbull, John Legend, Cole Swindell and Pitbull performed in different cities — Ashley was seeing 3 million to 5 million social impressions. 
With a history that traces back from 1945, Davis said that Ashley is "the largest furniture retailer in North America and the largest furniture manufacturer in the world" with over 48,500 SKUs online and in-store. The company has stores in 48 states and 1,100 locations worldwide. The company hasn't publicly disclosed exact revenue figures but said its wholesale sales approached $4 billion in 2013 and it currently delivers over 30 million pieces of furniture annually.      
The company changed its name from Ashley HomeStore to Ashley back in June last year as part of its rebrand. It is also remodeling its brick-and-mortar stores and refreshing its style. Part of the rebrand's goal is to attracting younger, middle-of-the road shoppers who want an upscale look without breaking the bank.
Ashley wants its rebrand reflected in these events. For its Home on Tour event — held in Nashville, L.A. and Dallas — attendees can interact with some of Ashley's trending furniture pieces in unique ways, such as its inverted bedroom and deconstructed dining room table displays. Ashley held six events last year, which are free and open to the public. Davis said the company plans to do at least two to three more executions on a large national scale this year.
While smaller scale events are also held in stores, Ashley looks at high traffic areas to hold larger events. "We typically look for areas where we know we can bring a lot of our influencer partners in," Davis said. "But most importantly, when we're looking at locations, we really want to capitalize on the foot traffic of the area. So we want to make sure we're going into big cities where we can reach as many of our consumers as possible." 
Though smaller in scale, Ashley's in store events also give both traffic and sales a boost. During a recent in-store event in its Sebring, Florida location, Ashley was able to beat its budget by 163% on traffic and beat its sales budget by 116%.
Events can be an effective way to connect with the local community and boost brand recognition, said Calla Murphy, vp of digital strategy and integrated marketing at Belardi Wong. Home brand Parachute and cookware brand Our Place opt to hold their events in their stores to boost traffic and sales. 
However, she said it can be challenging to track the impact of events to a company's overall operations. "It's not a perfect one to one performance marketing channel like we think of Facebook and Google," Murphy said. "It's definitely not as measurable as performance marketing but that doesn't necessarily mean it's less valuable."