'The duopoly has been disrupted': Why 2023 could be a huge year for retail media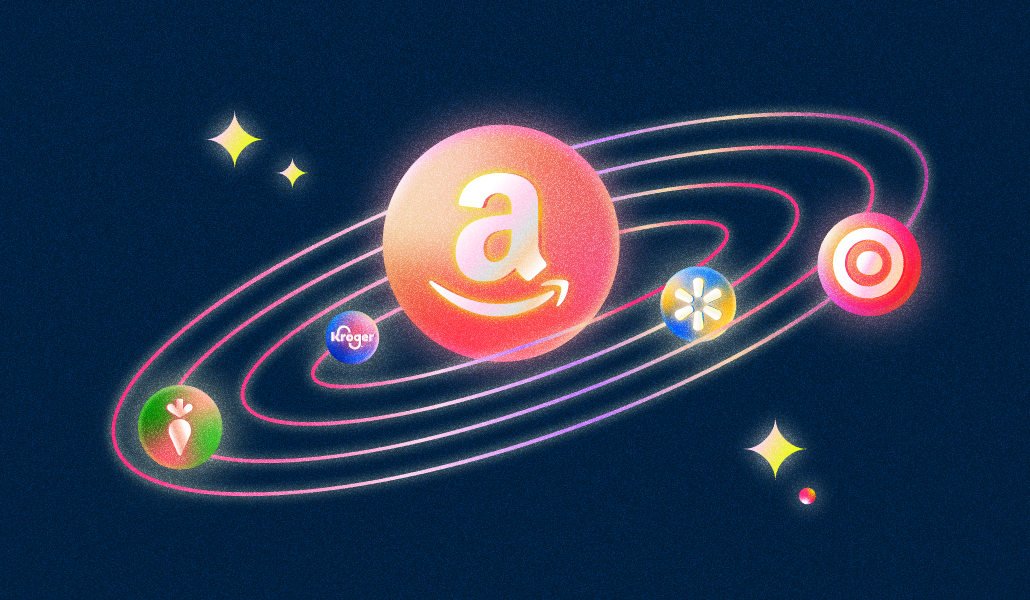 Ivy Liu
A number of retail media networks have emerged over the last few years, and 2023 may be a pivotal year for many of them. 
Retailers ranging from CVS to Target have sought to turn websites into ad platforms, in a bid to replicate the success of Amazon's fast-growing advertising business, which generates roughly $30 billion a year. 
Last year, some of the second-tier advertising players, like Walmart and Instacart, made a number of subtle but important changes to their retail media businesses. These changes ranged from adding a greater variety of ad formats to expanding partner programs to adding more self-service functions. It's all part of a bid to offer brands a platform that more closely mirrors Amazon's in terms of ease of use and scale. In turn, analysts believe that 2023 could potentially be a make-or-break year for this space as retailers up the stakes and invest a lot more money into building out their offerings.
"Every other retailer is increasingly selling stuff online, where their margins are lower than they were in the store, so they are desperate for new sources of income," Jason Goldberg, chief commerce strategy officer at Publicis said. "And they see that Amazon has a huge source of income and they say, oh my gosh, we're missing out we need to compete there," Goldberg added.
Despite the profit potential, Goldberg pointed out that while a lot of retail media networks have come up over the last few years, they haven't started to generate meaningful revenue yet. Walmart disclosed its revenue from its media and advertising business for the first time last February, revealing that it totaled $2.1 billion, or about 1.4% of its annual revenue. 
But that could change this year, for a few reasons. For starters, now that many of these retail media efforts are several years old — Walmart rebranded its media network in 2021, while Kroger first unveiled a precision marketing arm in 2017 — these retailers have now been able to go about making more improvements.
In July 2022, Walmart added a number of API partners to its retail media network Walmart Connect, and implemented a second-price auction that improved return on ad spend, according to an October report by Insider Intelligence. Instacart, which set up its retail media network in 2020, has also invested to create a lot more ad products and a lot more inventory of ads for brands to buy this year.
Additionally, the news of the Kroger and Albertsons merger also presented an opportunity for the two grocery chains to upend the status quo in this retail media network landscape by creating a compelling offering with its combined reach, sales and data assets. 
"Walmart, Instacart and Kroger are all well-suited to capture more dollars next year," Andrew Lipsman, principal analyst for retail and e-commerce at Insider Intelligence said. "They are in the best position to compete with Amazon for retail media spend, though all three (and others) should see strong growth. We forecast Walmart and Instacart to each grow more than 40% next year," he added.
Goldberg said retailers like Walmart and Instacart, because they've expanded their reach and breadth of ad inventory, have more scale compared to other retail media networks. Last year, Walmart integrated social media platforms like TikTok and Snap into its ad tech platform to offer advertisers the opportunity to serve ads on these social media platforms, while utilizing Walmart Connect's targeting.
"They've created different kinds of ads. They've hired an awful lot of salespeople who are today predominantly in the business of selling these ads," said Goldberg. For the most recent quarter, Walmart said its global advertising business grew over 30%, led by 40% growth at Walmart Connect in the U.S. and strength in Flipkart Ads, the commerce ad platform controlled by Walmart in India.
Meanwhile, Instacart has added new types of ad formats to help its vendors reach more shoppers. In November, the company released Instacart Promotions, which allows brands to create ad campaigns centered around certain promotions and deals.
Instacart also has the advantage of being a multi-retailer grocery model, according to Lipsman. "They've done a really good job of building the basic business, because they are driving purchase across so many retailers, and chances are if you're a big CPG brand, you've probably invested in Instacart," Lipsman said. 
Lipsman said factors like the breadth of first-party data and the closed loop measurement that these networks enable will be long-term drivers of dollars into retail media. He added the growth of retail media has also been accelerated by the changes in the privacy environment made by tech giants like Apple.
"The [Meta and Google] duopoly has been disrupted," Lipsman said. "When Meta is disproportionately disrupted in terms of its targeting and measurement capability, those [ad] dollars have tended to move most directly into Google. But if the consumer is increasingly shifting in the direction of directly searching for products on Amazon, as opposed to searching on Google, then those dollars over time are migrating from Google search and into Amazon," Lipsman explained. But, the growth of retail media networks gives brands another place to potentially shift their dollars further. 
However, one of the big economic factors that could impact these businesses in 2023 is a potential recession; ad budgets typically decrease as brands and advertisers cut back on marketing spends. 
"That said, retail media networks are likely to be the most resistant to recessionary headwinds because dollars tend to gravitate towards performance media in those environments," Lipsman said. "We've already seen this play out to some extent in Q3 as Amazon's ad growth held up better than other digital advertisers."
Ultimately, the biggest shift will be once non-endemic advertisers like insurance companies and auto makers start looking at these retail media ad networks as top of the funnel marketing tools, predicted Goldberg.
"The easiest way to know [retail media] is working is when people that don't even sell products at Walmart start buying ads. Then, you know you are onto something," Goldberg said.