Why Lovevery is getting in the courses business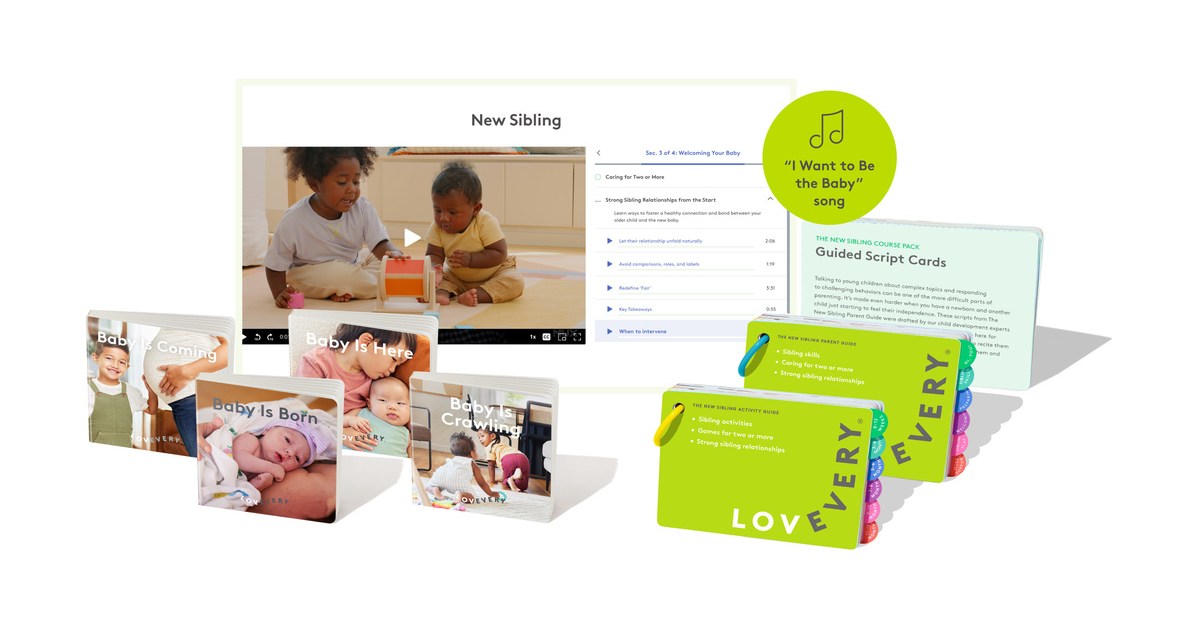 Lovevery
Montessori-inspired toy company Lovevery is launching four digital parenting courses, part of a strategy to further its foothold in the baby space as it mulls a path to an IPO.
Founded in 2015, Lovevery is known for subscription-based toy kits that include age-appropriate items meant to augment childhood development, like a "sensory switchboard" to help introduce cause and effect, or stacking rings that help a baby learn about how items fit together. Now, the company is launching Course Packs, on-demand web and app-based lessons that aim to help guide parent through major transitional moments. With starting prices at $50, each courses includes hours of content spanning topics like solid foods, potty training, tummy time, and introducing a new sibling.
"We know that parents are craving this from us, and in this specific Lovevery way that really promotes child-led solutions that partner with parents that makes so many of these challenging times easier," co-founder Jessica Rolph told Modern Retail.
The launch marks a competitive play in the baby sector, where brands are often led by parent-founders who aim to provide community and education along with their products. Apparel brand Monica & Andy, for example, hosts classes virtually and in their stores. No Reception Club, a Kickstarter-funded bag brand, has a budding Facebook company for parents to swap travel tips. And Lalo, a DTC baby care brand that started with high chairs, recently launched play boxes that share a similar format and aesthetic to Lovevery's kits.
From a business perspective, the course launch is the latest example of Lovevery's product expansion as it seeks to gain a greater footprint in the baby and childhood development space with a focus on early learning. Earlier this year, it launched a music play kit. And it introduced Play Kits for children aged 4 and up. Valued at over $800 million in 2021, Lovevery currently has more than 360,000 active subscribers worldwide and has seen 23% year-over-year growth.
While the cofounders wouldn't say when a rumored IPO can be expected, Lovevery continues to position itself as a company that could go public when the time is right, said co-founder Roderick Morris. 
"We're building a company that's capable of going public. We'll always evaluate the situation, and continue to be focused on just serving our customer base and creating great new products," Morris said. "We work to put the processes and team in place so that this is a business that can continue to scale for a really long time."
The Course Packs launch is also a strategic growth play given the bevy of online courses and parenting resources available for new parents. And Lovevery isn't alone in wanting to tap into this trend from its own perspective. Baby gear brand Tiny Love offers articles and guides on its website and YouTube based on teachings from its staff of therapists, doctors and psychologists. Babylist, which launched as a registry service, is also looking to provide more health and wellness content via its acquisition of Expectful.
But Rolph said that to this end, Lovevery stands apart by aiming to be a "support system" that instills confidence in parents that they are helping their child develop and grow.
"We're a place of optimism. We really are there to advocate for the child and their developmental path," she said.
Why it expanded into courses
Lovevery's announcement is part of a growing trend in the parenting space — videos and lessons that aim to help educate parents through developmental milestones and prepare them for difficult transitions. But the area has exploded with popularity in an extension of the momfluencer or mommy blogger movement. Some of the course leaders may not have any official credentials or expertise.
Robin Hilmantel, senior director of editorial strategy and growth at Babycenter, a parenting resource platform owned by Everyday Health Group, said parents who feel inundated with advice from these channels may look to trusted brands for guidance. Babycenter launched its own courses in 2021.
The landscape, though, has gotten more crowded since then with influencers on social media and the acceleration of short-form video content.
"It's tough to know who to turn to for advice because there's so much online, or a lot of it is conflicting or it's coming from people who it's not clear what their expertise on the topic is," Hilmantel said.
Rolph said the key differentiation between Lovevery and other courses out there comes down to the expertise provided. In addition to videos that feature credentialed experts like neuroscientists, pediatricians, researchers and occupational therapists, Lovevery's courses come with books, original songs and activity guides to help a parent apply what they're learning in the course. It also includes insights from thousands of families who are Lovevery subscribers, and add-ons that can be purchased to help with the topic of the course — like a baby doll kit for a introducing a new sibling.
"The science is not reaching parents in an actionable, meaningful way," she said. "We haven't seen any solutions that are that are similar, in the sense that they bring play and development together in such a meaningful way. "
Data-driven material
This launch isn't Lovevery's first foray into courses. It published two web-based versions in 2021. Morris said the team took those as starting points for the new versions. Those courses used a standard browser-based web player. This time around, the Lovevery team made a custom design that allows users to go through the course section by section
While they can be accessed via desktop, the design of the courses is integrated into the Lovevery app. It's currently used by about 20% of Lovevery subscribers, who have an 83% revenue retention rate at the 12-month mark. Morris and Rolph see the app as a way to unify much of Lovevery's teachings and products in a central location — and provide a user-friendly experience.
"When we first did courses, we did our version of what everyone else was doing instead of really co-creating with our customer and building something unique," Morris said. "When we worked on the tech for it, it was built off our learnings from talking to lots of parents about what kind of experience they wanted, and built on our mobile app."
Much of the video-heavy content features expert instruction, interspersed with Lovevery's data findings from its subscribers to help give context to what parents might experience. Part of the goal here, Rolph said, is to give some reassurance around common worries. For example, the"Foods Before 1″ course pack includes data about how 30% of Lovevery parents surveyed introduced a new food every three days, while nearly 19% did so every day.
Videos can be played full-screen or picture-in-picture, allowing for multitasking or to be watched in "stolen moments," Morris said.
The courses will be marketed via organic social media campaigns, influencer marketing programs and email campaigns, with the hope that current subscribers and app users will sign up to augment the lessons they're already receiving with play kits. And, those who sign up for courses will be exposed to the other offerings like play kits and activity guides via the app.
"If they buy a course pack, but they're not a customer, yet, they start to get glimpses of the fuller system of support that we're offering parents and children," Morris said.