Why apps like Venmo are killing the mail-in rebate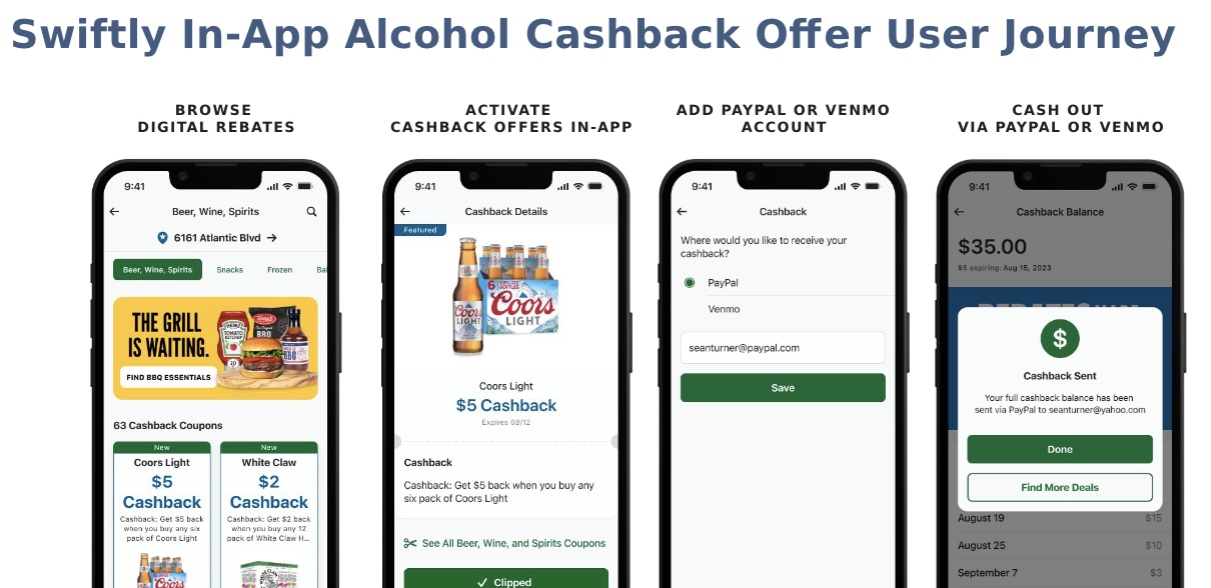 Swiftly
Mail-in rebates are quickly becoming a thing of the past as retailers increasingly adopt app-based reimbursement promotions using platforms like Venmo. 
This week, California-based grocer The Save Mart Companies launched an alcohol cashback program using tech vendor Swiftly. Shoppers who are scrolling Save Mart apps can save the brand-funded offers to their loyalty ID given at checkout. Then after the point of sale, they'll get the rebate sent to their Venmo or PayPal account.
Roughly three out of four American shoppers have used a payment app like Venmo, PayPal, Cash App or Zelle, according to the Pew Research Center. Sending cash through apps has even become so ubiquitous that it's become a verb to "Venmo" someone. In response, brands are increasingly using payment platforms as a way to pay back customers for special promotions.
The way Sean Turner, Swiftly's chief technology officer, sees it, Venmo and PayPal are today's version of the classic mail-in rebate check, where shoppers would have to send in a proof of purchase to get money back.
"The modern adaptation of that is to really leverage a digital solution where you can eliminate the manual work that the consumer has to do," Turner said.
Other examples include Glaceau Smartwater, owned by Coca-Cola subsidiary Energy Brands, offering a $1 rebate via PayPal or Venmo to Circle K shoppers. Perfect Bar is running a promotion to reimburse 100% of the purchase price of a bar. And baby formula brand Enfamil, owned by Reckitt, uses Venmo and PayPal for its app-based rewards program.
In addition to a more seamless way to transact, Turner said the strategy works because it drives an additional layer of customer gratification.
"There's a delight effect there that you don't get with a discount at the register or finding a great sale or finding a great deal. Because think about the joy of that moment. It's something that you go, you click the rebate, you get the discount, and then you get a kind of reminder of that joy when you go and you cash out that money," he said.
Save Mart's senior vice president & chief digital officer Tamara Pattison said the Venmo service was an opportunity to offer savings in a high-spend category and create digital engagement with shoppers.
"This being a category that not only obviously supports a kind of holiday and celebratory nature but is a category that tends to have a higher ring value associated with it as well," she said.
According to Pattison, this is the first time the company is using an outside channel to offer rebates to customers. The method is also a good fit for the alcohol sector, which has strict payment regulations. Typically, alcohol distributors and distilleries are not allowed to make direct payments to a retailer for reimbursements. But they are permitted to reward customers with cash rebates as long as the money reaches them directly.
In this case, the deal won't work unless the customer is already a loyalty member with Save Mart. And there is some forethought involved to make sure they opt-in and clip the alcohol rebate coupon available on Save Mart's websites and mobile apps. "So you are loading it to your loyalty account. And when you identify in-lane using your phone number, that's when all of the magic happens," she said.
Nadya Okamoto, founder of period care brand August, uses Venmo to run the brand's "tampon tax" reimbursement program. As a DTC brand, August absorbed the tax rates that more than 20 states charge on period care products. But it lost control of that ability when the brand started selling wholesale in Target.
In setting up the program, it was clear what method and language to use.
"Being able to say Venmo is honestly really helpful because most of our audience is younger," she said. "I didn't know what a rebate was but I knew what it was to get Venmo'd money back."
People sign up for the program with their phone number, text to confirm enrollment and then can text a photo of their receipt within 10 days of purchase. Within 48 hours, August will Venmo or PayPal the customer back the amount they paid on taxes. The transaction doesn't sign anyone up for a mailing list or future promotions; Okamoto wanted to steer clear of sending out anything unrelated to the payment to avoid spamming customers.
Not everyone who signs up will send in their receipt to get the tax money back, Okamoto said. But regardless of whether a customer receives a rebate — or even pays a tampon tax — the entire campaign serves as a vehicle to educate people about the tampon tax, as Okamoto continues to advocate for eliminating it nationwide.
"This is eating into our margins and we're happy to do that because we care so deeply about the issue."
Ted Rossman, senior industry analyst at Bankrate who specializes in personal finance, said an app-based rebate program is an example of modernizing transactions that has multiple benefits for the retailer. Not only is setting up a series of Venmo rebates likely to be cheaper than mailing physical checks, but customers are more likely to understand the process.
"Especially younger adults, they hardly know what a check is," he said. "To be transacting that way feels a little dated."
There's also the added potential benefit of gaining a customer list via the promotions — in the case of Save Mart, loyalty members don't have to opt-in to future communication if they don't want to. Similarly, the Perfect Bar promotion for a free bar asks customers if they want to opt-in to a mailing list.
And like its predecessor the mail-in rebate, offering a Venmo reimbursement is a way to incentivize buying without an across-the-board discount.
"Part of the appeal is that not everybody is going to take advantage of it," Rossman said.