Lululemon's reported attempts to sell Mirror deals another blow to the at-home fitness industry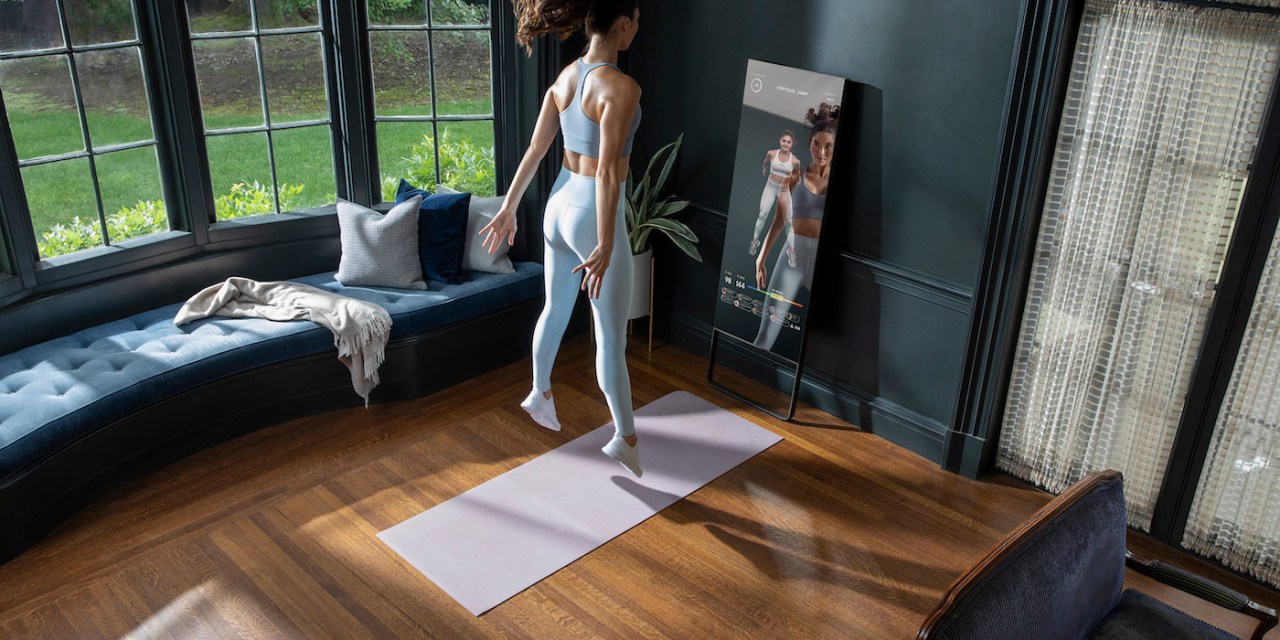 Image via Mirror
The market for at-home fitness is scaling down as the gold rush of the pandemic-induced demand blows over.
Last week, multiple news outlets reported that Lululemon is looking to offload its at-home fitness business Mirror. CNBC reported that the apparel retailer is considering sell Mirror to rival Hydrow. In an emailed comment, a spokesperson for Lululemon wrote, "We don't comment on rumors or speculation. As previously announced, we are shifting the focus of Lululemon Studio from a hardware-centric offering to one that is also focused on digital app-based services going forward."
The news is the latest blow to the at-home fitness industry. Earlier this month, weight training platform Tonal said its founder Aly Orady is stepping down amid a broader restructuring at the company, as it continues to focus on profitability. Meanwhile, cycling giant Peloton has been struggling to stem losses as it faces declining demand. For the most recent quarter, Peloton reported a 30% decline in revenue to $792.7 million at the end of December 31, 2022. It posted a loss of $335.4 million for the same period.
Retail analysts told Modern Retail that the at-home fitness industry is suffering from market saturation for a particular kind of gear, a lack of consumer interest in at-home fitness compared to before the pandemic and a general fall in consumer discretionary spending. In turn, some of these companies are shifting strategies. Some of them, like Lululemon, are focusing more on subscription and digital content not tied to the purchase of expensive hardware.
Kassi Socha, director analyst at research firm Gartner, pointed to recent data from her firm indicating that 38% of consumers are now cutting back on discretionary spending as one of the reasons why at-home fitness startups are struggling right now.
"We're now seeing a 65% increase in consumers cutting their discretionary spending compared to 2022," Kassi Socha said. "When we specifically go under the hood, and look at what areas consumers are cutting their discretionary spending, fitness and recreational activities have experienced one of the steepest pull backs in spend and deprioritization under discretionary categories," she added.
However, the fact that streaming service subscriptions are still increasing and have a higher protected priority than certain other categories, provides some hope for these at-home fitness businesses, said Socha.
Lululemon, for example, recently said it will be expanding its Lululemon Studio's premium tier membership program by enabling guests to access its digital fitness content via a new app, launching this summer, for a lower monthly fee. The studio's essentials program has over 9 million members, the company noted in its fourth quarter earnings call.
The other challenge many at-home fitness startups have had to contend with is readjusting their growth expectations after finding the pandemic-induced boom in sales didn't last forever. Peloton, in particular has become the poster child for responding too optimistically to pandemic-induced growth.
During the height of pandemic demand, Peloton bought Precor, a U.S.-based manufacturer of fitness equipment in December 2020. Peloton also announced during a February 2021 earnings call that it would invest $100 million more into air and ocean freight deliveries. Overtime, as sales started to decline dramatically, Peloton resorted to multiple rounds of layoffs to cut costs. What's more, Peloton CEO Barry McCarthy said that the company was exploring a sale of Precor, less than three years after acquiring it.
"Initially, people believed gyms would be irrelevant and at-home fitness would grow to the moon. Now, people believe at-home fitness is imploding and we understand that gyms are here to stay," Simeon Siegel, managing director and senior analyst at BMO Capital Markets, said. "I think the point we have to remember just like anything else, is that we run a risk of overgeneralizing always."
Siegel added that there will always be certain people who absolutely love working out at home, and some that absolutely love working out in-person with other people.
Socha agreed there will always be a space for fitness hardware. "I don't think we'll see the level of demand that Peloton or Mirror maybe reached at the height of the pandemic unless similar circumstances occur again," she added.
Still, in order to juice demand, some at-home fitness services are now offering their hardware for cheaper than ever before. The Mirror product, which was formerly marketed for $1,495 at retail, is now available for as little as $995 with a $39 monthly membership fee. The Peloton original Bike now costs $1,195, down from $1,495.
According to Socha, a wave of mergers and consolidation is one tactical option for businesses to address potential overgrowth or other ways they overinvested during the height of the boom.
Ultimately, Siegel said that the biggest challenge at-home fitness startups face is figuring out how to get back to the appropriate level of demand on a sustainable basis, without breaking what makes them special in the interim.
"The trick is selling down and monetizing your existing excess inventory without destroying the brand image in the process," he said.