Why Subway still faces challenges despite recent sales growth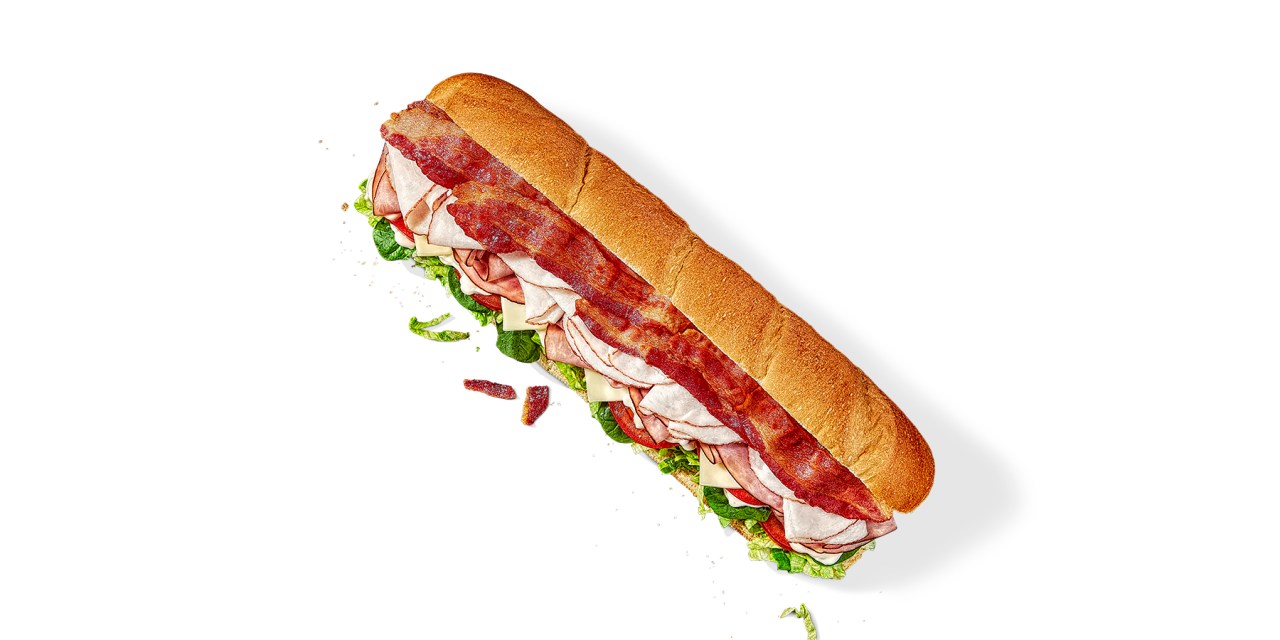 Subway
Despite recent sales tailwinds, Subway still faces an uphill battle in its brand refresh.
Last week, the privately-held Subway announced "positive same-store sales" in the second quarter, as well as 4% growth in August 2021 sales compared to 2019. This sales growth comes after a menu refresh, a digital upgrade and a splashy, athlete-filled ad campaign over the past 6 months.
Analysts, however, are still skeptical: Subway's growth actually underpaces the restaurant industry's average, and its rebrand highlights the challenges the self-proclaimed, "world's largest quick-service restaurant brand," is facing. Subway did not return Modern Retail's request for comment for this piece.
A brand refresh
In July, Subway announced its plans to refresh its menu and hand out one million free subs across U.S. stores to support the rollout. The menu had 11 new ingredients, 6 new or returning sandwiches and four revamped favorites.
Alongside this menu shift, the chain rolled out what Subway's chief marketing officer, Carrie Walsh, called "one of the largest media investments in the brand's history." The campaign gathered Stephen Curry, Serena Williams, Megan Rapinoe, Tom Brady and Charles Barkley for a series of tv, social and digital ads.
These investments followed the brand's shift towards digital in 2020. Subway launched contactless curbside pickup in November that year and grew digital sales 151% year over year, according to Subway's global chief digital and information officer.
Restaurant Business' editor-in-chief Jonathan Maze, however, was careful to level set the retailer's growth with broader trends. "According to Black Box [Intelligence], August same-store sales in the restaurant space were up 6.2%, so a 4% increase at Subway is actually lower than average," said Maze. "It's the first real momentum they've had in a long time… [but] they've had really declining same-store sales since 2013."
Moreover, Subway's breakout of sales by store type — the top three quartiles of its restaurants grew 14% — only highlighted how much sales at the bottom quartile of its restaurants have declined. According to Modern Retail's back-of-the-napkin math, sales at the bottom quartile of Subway's restaurants would have had to decline roughly 27% for a 4% average growth total.
"Those [declining] stores, from what I understand, tend to be in places like Walmart or malls or business centers — the types of places that really are not generating a ton of business right now," said Maze. "They [still] have too many locations… and they've already closed 6,000 [stores]."
Meanwhile, the retailer is still pacing in-store foot traffic growth compared to peers, according to foot traffic analytic firm Placer.ai's vp of marketing Ethan Chernofsky. From August 2019 to August 2021, foot traffic to Jimmy John's, Jersey Mike's and Firehouse Subs grew an average of 6%, while visits to Subway declined 1.5%.
A rough few years
The retailer has also been handling PR crisis after PR crisis for years. In 2012, Subway had to shut down its $5 dollar footlong value proposition amongst rising ingredient costs. In 2015, Subway's weight loss spokesperson Jared Fogel was charged with sex with minors and child pornography and the brand severed ties with him.
Last year, the New York Times sent Subway's tunafish to a lab, which said no tuna was present in the sample. In response, Subway called the testing used by the Times "an unreliable methodology for identifying processed tuna" as "DNA testing is simply not a reliable way to identify denatured proteins." The chain also launched a site, SubwayTunaFacts.com, dedicated to explaining its tuna sourcing and supply chain processes.
Franchisees have complained about the parent company for years. Subway takes a larger cut of sales — 8% of gross sales — and opens more competing restaurants than many other franchise chains. In April this year, a group of 250 Subway owners wrote an open letter to the widow of the founder of Subway, Elisabeth DeLuca, demanding things like reducing hours during pandemic.
In response, Subway said in a statement at the time that "this letter is not representative of the opinions of the vast majority of our dedicated franchisee network. Subway is committed to the long-term success of our franchisees and provides multiple forums for franchisees to share feedback, working hand-in-hand with them to ensure decisions are focused on maximizing their profitability."
While Subway may be willing to invest in a public rebrand with a new menu and new campaign, Maze worries that "their issues go beyond that."
"They have too many locations… and [their menu] is not nearly as broad as what McDonald's [and other chains] offer," said Maze. "Because your market is relatively limited — especially after you've had these marketing challenges — an individual Subway just can't generate enough business."