Why Pourri rebranded beyond its stinky namesake to match its growing product lines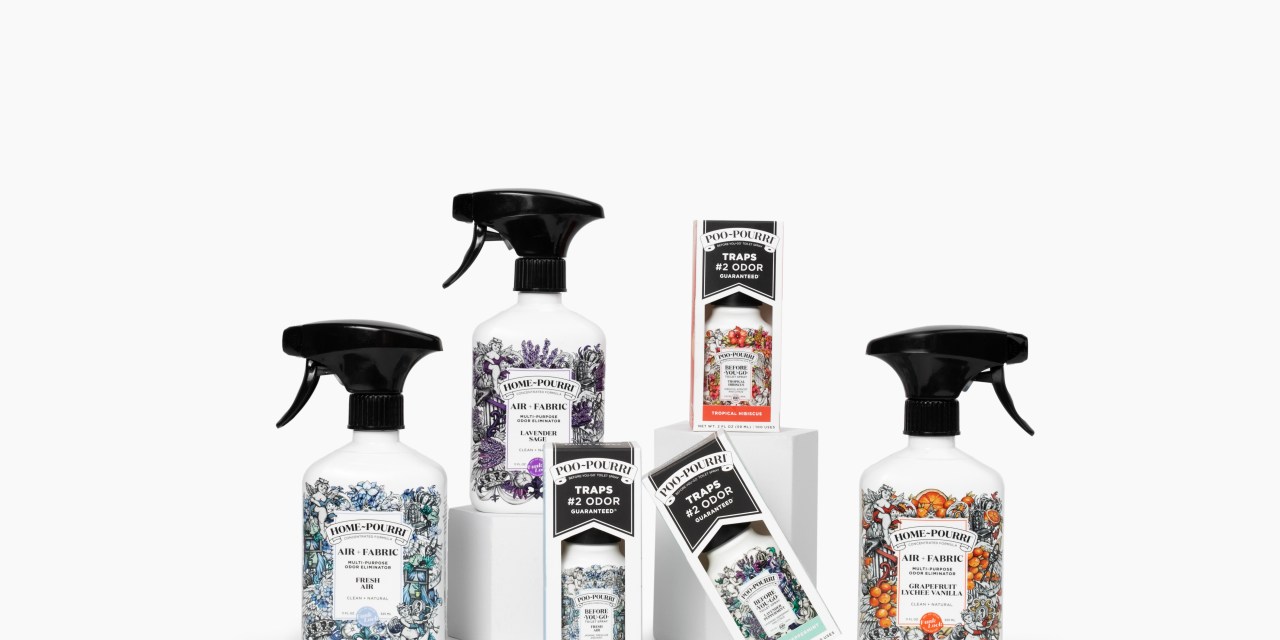 Pourri
Odor elimination company Pourri wants to provide a solution to every stinky problem known to man — and did a rebrand to reflect this.
To complement its category expansions, the company dropped the first half of its original name, Poo-Pourri, earlier this year. Pourri, which was known for its Poo-Pourri toilet sprays, has rapidly ventured into new categories in recent months. In October, November and December, the company launched Home-Pourri air and fabric odor eliminator, shoe and foot odor spray Sole-Pourri and Pit-Pourri deodorant. This spring and summer, Pourri has been focused on getting these products in the doors of national retailers. 
Since its founding in 2007, Pourri has grown popular for its viral YouTube ads, one of which boasts 44 million views. For years, the company's toilet sprays had mostly been at the forefront of the company's business, with over 100 million Poo-Pourri bottles sold. But as the company seeks growth through other categories, it decided to change its name despite its already widespread recognition.
"We decided it's time for us to bust out," said Suzy Batiz, founder and CEO of Pourri. "We've proven ourselves with Poo-Pourri now look what else we can do."
The company currently has 75 different SKUs that span scents, sizes and categories. Pourri products are currently available in over 75,000 locations national and independent gift retailers in the U.S., including Target, Walmart and Bed Bath & Beyond. The company declined to share exact revenue figures but said Pourri has seen a 34% growth year-to-date in 2022 compared to the same period last year. 
Batiz said the company has been mulling over whether to do a rebrand for several years, trying to figure out whether all the products should be under the original name. In the end, apart from the name change, Pourri opted to keep most elements of the brand the same, even as the company expands into new categories. Pourri has used different bottle shapes for its new products but has kept the brand aesthetic consistent, such as the logo design and art style, throughout its product lines. 
"For so many years, we just concentrated on Poo-Pourri," Batiz said. "Even though we had other products that had been invented by me, we had really never launched them on a massive scale. This year, was the first year we decided since we do have all that distribution to expand into other categories."
In May, Home-Pourri made its first national retail debut at Target's air care aisle. A month later, the company's Home-Pourri two-in-one candle was launched in its website and select Target locations, along with a dedicated endcap and exclusive new scents of its Home-Pourri and Poo-Pourri products. Sole-Pourri's first national placement is also coming "pretty soon," said Batiz.
"We're doing lots of tests right now with national retailers," Batiz said. "We felt like with Poo-Pourri, we did great, it's amazing. That still has so much room to grow, but now we know and we feel very confident that there are a lot of odors out there that we can now really address head on."
Kimberley Ring Allen, founder of Ring Communications and adjunct professor at Suffolk University said that rebrands work when a company is stepping into new product categories as long as it's not a complete rebrand.
"You don't stray from it because you do have a loyal base," she said. "I think as you grow and you enter new markets, you can't enter a new market if the brand won't resonate in that market, if the messaging won't resonate in that market."
Alessandro Bogliari, CEO and co-founder of marketing firm The Influencer Marketing Factory, said that rebrands can be beneficial for a brand that wants to adjust its messaging and tone. Sometimes a rebrand is necessary when trying to reach a new demographic, he said. 
Still, by initiating rebranding efforts, a company can run the risk of alienating its core audience, experts said. To avoid that, Bogliari said brands should be in communication with their consumers by listening to feedback and launching surveys.
"Sometimes some brands, they want to completely change themselves, but they didn't ask [their audience] if they actually like it," Bogliari said.
For its part, Batiz said Pourri sent out multiple surveys to communicate with customers.
Pourri said it plans to launch products in more categories over the next year. Some of Pourri's future products include Pet-Pourri, Car-Pourri and other items that would solve body odor. The company has also released Pot-Pourri, which eliminates the smoke odor of cannabis, tobacco and cigars. 
"If you got a place that stinks, we're addressing it," Batiz said.