Why Peet's Coffee redesigned its loyalty program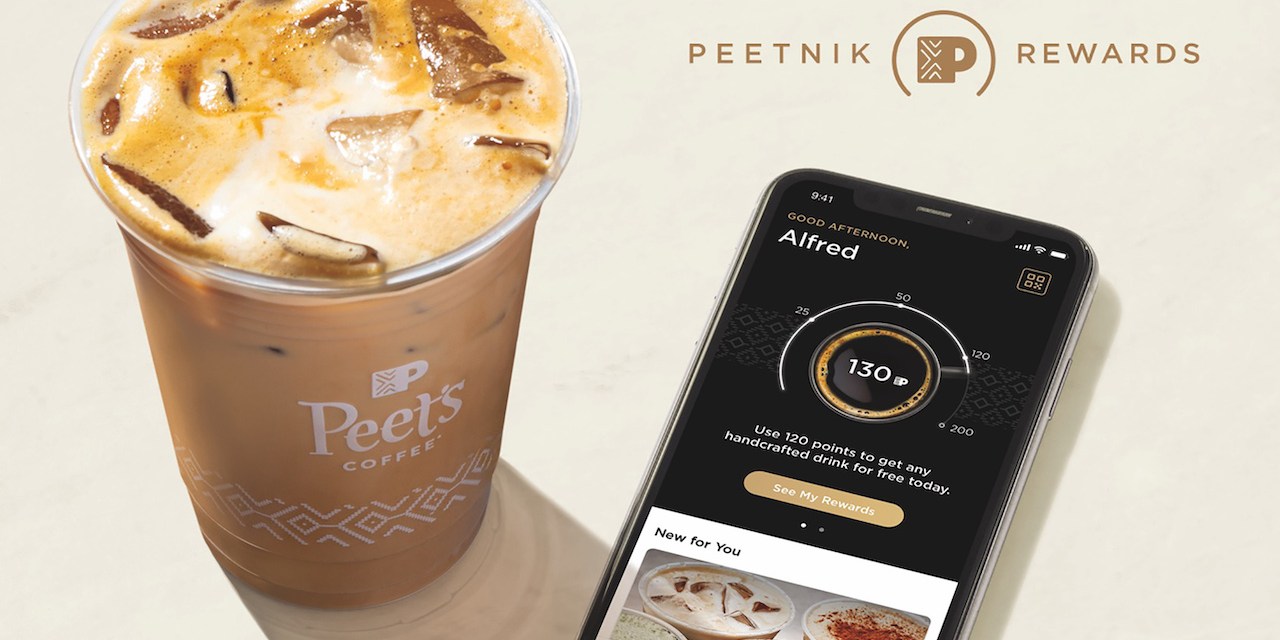 Image via Peet's Coffee
Peet's Coffee is the latest brand to overhaul its loyalty program.
This month, the coffee retailer unveiled a new redesign of its Peetnik Rewards app — including a new points-earning structure, improved scanning technology and exclusive member offers. The hope, according to the company, is to increase engagement among customers. Peet's joins a bevy of other companies — both food-related and not — that have upgraded their loyalty programs recently to promote a variety of perks in the hopes of driving more repeat customers.
Peets, which has over 200 coffee shop locations around the country, first launched the program in 2017 as a way to encourage digital orders. Lisa Regelman, director of loyalty and growth marketing at Peet's Coffee, told Modern Retail that the new updates were made based on existing customers' surveys and interviews. "Many members said that it took them too long to earn a free beverage," Regelman said. Meanwhile others said they wanted to redeem their points for different items, like baked goods or breakfast sandwiches, she said. 
The expansion is in contrast with the simple formula that Peetnik previously followed, which consisted of three main pieces. Previously, customers were limited to receiving one free beverage after becoming a member and making a purchase. They also earned one point for every "check in," or shop order — reaching free beverage status after accumulating 15 points. The third perk was one free birthday beverage, which has been expanded to include 25 bonus points on birthdays and Peetnik anniversaries, plus any baked good or beverage free of charge.
The new points tier rewards members with one point for each dollar spent at the coffee shop. Its welcome offer gives members 125 to save up or redeem on any purchase. It also allows customers to work toward redeeming points for 20 different rewards, which range from adding alternative milks free of charge to free coffee pods or beans. Customers can also use their points for cash discounts, including $1, $3 or $5 off their purchases. 
The company also updated the app's design to make it quickly reorder previous orders, said Regelman. This included improving the app's in-store scanning capabilities, which used to be finicky to maneuver at the register, she continued. "We also made the tier progress more prominent and visually obvious."  
Free drinks are no longer the only perk available. Peet's is using the new program to entice members with exclusives, such as early previews of upcoming seasonal beverages and free delivery through the app. Peetnik Members will also receive access to experiential rewards, such members-only events. To promote the new program, the company is running a sweepstake that gives away gift cards and free beverages among other things.
Regelman said that while it's still early to gauge results, the redesign is already showing positive signs among existing customers. "We're seeing increased engagement across all segments of customers, including inactive users," she said — whereas for the past few years it was mainly being utilized by frequent visitors. 
Keeping up with loyalty trends is becoming an increasingly important retention strategy. Mary Pilecki, a Forrester analyst covering loyalty marketing, said that this type of program is meant to encourage more repeated uses. "To get points, you have to scan the app in-store or use it to order." Retailers are testing out these types of strategies lately both as a way to collect first-party data, as well as increase customers' chances of re-purchasing, she said. 
Offering non-financial perks is also becoming a new loyalty program trend. Pilecki pointed to Forrester data showing that 68% of consumers like to receive exclusive rewards in their loyalty programs, "which makes them feel like valued customers." For example, this month, both Walmart and Best Buy announced early holiday shopping access to their premium members.
For Peets, this is the most dramatic change the coffee retailer has made since launching Peetnik in 2017, said Regelman. But these recent improvements will likely not be the last. "There are so many changes going on with loyalty programs, and this is another opportunity to keep up with customers' expectations."