Naked Retail Group is offering DTC brands physical store services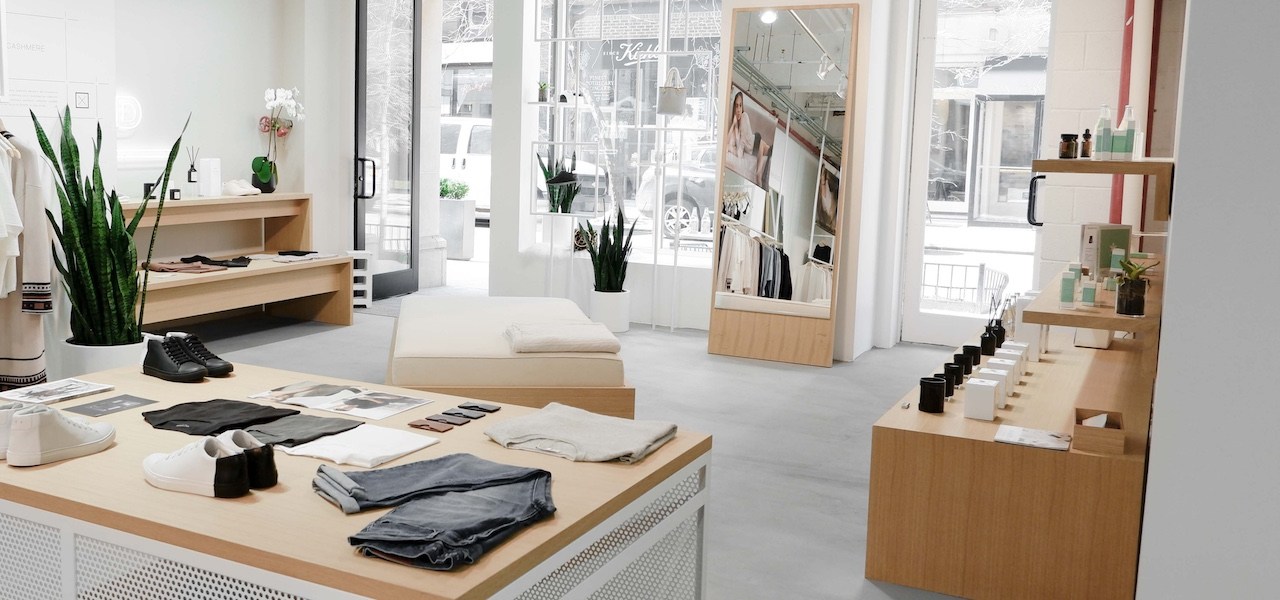 As DTC brands grow up, retail-as-a-service models are turning into a burgeoning industry. Naked Retail Group, whose core model is to open stores, then lease out space in those stores to brands, is taking it one step further.
Launched in January, has so far worked with brands including Andie Swim, They Shoes and Urban Apothecary. The group is now also offering turnkey retail services for brands' standalone stores, working with Brooklinen and Roman on their New York pop-ups. And it's also launching advisory services that helps get startup brands on sale in other retailers, like Bandier, Nordstrom and Topshop.
The retail service company got its start from a smaller-scale collaboration: In 2017, Naked Cashmere founder Bruce Gifford leased space from Upton Belts founder Justin Kerzner at his brand's Mulberry Street store in Manhattan. After doing $100,000 in sales the first month and then surpassing that in its second month, Kerzner and Gifford realized that the brands' joining forces led them to drive more revenue, lessened the brunt of paying expensive Manhattan rent, and avoided the impermanence of a pop-up shop, a model that's become standard for online brands to experiment in the physical world.
Kerzner and Gifford then joined Brandon Charnes, co-founder of Current Real Estate Advisors, to launch Naked Retail Group as they recognized other small startup brands could benefit from this set up, too. In fact, it's a pervasive mindset in retail right now: As DTC brands grow their businesses offline, it helps them to look to similarly minded companies to offset some of the costs of testing physical retail. Other companies like Neighborhood Goods and Bulletin are building similarly modeled multibrand storefronts for DTC companies going offline for the first time, and DSTLD Denim launched the Digital Brands Group last year to acquire and launch more brands under one umbrella.
"In order to mitigate the risk of opening a store, we decided to partner. It's more cost effective," said Kerzner, who added that more than just cutting costs, Naked Retail Group's model drives brand collaboration and cross-promotion that lifts all involved.
Gifford said Naked Retail Group is flexible with lease terms according to what brands are looking for. The typical cost is $20,000 per month for an in-store activation and digital promotion package, but it can be as low as $1,000 a month for a small appearance, or as high as $30,000 for a bigger space. If a brand can't pay upfront for the space, Naked Retail Group will work out a revenue share model. Gifford said the store currently does between $100,000 and $200,000 a month in sales.
"The retail strategy that we're developing is perfect for a brand like ours, and there are quite a few brands like ours," said Gifford.
Right now, there's one Naked Retail-owned store, in the former Upton Belts space on Mulberry Street. But Gifford said the company could open anywhere between four and 10 more locations in the next year depending on how partnerships and resources play out.
"When brands realize the cost to build out a standalone store, it's incredibly significant. A million dollars is not unreasonable for a new store. If you could pay $20,000 instead, there's no comparison." — Hilary Milnes
CAC Watch: Quora
Quora was recently cited by Lerer Hippeau principal Andrea Hippeau as one of the platforms that DTC companies were starting to test as the cost of customer acquisition continues to rise on Facebook and Instagram.
Direct-to-consumer pet food startup Ollie is one of those companies. Gabby Slome, co-founder and chief experience officer of Ollie, said that the company's been testing Quora for about four months. She declined to say how much the company's spending on Quora, but said that it "represents a large part of our test channel."
As Digiday's Kerry Flynn previously reported, Quora has been maturing its ad platform over the past couple of years, first by launching a self-serve ad system in 2017, as well as question retargeting and keyword retargeting in January.
Ollie uses Quora to serve ads against pet-related questions that Quora users are looking to answers for, like "how to choose the right food for my dog." Slome said that while Quora is helpful in allowing Ollie to target some high-intent users, Quora will remain a test channel for now as Ollie tries to figure out how much traffic a given set of questions can get over time. She also said that she'd like to see Quora add better targeting features by demographic.
"The difficult thing for us and a lot of the other marketers is finding a channel that has the opportunity to get scale," Slome said. — Anna Hensel
All eyes on Target
Tampons, pads and "feminine hygiene" is the current hot category in the direct-to-consumer space. One retailer that is making a push into it: Target. This week, Saalt, makers of a menstrual cup, announced is going into stores, launching for the first time in Target. The company, which donates 2% of its revenue to fund women's empowerment initiates, is also planning a first-time activation on Earth Day. Also this week, Rael, a company that makes pads, pantyliners and a feminine wash, also announced that its product will now be available at Target's stores, as well as on the Target site. Target's long been a DTC favorite — brands including Native, Quip and Harry's have all recently expanded their physical retail presences with a Target partnership. "Target is the perfect partner because of their focus on discovering innovative, emerging brands and helping them grow to become the next-generation of household products," Rael co-founder Yanghee Paik said in a statement. And as Digiday has previously reported, Target also happens to have attractive deal terms and a way of working that appeals to these digitally native brands. Win-win. — Shareen Pathak
Other news to know
Wayfair's second-annual "Way Day" sale — the company's answer to Prime Day — launches today and lasts for 36 hours. This year, the retailer added two new features: a livestream of product reviews, and share-and-save social media incentives.
Dote is also testing live-stream shopping. The Gen Z shopping app launched a new influencer-driven live shopping feature that's similar to Twitch.
Good American is opening a pop-up in the Mall of America on April 15.
Lush is feeling social media burnout, and is changing its strategy accordingly. In a statement the brand wrote Tuesday, it announced that it was "tired of fighting with algorithms," and felt that needing to pay to appear in customers' news feeds was creating a divide between the brand and customer.
What we've covered
Ding Dong digital: How Avon is reinventing for a new consumer.
Bank of Walmart: The retailer is adding money services to lock in customers.
Influencing in real time: Influencer live-streaming is on the rise.
—
Sign up for the Modern Retail Briefing to get retail news, analysis and insight delivered to your inbox every morning.