Inside Yes Way Rosé's seasonal marketing strategy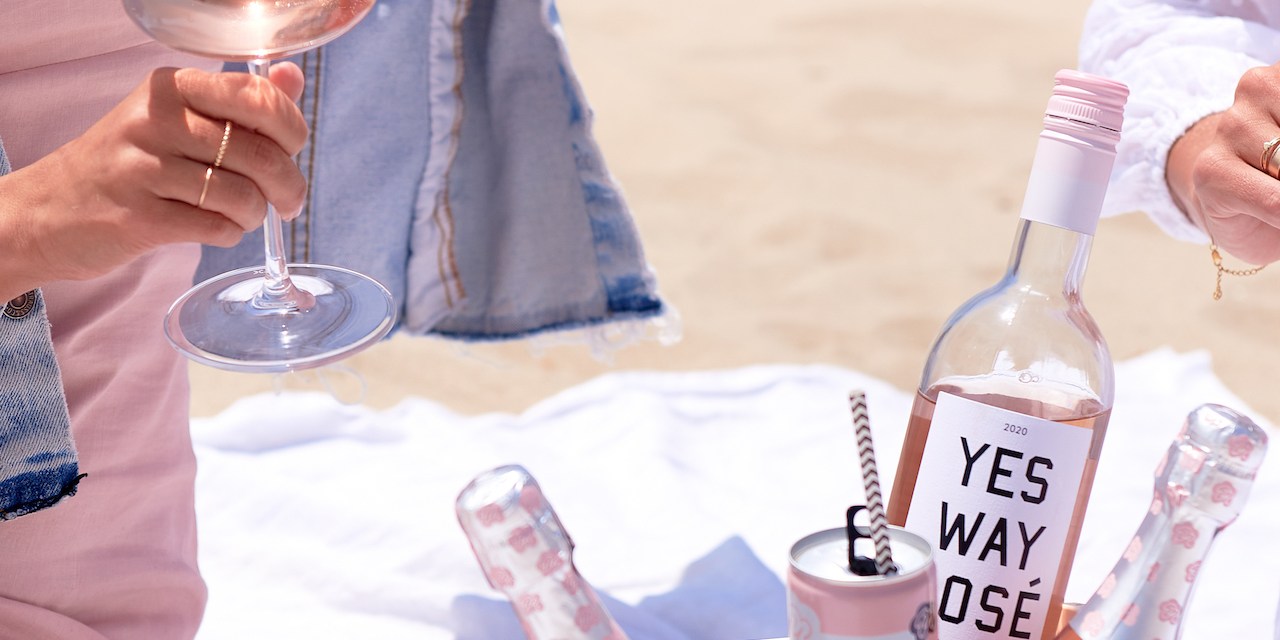 Image via Yes Way Rosé
Each spring and summer, when rosé wine is at peak popularity among consumers, Yes Way Rosé's sales experience a massive tick. This year, the brand has already experienced a 38% increase in sales since May, making it its biggest year yet. 
But for the Provence-sourced wine brand, its inventory and marketing planning takes into account rosé's seasonality. While many wine manufacturers fall back on their red and white varieties the rest of the year, rosé-focused brands like Yes Way Rosé rely on warmer months for the majority of their revenue. As a result, Yes Way's marketing spend is primarily concentrated in the spring and summer months, but it also is investing in more tactics, like brand collaborations and digital content, to keep people thinking about rosé year-round.
The brand — which co-founder Erica Blumenthal said started as a lifestyle brand selling "Yes Way Rosé" t-shirts and totes — launched its first wine in 2018. Since then it's expanded into Target, Trader Joe's and Kroger; the company had its biggest year in sales during 2020, thanks to the pandemic-fueled booze sales boom, said Blumenthal.
As sales were up, Yes Way Rosé saw major growth from retail channels the past year — both via big chains like Total Wines and Target, as well as independent wine and liquor shops. However, marketing was especially challenging during the uncertainty of the pandemic, particularly because on-premise sales were mostly halted. 
According to data by e-commerce wine platform Drinks, rosé is a hot seller during the summer months, with average sales increasing by 800% in August, compared to May. Furthermore, sales typically surge 50% to 100% in spring, and drop by 50% in the winter.
According to Drizly's BevAlc Insights 2021 rosé forecast, rosé sales tend to rely on the summer season. Liz Paquette, Drizly's head of consumer insights, said that "rosé remains an important wine sales driver, particularly during warm-weather months." Despite its relatively short window of consumption, rosé's popularity continues to grow among U.S. consumers. According to Drizly, rosé's share within the overall wine category has grown over the past five years — currently accounting for 8% of Drizly wine sales.
Finding the right rhythm
While the pink wine is enjoyed year-round by some drinkers, "it's definitely a summer product," explained Blumenthal. The brand also has a sparkling wine SKU that it promotes during the holiday season and Valentine's Day. But the majority of sales still come from the roughly April-to-September rosé season.
This means planning for "peaks and valleys throughout the year," said Blumenthal. The trick, she said, is to balance staying on customers' minds year-round without always "being on," or pushing a summer product during the frigid months. For example, during last winter's socially distanced holiday season, the company ran delivery and gifting-focused ad campaigns. Similarly, for Valentine's Day, Yes Way Rosé ran a delivery partnership with New York's Williamsburg Pizza.
"We go into the year thinking about our big releases and which products to prioritize," she said. This forecast includes allocating marketing resources toward the holidays, with spring and summer accounting for the majority of the budget. On the content side, the team taps into food trends and pairings, along with cocktail recipes that "evoke the season," Blumenthal explained, Those are promoted year-round on the brand's website and social media pages, but especially during the summer.
New formats and partnerships
Part of the company's growing strategy is to introduce new packaging formats, such as cans, to stay relevant to consumers' changing needs. Yes Way Rosé first introduced canned still wine in spring 2020. "The canned SKUs give us another 'in' within a growing category," Blumenthal said, which helps compete with other canned alcohol, such as hard seltzers and cocktails. The canned wine and spritz lines were products Yes Way wanted to grow during 2020, which was difficult without the existence of events. "This summer, we're pushing them as a solution for gatherings or outdoor events." 
Blumenthal explained that because the company didn't have any events or in-person activations over the past year, it had to get creative with digital marketing. Yes Way Rosé has partnered with brands including BHLDN and Summersalt swimwear. Its latest partnership is an outdoor and beach-geared collaboration with cooler maker Igloo.
As reopenings continue, the plan is to toggle promotions of different SKUs, depending on the season, said Blumenthal. 
Similarly, Babe, which began as White Girl Rosé and was launched by influencer Josh Ostrovsky in 2015, began selling canned wine just a year after launch. Chelsea Phillips, general manager at Babe Wine, said that catering to different settings is key for a single-product brand. With rosé being synonymous with summer, she said, it gives grab-and-go brands like Babe a chance to stand out among glass bottles.
"In the colder months, data shows us that rosé transitions into a drink for big nights out like holiday parties and New Year's Eve," Phillips said. So during this time, Babe works with influencers on campaigns that showcase the wine's winter use. 
For the second half of 2021, Blumenthal said the focus will be on bringing back on-premise advertising and events. Now, with more consumers embracing rosé as an everyday wine, "we have an opportunity to become a year-round purchase."