Inside olive oil startup Brightland's product expansion strategy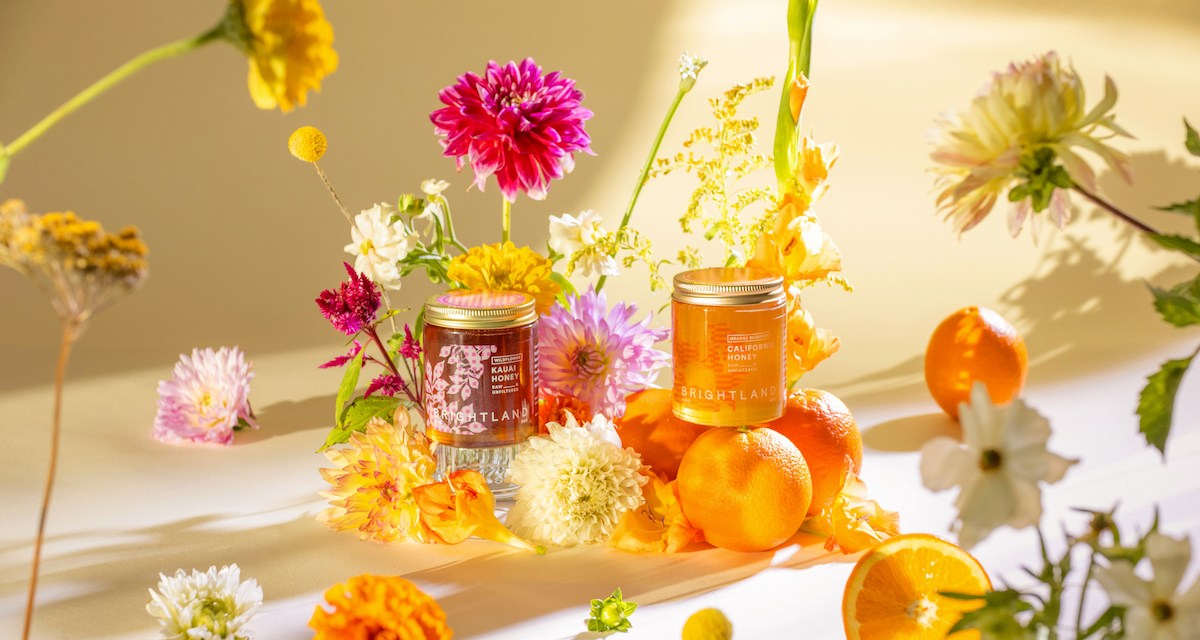 Brightland
When CPG startup Brightland launched in 2018, it sold just two products: two different varieties of olive oil.
Since then, the company has expanded its product line to include four different flavored olive oils and two different varieties of vinegar. Now, this week it launched a line of honey. Founder and CEO Aishwarya Iyer now describes the company as a brand of modern pantry essentials.
The company's approach to product expansion is to thoughtfully introduce the items to customers' palates. It usually launches with just two varieties when it expands into a new category of nonperishable goods, to highlight to customers the range of flavor that might be contained within one bottle of olive oil or honey. Once it starts to stick with customers, the company will start expanding into new flavors — often collaborating with other brands on limited-edition items, as it did over the summer by partnering with Oishii Berry on a strawberry-infused vinegar.
As the company's SKU count has grown, so too has its revenue: Iyer said that Brightland's sales grew 5X last year.
Brightland's approach when it first launched was to market olive oil like wine. It launched with just two varieties of olive oils — each came from different olive varietals to "really showcase the nuance that exists within the olive oil world," and how that "can impact flavor and taste," Iyer said.
With that, in-person tastings are an important part of the marketing process. While Brightland primarily sells its products through its website, the company's products are also carried in hundreds of stores, mostly wine shops and other specialty food stores. In order to promote the launch of honey, Brightland is hosting tastings at two flower shops in Los Angeles and New York this week.
Iyer said that the company first experimented with new flavors when it launched a lemon-infused olive oil in 2019, which the company initially intended to be limited-edition. But, after it sold out within roughly 48 hours, Brightland decided to bring it back as a permanent addition to its lineup.
Using collaborations to test out new flavors
As the company has grown, Brightland has also started to partner more with other food brands on products. This summer, Brightland launched a limited-edition strawberry vinegar in partnership with Oishii Berry, a New Jersey-based company that sells Omakase strawberries, which retail for $5 a piece. The strawberry vinegar sold out within five days, and Brightland saw an 80% increase in total order volume during those five days compared to the weeks prior.
Collaborating with other brands on new products is an approach that's increasingly being favored by brands ranging from weighted blanket brand Gravity Products, to dog toy brand Bark. Partnerships allow companies to more cheaply test out new products, while also being able to market one company's products to a company that might have a similar, though not completely competitive, customer base.
"We are inspired by how fashion brands come together to create interesting, relevant, even irreverent collaborations, so we're excited to stretch our imaginations in that similar way," said Iyer.
In addition to limited-edition items, Brightland also frequently collaborates with brands in other ways. In 2019, the company created a bottle with a custom label for Sweetgreen to sell in in its locations.  Over the past year, it has done collaborations with Fishwife, a direct-to-consumer brand that sells modern varieties of tinned fish, and Material Kitchen, offering products from their respective brands as a limited-time gift with purchase.
Madeleine Darcy, managing director at CircleUp Growth Partners, said that she has increasingly seen food and beverage brands rely on partnerships to promote new products.
Darcy, whose firm provides equity and loan financing to CPG startups, said that partnering with other startups — as Brightland has done — is often most popular. Influencer or celebrity partnerships are also frequently popular Darcy said, though more difficult to land, citing Asian-inspired sparkling water brand Sanzo's recent partnership with the Marvel film Shang-Chi and the Legend of the Ten Rings on limited-edition cans.
Darcy said that partnerships are becoming increasingly popular for a variety of reasons. For one, it allows brands to re-engage existing customers with new products, while also reaching a different customer base in another brand's audience. What's more, it is usually cheaper for a brand to test out a new product with another brand, compared to trying to launch a new product entirely on its own.
"Maybe you really can't have 20 SKUs in your set at an early stage, but [partnerships] are a way to add freshness to your brand and test out new products," said Darcy.
Iyer, for her part said when deciding whether or not to release a limited-edition product with another brand, one of the biggest deciding factors is taste, as well is if the two brands feel like they can create a truly unique product.
"Both of us have to feel genuinely enthusiastic, and then I think there has to be an element of 'is there something delightful that we can actually create together?'" she said.