In-store retail advertising is going digital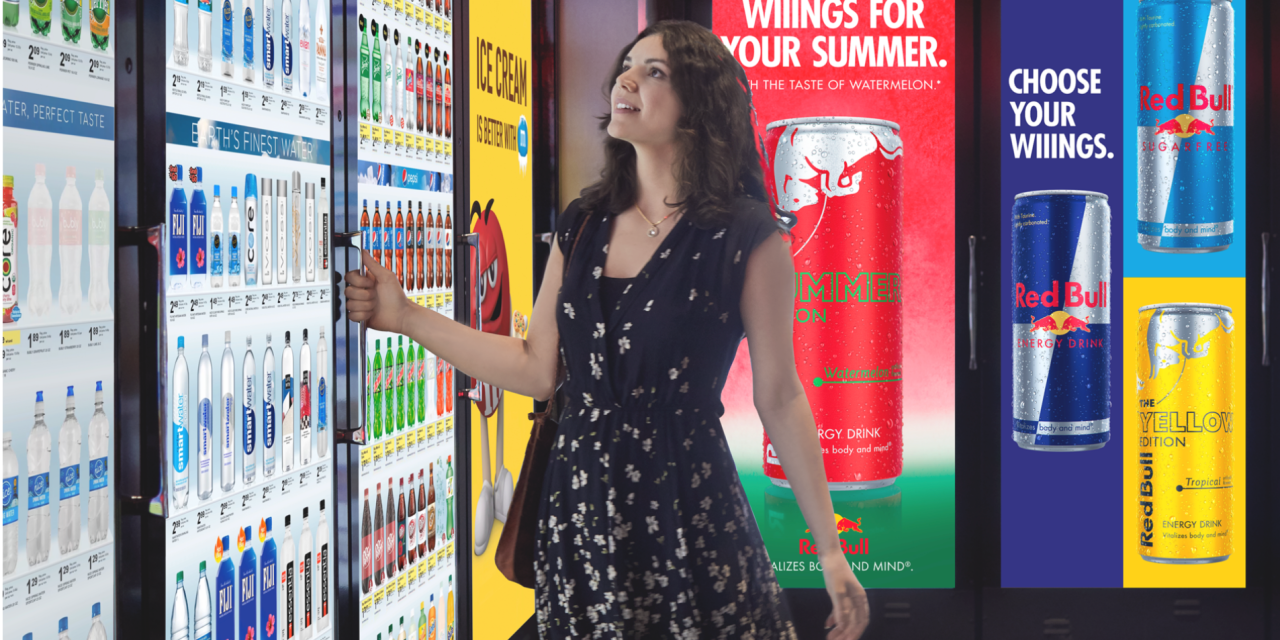 Cooler Screens
In the past year, advertising has saturated online marketplaces like Amazon and Instacart. Now, retailers are trying to bring digital ads into brick-and-mortar stores, too.
One of the companies leading the charge is the startup Cooler Screens, which has worked with Walgreens, Kroger, Giant Eagle and other stores to install "smart screens" in their refrigerator and freezer aisles. These smart screens display the full suite of drinks in a given cooler, along with digitized nutrition facts. This month, Cooler Screens announced that it had installed 10,000 of its smart screens in over 700 retail stores. But brands can also buy ads with Cooler Screens, so that — like a display ad in search results on Amazon or Walmart.com — their products are shown to customers on the verge of making a purchase decision.
Cooler Screens is not alone. A startup called Vengo sells vending machines that come with their own ad network — brands can buy digital ad slots on each vending machine to encourage people to purchase their products. Coinstar, the maker of the coin-counting machines that are often placed inside retail stores, also has a growing digital ad network. Meanwhile, newer companies like Starlite Media have begun installing screens inside of — and at the entrance to — retail stores like Ralph's, Walgreens, Shop-Rite and others. These all point to a bigger trend: retailers are eagerly testing ways to display digital ads to consumers, closer and closer to the point of sale.
Fueling the interest in Cooler Screens is a desire among brands to replicate the success of digital retail media in a physical store environment. Online platforms like Amazon and Instacart have become advertising powerhouses, largely because of their ability to reach consumers who are already in a shopping mindset. Instacart reportedly now receives around 20% of its total revenue from advertising. Last quarter alone, Amazon brought in around $7 billion in ad revenue (Amazon doesn't break out its ad revenue specifically), up 87% year over year.
Digital ads are appealing because they are much more versatile. A brand can tweak its messaging depending on events ranging from developments with their products or upcoming sports games. Brian Rappaport, founder and CEO of the out-of-home-focused agency Quan Media Group, pointed to "the flexibility that digital out-of-home offers, the ability to change creative on a whim, and really be contextual and be smart" as the main appeals.
Prior to startups like Cooler Screens and Vengo, most of the examples of digital ads in physical stores have been rudimentary. Rappaport pointed, for instance, to the fact that retail stores often have TVs on display, and brands can pay to have their products featured on those TVs as customers browse. When it comes to the proximity to the point of sale that Cooler Screens offers, "I don't think there are a lot of [other] out-of-home tactics that offer that up," he said.
One reason the company is seeing interest now, said Cooler Screens founder and CEO Arsen Avakian, is that, despite the ballooning of e-commerce sales during the pandemic, retailers have "all come to this realization that now retail is not just going to survive, but it's still the dominant channel," he said. But, to him, "the experiences in the stores are still so obsolete."
Avakian said that Cooler Screens intends first and foremost to give extra information to consumers. Cooler Screens partners with brands and third-party syndication companies in order to display, for example, nutrition information about each product on the screens. "We're getting ready to roll out reviews on the products," Avakian added.
Ads are only a secondary part of that, he said, but they are the company's moneymaker. Cooler Screens' ads are heavily focused on contextual data. Avakian said that Cooler Screens can track, for instance, the amount of time someone has stood in front of a particular cooler, what neighborhood the customer is in, what the weather is like outside, what time of day it is, what is happening in the news and more.
One concrete example: included in the data that Cooler Screens uses to decide when an ad will run is whether there is a football game that night. Rappaport has not worked with Cooler Screens, but he said he saw potential in this model. He pointed to the example of someone looking at beer in Kansas City the afternoon of a Kansas City Chiefs game — that could be the perfect moment for an alcohol brand to include a message about game day, for instance. "That's going to speak to any advertiser," Rappaport said.
In data that the company shared with Modern Retail, it claimed that it provided a 6% sales lift in stores with Cooler Screens installed as opposed to those without, and that products advertised on a Cooler Screen saw sales lifts between 2% and 10%.
Cooler Screens has two separate payment models, depending on the retailer. For some retail partners, Avakian said the company has a pure revenue-share model. Cooler Screens will install its product for free, then split the money generated from ads with the retailer. In other cases, when retailers don't see as much potential profit in outside advertising — if, for example, that retailer is mostly focused on private label — Cooler Screens will charge a platform fee for use of its technology.
Cooler Screens still has limited reach — Avakian said the company has "nearly 200 brands" in its ad marketplace — but the company is looking at expansion opportunities. He said that, building off of its core focus on drinks and snacks, the company has piloted expansion into the pharmacy and beauty categories at select retail stores.
Regardless of Cooler Screens' success, Rappaport said that he expected more companies would soon attempt to bring more ways to integrate digital advertising with physical stores. "I think rollouts like Cooler Screens are only kind of the beginning," he said.