'A shift toward direct influencer and brand collaborations': How the DTC podcast advertising strategy changed in 2020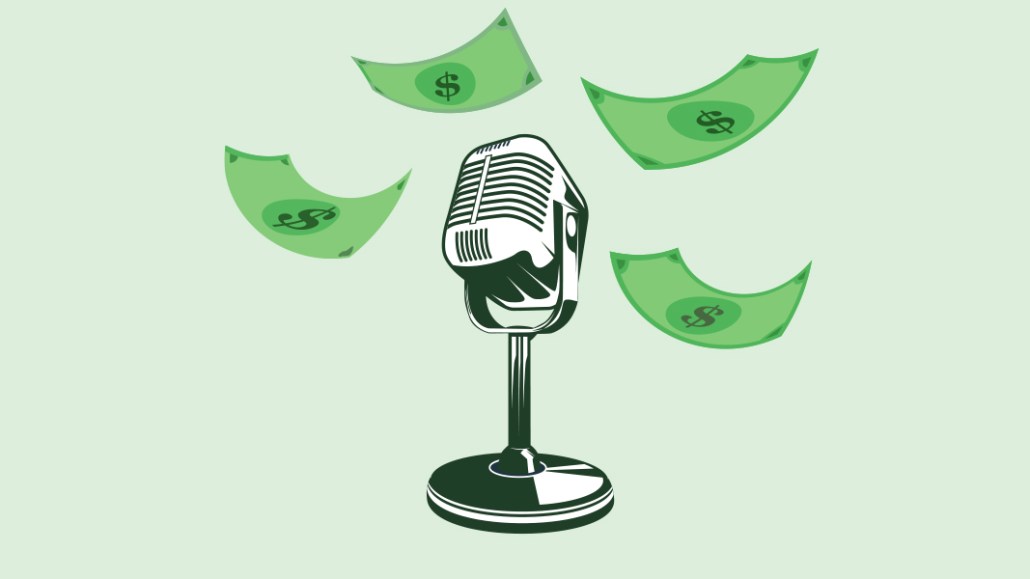 With daily commutes largely a thing of the past, the podcast landscape isn't what it was a year ago.
But despite the ups and downs, this year podcast advertising revenues are projected to surpass $1 billion, an over 20% increase from 2020, according to eMarketer. In turn, direct to consumer brands — namely those that have come to use audio ads as part of their marketing strategy — are navigating a new podcasting landscape. Brands like Bombas and Parachute have streamlined their audio ads — which show hosts read themselves — to reflect the current climate. Meanwhile, brands that typically have a harder time marketing products on digital platforms — including those in the CBD and other "vice" categories — are turning to podcasts. Furthermore, the advertising platforms that facilitate these deals say the shift has only helped brands find new ways to streamline their audio commercials.
Despite remaining a popular advertising medium for brands, people have been shifting their listening patterns — which has impacted advertisers. At Will Media, a production house whose clients include Amazon Studios and Hearst, is planning its 2021 programming around new quarantine listening habits. CEO Will Malnati said that while there hasn't been a big drop off in listeners since last March, clients' news shows like the New York Times' The Daily have seen a big boost in listeners looking for news updates. The biggest change has been in consumption patterns. "We've seen on-demand listening times shift from commutes to workouts or before bedtime," Malnati explained.
Some of these changes, however, have had repercussions with advertisers. For example, shows that have traditionally worked with hospitality brands saw a decline in advertising — though, many have started to re-engage, Malnati said. Longform podcasts in particular have had a big hurdle with at-home consumption, as some listen on speed mode, which is "not great for brands buying ads on there," Malnati said. 
Despite these shifts, more people have begun listening to podcasts over the pandemic. In July 2020, Spotify announced its monthly number of podcast listeners increased from 19% to 21%, with the amount of podcasts they consumed having "more than doubled." According to September 2020 data from Edison Research, specific demographics such as families and Generation Z, have carved out more time for podcasts during quarantine. The report concluded that as of 2020, 49% of all Americans aged 12 to 34 listened to at least one podcast per month, compared to 42% in 2019.
Meanwhile, there's been an increase in podcasting content too. Much of the new growth for At Will Media has come from development of original narrative and scripted shows. "With film and TV production still largely on hiatus, audio recording has an advantage to create quicker remotely," he said.
Rethinking the role of audio advertising
All of these elements meant that DTC brands began rethinking their audio advertising strategies last year. When the pandemic first hit, sock brand Bombas reduced audio activity down "to a select number of podcasters we had long, ongoing relationships with," Lauren DiGregoria, Bombas' director of acquisition, told Modern Retail. The company also limited testing new ad placements as it wasn't sure how quarantine would impact listenership habits. Since then, Bombas has decided to put more gasoline on audio channels like podcasting and streaming audio. This was in part due to the high demand for comfortable and cozy products that demand Bombas experienced during quarantine. "Our messaging during this time period has focused on comfort, which resonates with customers," she said.
Similarly, homeware brand Parachute paused the majority of audio buy at the outset of the pandemic. "The slowdown gave us an opportunity to be more intentional and thoughtful about how audio fits into our larger marketing strategy," CEO Ariel Kaye said. 
Now, that's beginning to change. Typically, less than 5% of Parachute's total marketing budget for the year is committed to audio. However, the company has been actively seeking new shows to partner with, thus anticipating this percentage to increase in the second half of 2021.
But a new approach has emerged over Parachute's old audio advertising strategy. Over the past year, Parachute discontinued a number of partnerships with its legacy audio partners (which Kaye declined to name) and chose instead to invest in specific hosts, Kaye said. The brand's 2020 audio ad budget went toward personalities like popular TED mainstays Brené Brown and Esther Perel, who Kaye said feel like natural extensions of the brand. She cited past Parachute ads, in partnership with Malcolm Gladwell on Revisionist History in summer of 2019, as marquee examples to follow.
Meanwhile, other brands saw podcasting's growing popularity as a way to get their message out when traditional advertising channels are off the table. For example, CBD brand Feals said investing in audio ads tends to be "more stable" than social platforms like Facebook and Instagram, according to co-founder Eric Scheibling, as Facebook has ad restrictions on certain "vice" categories, including CBD and tobacco. Currently, Feals' podcast marketing budget makes up about 30% of the brand's total media spend. 
The rise of à la carte ad buys
Given these rapid changes in listenership, advertisers are continuously tweaking their allocations toward audio. And new companies offering self-serve advertising services are becoming increasingly popular. Platforms like podcasting network Headgum's Gumball said advertisers are looking to them during the pandemic. Gumball, which launched in late 2019, allows any individual to view ad inventory and pricing across Headgum's slate of shows and buy individual ad placements. Podcorn, a similar marketplace that connects podcasters with advertisers, said it is seeing demand spike as well.
"As an open tech platform, we can provide brands with a lot more inventory choice in who they work with than traditional advertising agencies," said Podcorn co-founder Agnes Kozera. The company has seen average brand spend increase by more than 400% since last March. Podcorn has also grown from 9,000 podcasters on the platform in March, to 35,000 podcasters currently.
"We're seeing a lot of brands be more thoughtful about which podcasters they spend on," Kozera said. As she explained it, brands are placing greater emphasis on the types of listeners rather than the number of impressions. "The overall trend that we've been seeing with advertisers is a shift toward direct influencer and brand collaborations," she said. This is a departure from bulk ad buying, one of the more popular models that brand advertisers take with podcasts.
Despite the changing climate, brands are still bullish on podcast ads. Within the direct to consumer marketing scene, "podcast reads bring authenticity that's more challenging to replicate through other marketing channels," said Bombas' DiGregoria.