How Snapchat's AR capabilities are boosting its commerce efforts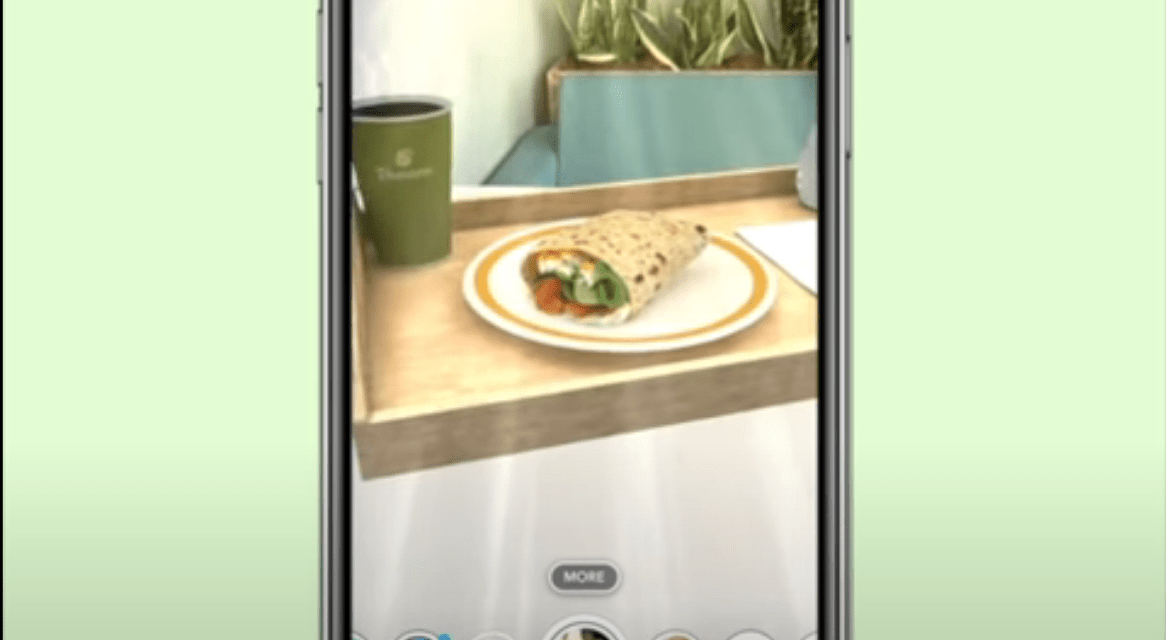 via QReal
Snapchat is growing its e-commerce prowess.
Over the last year, despite the high-profile coverage given to its rival TikTok, Snapchat has undergone a revitalization. After a period of lethargic growth, Snap recently reported that it reached 265 million daily active users at the end of 2020, a gain of 22% year-over-year. Some of that is thanks to a barrage of new features that the company has tried out. Most prominently, it recently rolled out Spotlight, a TikTok-like tab within Snapchat that awards people potentially millions of dollars in exchange for posting viral videos to the app.
Yet, more quietly, Snapchat — much like TikTok — is also positioning itself as a more commerce-friendly space: since last July, Snapchat has beta tested a feature called Brand Profiles that gives brands more access to user demographic information, lets them pin their Snaps to a single page (rather than have them disappear after 24 hours) and introduces in-app shoppability for the first time. Companies like Target and Dior already have profiles, as do dozens of others pre-approved brands, but more are likely to follow. The introduction of shoppable augmented reality (AR) filters seems to be a particular draw. Through its Brand Profiles, Snapchat appears to be positioning itself the proof of concept for shoppable AR as a future medium of commerce.
"They understand that they'll be the AR e-commerce marketplace of the future," said Mike Cadoux, general manager at QReal, an AR marketing firm that has designed filters for Walmart, Panera and others. Cadoux's agency works with Snapchat, and Snapchat sometimes refers deals to Cadoux. It also creates AR and 3D ads for other social platforms.
Snapchat made its early foray into shoppable AR last June, when it collaborated with Gucci on a virtual try-on campaign. Customers only needed to point their phone camera at their feet, and an AR filter would appear with a pair of Gucci shoes. That was the first time an AR filter — called a Lens in Snapchat parlance — featured a "Shop Now" button, so customers could make a purchase through the app. But in the months since, a growing number of retailers and brands have tested the waters of shoppable AR. Most recently, American Eagle announced it was rolling out an AR Jeans Guide on Snapchat, allowing customers to cycle through different jeans within the app.
AR try-on filters are not unique to Snapchat. Instagram and Pinterest also use them, and brands like Glossier host AR makeup try-on portals on their own sites. But Cadoux said Snapchat's AR lenses are especially powerful. "They have either the best or some of the best AR technology out there," he said. "I think they see their future in augmented reality, and I think that's why they call themselves a camera company."
Why augmented reality?
Within the retail world, AR filters can sometimes feel like a gimmick. They've been around for several years now, and although many social media platforms are adopting them for commerce-related tie-ins, it isn't always clear to what extent a customer base exists for them. From a marketing standpoint, though, the simplest argument for AR filters is engagement. "A user will spend nine seconds of their time interacting with this Lens on average," said Cadoux. In marketing, he went on, "that's a lifetime these days." From his initial tests, he said, customers respond better to AR filters, and are also much more likely to click through to view a product.
On Snapchat, branded AR filters are a diverse set. A dedicated artist community has sprung up around them, giving rise to a series of AR design and marketing companies that work with brands on crafting filters. One prominent firm, Lenslist, has a stable of dozens of Lens creators that it refers to brand partners — which includes Puma and KFC.
"I think they will move more in this direction of shoppable AR," Zuza Śliwińska, the partnerships manager at Lenslist, said in reference to Snapchat. "One of the most recently added features to their software was 3D body tracking, so you can basically add on your silhouette to any 3D model that you create."
As AR filters get more sophisticated, some marketers are hoping AR might begin to solve another persistent problem within e-commerce: customer returns. Some items bought online are returned at astronomical rates. Right now, AR filters can't, say, scan a person's foot and estimate with precision their shoe size. But, especially once cameras get better depth perception, Cadoux said that future might not be far off. "That's super duper interesting to humongous apparel brands specifically," he said. "Brands with high return rates are looking into AR solutions for fit."
In the meantime, Snapchat is ramping up its other commerce-related features, including its ads network. In November, it launched a new ad platform called Snap Connect, which focuses on direct-response ads — and brands have increasingly touted the value in Snapchat advertising, too.