How Rothy's pivoted its product strategy in 2020 and stayed profitable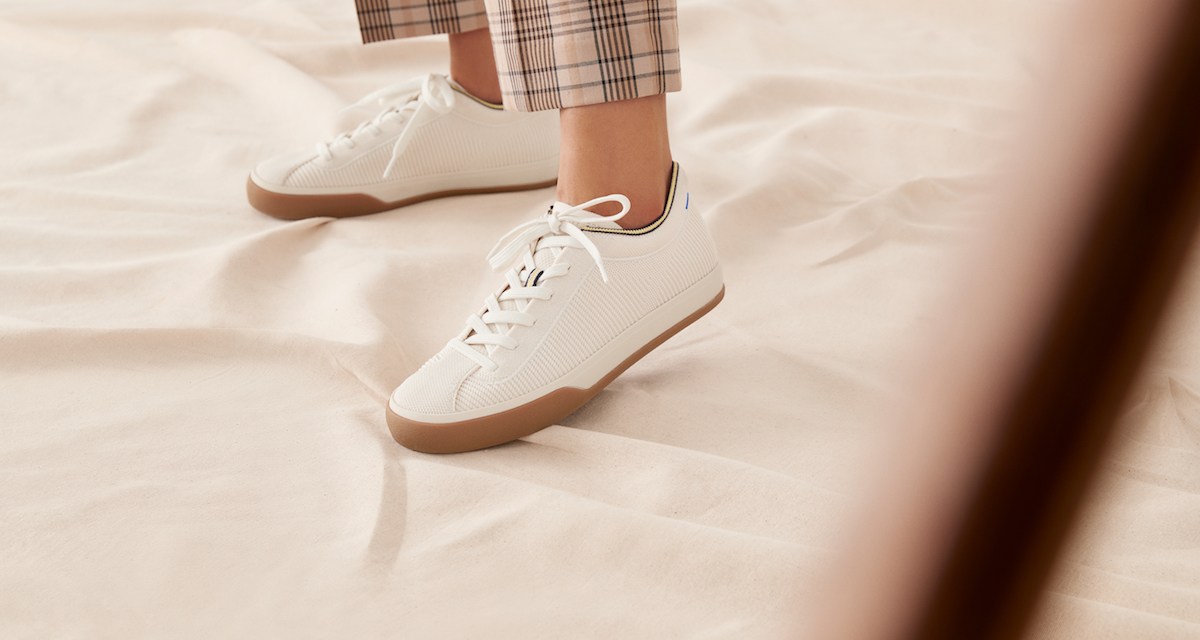 Last year every footwear company had to rethink its strategy as the coronavirus upended what types of shoes people wanted to buy. Rothy's was no exception.
Rothy's had just launched a new category, handbags, when the coronavirus pandemic hit in March. The brand, which got its start in 2016 selling ballet flats, acted fast to retool its product lines. For one, the company quickly started churning out masks in its wholly-owned factory in Dongguan, China
As it became clear that people would be spending most of their time at home for the foreseeable future, Rothy's started ramping up production of new prints and colors for its slip-on sneakers, which quickly became one of its best-selling products in the spring.  The company also started rethinking how it designed and branded some of its other products, to make them more suitable for the pandemic lifestyle. Designs were changed and more at-home friendly gear were emphasized. Rothy's also tried to drum up excitement by bringing back some previously popular prints for a limited time.
Rothy's declined to comment on revenue growth, but a spokeswoman said that the company was profitable on a full-year basis in 2020. The company has been profitable from since its first year in business.  And the pandemic didn't completely derail its expansion plans, with handbags making up 10% of sales last year.
The shoe industry has faced distinct downturn over the last year. According to data from the NPD Group, footwear sales in total were down 15% year-over-year in 2020. The fashion category (which includes sandals, boots and heels) experienced the biggest drop, down 27% year-over-year, while sales of slippers were up 20%.
But because Rothy's owns its own factory, it was able to churn out new product more quickly than other footwear and accessories brands. Lesley Clifford, senior director of merchandising at Rothy's, said that it can bring a new product to market in less than two weeks, but typically will do so in two months. Historically, Rothy's best-selling shoes are its dressier silhouettes — called the point, the flat, and the loafer. But, it had to switch gears as the pandemic dragged on.
"The slip-on-sneaker has always been in our top 5 [best-selling products]….but all of a sudden it just shot up to taking over as far as our best sellers," said Clifford. As a result, Rothy's added roughly six new colorways for sneakers in the second half of 2020. 
Rothy's also had to rethink how it marketed its handbag collection as people spent more time at home. When Rothy's initially launched its handbag at the beginning of March, one of the bags was a "catch all" that was designed to hold people's phone charger and airpods case and various other items when they were traveling. "What we found was customers we were like, 'we're not sure what we need these for — we're not traveling, we're not doing a whole lot of leaving the house," said Clifford. So, Rothy's made a few tweaks to the design, and rebranded the catch-alls as "vanity bags" in the fall, instead promoting them as an ideal way to store for customers to store their beauty products at home. The vanity bags became a "best-seller" Clifford said, but she did not share specific metrics.
Additionally, Rothy's also brought back previous best-selling prints to drum up excitement amongst customers. Rothy's has previously done this before, asking people to vote on which products they want people to bring back. This year, one of the prints Rothy's decided to bring back was its Indigo Giraffe, designed for its point shoe and initially launched as an in-store exclusive for its Filmore store in 2018. According to Clifford, the company noticed that that some people were starting to resell the print on secondhand marketplaces like Poshmark and eBay, often listing them for higher than their initial price point.
In July, Rothy's brought back the Indigo Giraffe print for its point shoe. It sold more than 2,500 units in the first half hour. This prompted the company to decide to bring back the pattern again in November, this time for both its flat and loafer styles as well.
Beth Goldstein, accessories and footwear analyst for NPD Group, said that while sales of footwear have rebounded from their lowest point in the spring of 2020, the footwear industry as a whole "remains extremely challenged."
"In order for the fashion footwear business to improve materially we need society to get back to going to the office, social events, dining out, travel, etc," said Goldstein. "And it is still uncertain as to what timing will be on that." Until that happens, any footwear company that sells some dressier shoes — including Rothy's — faces an uphill battle.
Going into 2021, Clifford said that Rothy's will focus on coming up with new styles for its slip-on sneakers, as well as sandals come summer.
"It's a really hard time to predict what customers are going to want, but we still want to make sure that we're offering product that's exciting," said Clifford.