How Poshmark is bringing back in-person marketing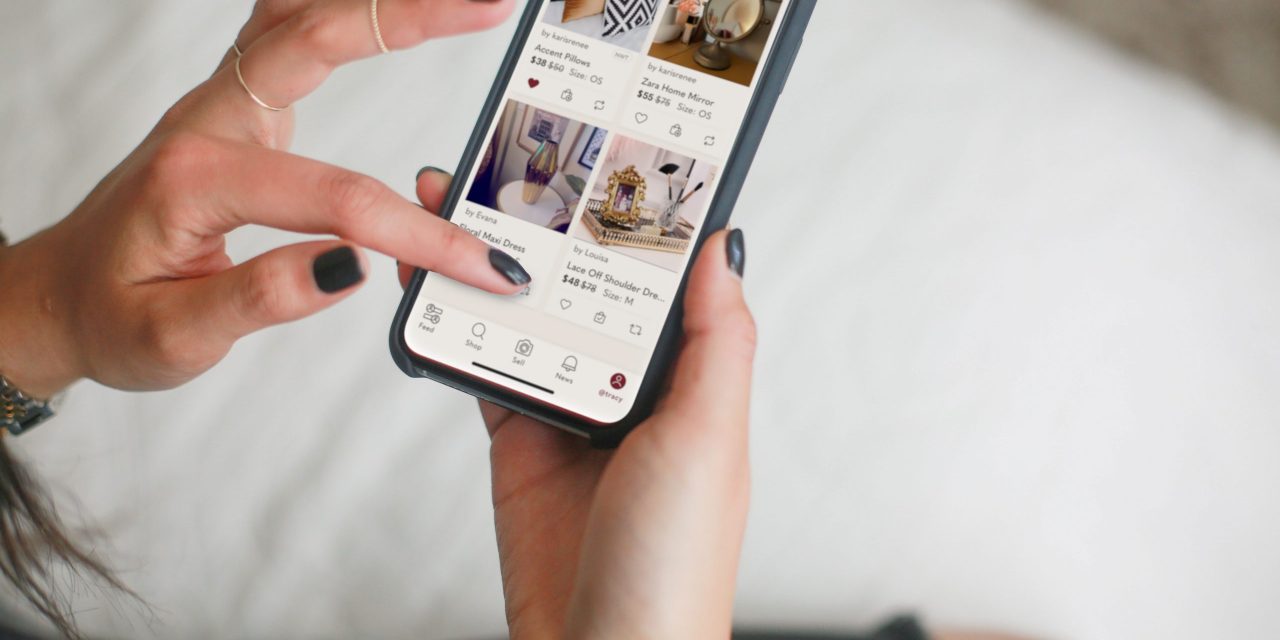 Image via Poshmark
After years of growing its user base online, peer-to-peer resale platform Poshmark is ready to get back to in-person marketing and events. 
Resale apps, including competitors Depop and Mercari, have largely relied on digital tools to encourage more frequent app usage. However, consignment-focused platforms like ThredUp and The RealReal have been testing stores and brand popups to establish an in-person customer base. For Poshmark, the company is relying on influencer collaborations and in-person activations as one format to recruit more online users.
Pre-pandemic, in-person events were a way for Poshmark to attract and retain top sellers, who attended conferences like the company's annual PoshFest event to grow their businesses. Now, the company plans to get back to these types of events, and reinvest in offline marketing. The goal is to not only reach more sellers, but also customers unfamiliar with how online resale works.
Poshmark CMO Steven Tristan Young told Modern Retail that the company has plans to reinvest in offline marketing this year — and that events will play a big role in this push. The company has tested direct mail marketing and out-of-home ads in the past, "and this year we'll be looking to find that perfect mix of digital and offline advertising," Young said.
For the 2021 full fiscal year, Poshmark's net revenue was $326.0 million — a 25% increase year-over-year from $261.6 million in 2020. The platform also surpassed 80 million registered users last year, reaching 7.6 million active buyers, a 17% year-over-year increase.
While Poshmark's marketing mix has stayed pretty stable — both online and offline — Young said "in the past six to eight months, we've become more focused on the creator economy." In turn, the marketing team is "working externally to incentivize people to come on the platform," Young said. 
It's a way to extend Poshmark's audience, which the company relies on for both merchandise listings and sales. "We want to reach people who may not otherwise discover us online, and bring them into the fold," Young said.
One way Poshmark is doing this is by testing hybrid seller-focused events, where people can either attend in-person or virtually. These events are especially geared at those who might not know what selling on Poshmark entails. "It's one thing to see resale online, but another to go to an event and get tips and tricks from hardcore power sellers," Young explained. 
"Live events have been such a big part of the Poshmark DNA," Young said, with PoshFest as the big annual conference that's been held since 2013. The past couple of years, these community events have been held virtually or have been paused. "Now, we're preparing to bring back offline presence in a creative way," Young said.
Poshmark recently kicked off in-person events with a community happy hour in Las Vegas, Young said. This month, the marketing team is organizing an exclusive community event in Miami, along with various happy hours across the country for sellers to attend. "The Miami activation will include an out-of-home campaign, as well as an event for our ambassadors," Young said. "We want to celebrate our ambassadors' advocacy of our platform." These official ambassadors are often top-performing sellers, who are invited to attend and speak at Poshmark-sponsored events.
These types of activations, alongside TV and streaming advertising, are a big part of how Poshmark creates its offline presence, Young said. Often these new campaigns involve a celebrity partner.
In January Poshmark worked with Doja Cat, where shoppers can win concert ticket giveaways to the rapper's show. Poshmark users were also able to shop Doja Cat's personal items from her Poshmark closet, with proceeds going to charity. In February, Poshmark had a similar activation with K-Pop group Ateez, featuring a YouTube Live show and month-long item drop on the band members' personal Poshmark closets.  
"The Ateez popup sale got a lot of attention, so we want to continue working with emerging artists and tap into the communities they bring with them," said Young. "That's another way for us to stand out in the crowd of platform resellers." 
"As we go into this hybrid setting, we're trying to stay on top of mind for people — both shoppers and sellers," Young said.
Poshmark's latest marketing efforts are part of a growing trend of resale platforms venturing offline. 
Coresight Research analyst Sunny Zheng told Modern Retail that although online channels have seen a faster growth for resale platform, events and popups are a means to attract a different type of customers. 
"There is some evidence that offline is an important part of resale businesses," Zheng said. For instance, The RealReal's 18 physical stores have become one of the company's biggest customer acquisition tools in the past year, Zheng said. These stores are also a way to upsell and create higher basket sizes. Indeed, The RealReal has reported that more than 30% of new consignors in the second quarter of the fiscal year 2021 were introduced to The RealReal through a physical location. 
Poshmark doesn't have any stores though which to acquire new customers. But Zheng pointed to Poshmark's strategy to call on influencers-as-sellers to promote its platform as a creative way to tap into different seller communities.
For Poshmark, physical meetups and advertising is yet another way to differentiate from the competitive resale market.
"At the end, the platform is a means," Young said. "But if you're a seller passionate about the communities we're tapping into, you're more likely to try our app."