How online instrument retailer Sweetwater built out its creator affiliate program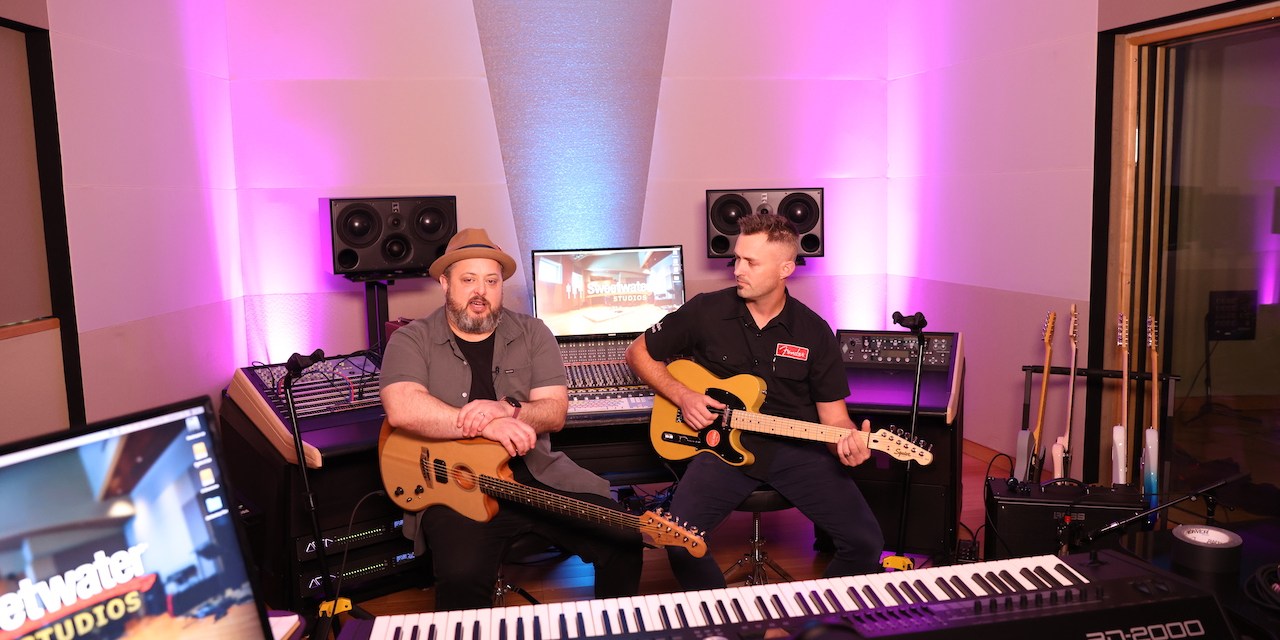 Image via Sweetwater
Sweetwater, an e-commerce site that focuses on musical instruments and professional audio equipment, is betting on a custom affiliate link program to fuel its next phase of growth. 
The online retailer, which caters to both professional and hobbyist musicians, has been around since the early 1980s. However, it wasn't until the past few years that the company leaned into social media and affiliate marketing.
Sweetwater's marketing team created the affiliate program's pilot run in late 2019, starting with about 20 creators and publishers. The program officially launched in early 2020, and membership has since grown to 500 accounts. It also experienced 60% year-over-year growth from the fourth quarter of 2020 to the same period in 2021. The company credits the affiliate program — coinciding at a time when more people were experiencing new hobbies during the pandemic — with helping Sweetwater surpass $1 billion in sales in 2020. Furthermore, the affiliate program became a big customer acquisition channel due to the influx of people getting into music hobbies during pandemic, according to Sweetwater.
Identifying and recruiting the right creators 
"Selling musical instruments and pro-audio gear through online influencers is very different from clothes or accessories," said Sweetwater's director of engagement Tyler Grooms. This, he said, is because many amateur and professional musicians want in-depth tutorials, not just product recommendations. "Even if you see an influencer using a cool new guitar, if you don't play guitar it doesn't do much for you," he noted. 
The idea behind the affiliate strategy was to cater directly to each musician's level, both their expertise and social media following, Grooms said. This led to Sweetwater creating a bonus and commissions-based links program that tracks both customer acquisition and sales conversions. Moreover, influencers' follower count isn't an important factor for Sweetwater's affiliate partnerships. "We work with creators with as low as 5,000 subscribers, which we find is more successful in converting customers than a Sweetwater namedrop by a major channel," Grooms said. Some of the program's largest partners include Guitar World, as well as YouTube channels like guitarist Riffs, Beards & Gear and drummer Casey Cooper. 
"We've been a retail destination for professional musicians for decades, and that gave us an organic base of influencers," Grooms said. To build out the affiliate program, Grooms and the marketing team worked with Sweetwater's team of 600 sales engineers to recruit interested creators. "We're musicians ourselves and members of the online music community, so we're constantly finding great new partners and inviting them into our program," Grooms said. The program also receives some inbound interest from creators and existing members' referrals. 
Customized campaigns 
Like other brand ambassador programs, the affiliate marketing team facilitates the content creation process and rewards creators based on impressions and conversions. 
One aspect that sets Sweetwater's affiliate program apart, Grooms said, is the extensive collaboration process. "We brainstorm fun concepts to highlight gear in the content they make," he said, noting that this sometimes takes multiple Zoom meetings to facilitate. One recent collaboration involved guitarist Marty Schwartz visiting Sweetwater's Indiana headquarters, where he surprised a number of his fans with lessons and product giveaways.
The company doesn't ask creators to read bullet points, but instead Sweetwater's marketing team finds products the musicians want to try before recommending them to their audience, Grooms said. Sweetwater has also built a self-serve software system, that "lets creators build links, access payments, monitor performance and see how their work impacts the commissions they make," Grooms said. 
Sweetwater's marketing team works with product manufacturers to get products to specific creators in time for their content to roll out. "We provide gear or pay a fee for product integration into the video," Grooms said. This can range from requests for specialized microphone for a vocal technique video, to keyboards or recording equipment. "For example, if they're [creator] starting to record a Nirvana song, we send them the guitar of their choice to make a video showcasing the process," Grooms said.
The program's members receive a 7% commission of sales, as well as the chance to earn a cash bonus if they bring in a new customer without an ad-supported campaign. Sweetwater's trackable links show "whether a secondary ad helped make the sale," Grooms said, in which the creator doesn't earn the added bonus. 
One arm of the affiliate marketing team is dedicated to influencer-heavy channels like YouTube, Twitch and TikTok. Another caters to display ads on publishers like music review websites and trade magazines. Electronic DJs, in particular, have been popular on Twitch during the pandemic's digital concert boom, with some affiliate creators doing 4-hour streams, said Grooms. "But YouTube is the biggest piece of the pie because desktop viewing is a natural fit for educational music content," he said.
Testing out younger platforms
According to Sweetwater, the affiliate program's growth is outpacing the growth reported by its other marketing channels, such as paid display and retargeting ads. For 2022, the company wants to grow the program by tapping into the burgeoning TikTok and Snapchat music content audiences. 
"We want to court a younger demographic on those channels, but we're currently figuring out what price points this group is comfortable with," Grooms said. The affiliate program currently has 15 accounts on TikTok, but is gradually building out the type of content the team wants to sponsor, Grooms said. "We don't want to pigeonhole TikTok musicians by assuming they only need beginner level gear," he explained.  
This coming year, Sweetwater also wants to expand the affiliate program by adding new channels from diverse genres. The next wave of creators will be focused on band and orchestra-related content to help promote Sweetwater's new store that's focused on brass and string instruments, Grooms said.
Outside of Sweetwater, customized influencer programs are becoming more popular among influencers and brands, especially among more niche retailers. Elfster, a Secret Santa organizing service, is another such site that's building out an affiliate program.
Justin Kline, co-founder of influencer marketing agency Markerly, said that the more crowded that influencer marketing becomes, the harder it is for retailers to stand out. "The reality is that you might be wasting your time and money because, yes, your brand is being seen by a lot of eyeballs but many of them might not be the right eyeballs," Kline explained. Instead, affiliate marketing is about finding influencers "who are deeply passionate about your brand's industry," Kline said, and not necessarily those with millions of wide-ranging followers. 
For Sweetwater, the program is helping the retailer keep up with the music and instrument category's evolution. 
"Content creators are the new wave of professional musicians," Grooms said, noting that many online musicians are now making money from paid ads and sponsored content, as opposed to vying for a record contract. "We want to create a revenue share model to support this group of creators."