How Crumbl Cookies took over TikTok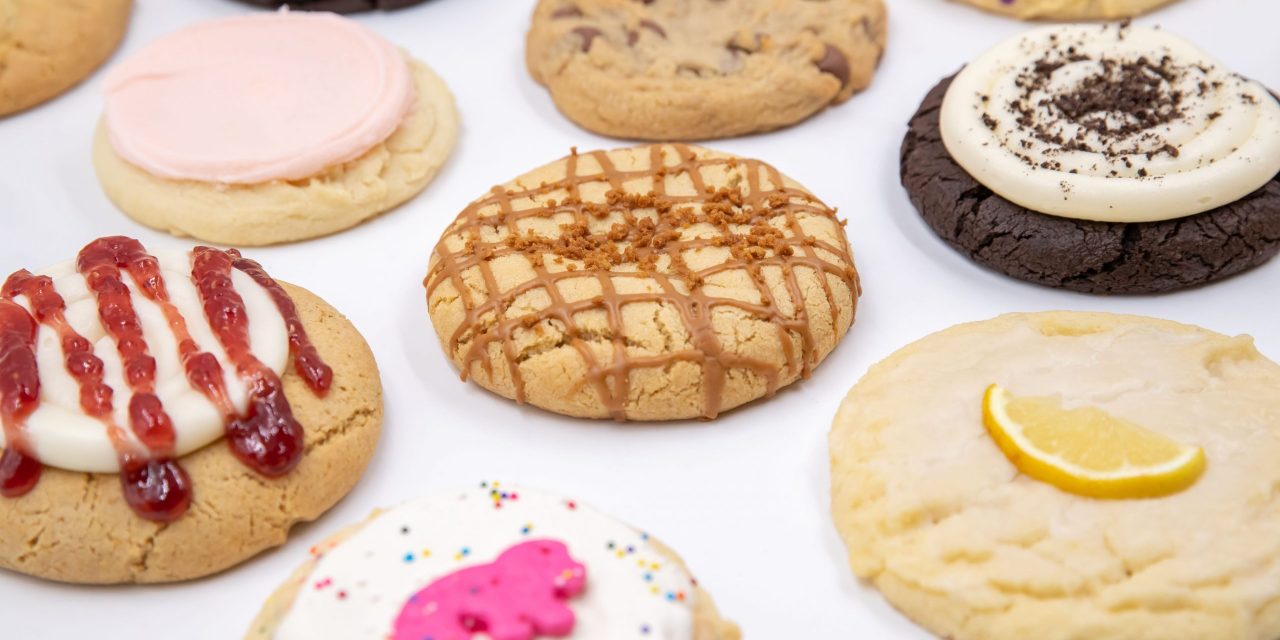 Crumbl
Crumbl has grown from a humble Utah cookie shop to a digitally-integrated chain in four years flat, dominating both TikTok and the Apple app store.
Crumbl Cookies first opened in 2017 with a single storefront in Logan, Utah and sold only chocolate chip cookies. Since then, the retailer — which has a franchise model — has expanded to 220 locations in 30 states (with a plan to open 50 more locations in 2021) and 140-plus flavors over the course of four years, that are sold via a rotating menu. The company's app is ranked number eight in food and drink daily downloads in the iOS store according to App Annie, outpacing the largest fast-food chain, Subway and grocery delivery star, Instacart. The keys to the brand's success are a rotating flavor drop model, social media savvy and a commitment to digital integration at every touchpoint.
A cookie hype cycle
Following the playbook of sneaker brands rather than a traditional food-and-beverage model, Crumbl builds a hype cycle around its limited-edition cookies via a rotating menu. Every Sunday, the one day a week that the brand's storefronts are closed, Crumbl announces the upcoming week's four new flavors — ranging from key lime pie to red velvet. The next week, no matter the popularity, the flavors are gone in favor of four new cookie types.
"There are absolutely operational challenges that accompany a weekly rotating menu [like] training, quality assurance [and] sourcing, but we pride ourselves on mastering it for the benefit of our customers," said Crumbl's COO and co-founder Sawyer Hemsley. "Having a new menu every week gives [our customers] an opportunity to provide feedback and social media gives them the platform to deliver that feedback, good or bad."
The model drives some fans to try every new flavor, week-after-week, and the brand offers a discounted deal on its four pack boxes.
"Having only four flavors a week is a great marketing tactic, and gets consumers excited about it," said social media influencer Kelsie Flaim. "Each cookie feels exclusive, so consumers feel the need to rush to the store to be able to try it before it's gone."
On Flaim's TikTok account, @thehungryfoodie, a quick review of the brand — featuring Kelsie and a friend sitting in a car taking bites of each cookie — received a million views and 202 thousand likes. Like Flaim, thousands of influencers have posted "flavor reviews" on TikTok, with #crumbl winning 155 million views in total. Some TikTok influencers have even created accounts focused solely on Crumbl — @Crazy4crumbl and @crazycrumblcousins are two of the most popular ones — posting weekly reviews and Crumbl-catered parties, completely unpaid for by the brand. The brand doesn't invest in influencer collaborations at all, said Crumbl's PR specialist Anna Tibbitts.
On Reddit too, fans spend hours amassing flavor lists or guessing which flavors will come next, while, on Instagram, the brand's aesthetically-pleasing cookies and millennial-pink boxes shine.
"They're Instagrammable," said Flaim. "That's what Gen Z cares about."
While many of the brand's social media success stories have come organically, Crumbl has scaled that interest with its brand-owned accounts. Each Sunday, the brand releases its new menu on Instagram, TikTok and Twitter. This week's flavor drop, for example, drove 153,000 likes on TikTok and 80,000 likes on Instagram. On TikTok, the brand has 1.1 million followers, outpacing cookie peers significantly and coming closer to the reach of brands like Nike, who currently has 1.5 million followers.
A digital-first mindset
The brand's social media strategy parallels its investment in digital e-commerce. Crumbl launched a mobile app in 2018. Over the past year, the brand has updated its app 25 times, adding curbside pickup and ice cream delivery in June 2020 and its loyalty program in September 2020 that rewarded mega-fans with points for their purchases. In November 2020, the brand launched Crumbl Catering, a wider array of cookie options in bulk for events of a post-pandemic future, as well as digital gift cards, just before the holiday season. This year, the brand added a delivery tracker, as consumer interest in delivery stays high despite restaurants re-openings.
Downloads of the app, said Stephanie Chan, an analyst at app analytics company SensorTower, picked up during the pandemic and "really surged last month, climbing 121% month-over-month to 301,000 installs from 136,000 in April,"
"It seems that the strategy of having a standalone app for cookies is fairly unique — its closest competitor is Insomnia Cookies, which launched in June 2014," said Chan. "Insomnia also saw an uptick of installs last year during the pandemic, but it hasn't experienced the same spike in adoption this year that Crumbl has."
Food and beverage brands typically pace far behind other industries in digital integration said Samrat Sharma, consumer packaged goods leader at PwC U.S.
"The food and beverage industry's investment in e-commerce is far less than that of other industries like cosmetics, pets and personal care," said Sharma. PwC and Strategy analysis found that, as of May 2020, only 11% of U.S. households bought packaged foods online, and just 13% bought beverages through e-commerce.
However, digital integration and owned distribution, explained Peter Cadigan, senior manger and analyst of consumer products at insight firm RMS, resonates in the "specialty and indulgent food" category more than in other food and beverages spaces.
"Most large consumer packaged goods companies have launched some sort of direct-to-consumer models but those aren't significant portions of their businesses," said Cadigan. "The direct-to-consumer model fits nicely [for specialty and indulgent food] as these are typically non-routine purchases and are often made for special occasions or even impulses."
And after the pandemic, these types of digital programs are more crucial than ever.
"It all comes down to engaging with the consumer where the consumer wants you to meet them," said Sharma. "Brands need to understand how to curate that experience."