How coronavirus could accelerate retailers' robot deployments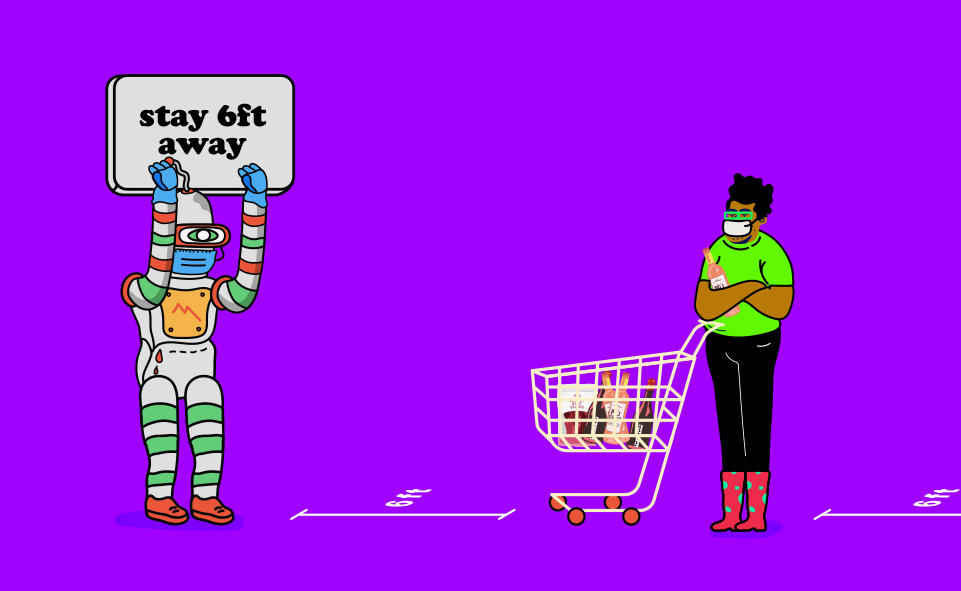 Essential retailers' workforces are under a lot of strain right now, as they are being forced to keep up with unprecedented demand, while at the same time many of their employees may be calling out sick.
Enter: Robots.
Before the coronavirus pandemic, retailers including Walmart and Giant Eagle were starting to test out using robots in their stores for tasks like unloading pallets of inventory and scanning shelves to get a count of inventory. CNN reported that a number of retailers are accelerating their use of robotics in response to the coronavirus epidemic. For example, Brain Corp, which develops the autonomous operating system for floor-scrubbing robots, said that "the average utilization of BrainOS-powered robots increased 13% since January 2020 in retail locations."
"Deployments have continued at some essential businesses and paused at others as they adapt to the change in their operating conditions and the significant increase in demand," Brain Corp vice president of product Phil Duffy said in an email.
Meanwhile, some retailers are starting to test out robotics for the first time. CNN spoke with Washington, D.C. area grocery store Broad Branch Market, whose co-owner said that they had bought six self-driving robots to deliver grocery orders to customers, as the store remains closed except for delivery and pick-up orders. Put together, the acceleration shows retailers trying to implement long term cost-cutting measures while also facilitating new ways of managing stores and fulfilling orders to keep up with shifting demand.
Retail consultants say that even once the coronavirus outbreak is over, retailers will likely accelerate the adoption of robots in-store for a few reasons. For one, consumers will likely continue to expect retailers to clean their stores more frequently even after the pandemic is over, and it will be easier to rely on robots for some simple cleaning tasks like scrubbing floors. Second, if retailers are cash-strapped, it may prove cheaper to deploy more robots in stores, and lessen the number of human workers.
Robotics companies of course, prefer to stress how their solutions allow retailers to free up their employees to help customers on the floor. Simbe Robotics, which has developed the Tally robot to help retailers identify which products on shelves are missing or running low, claims that Tally frees up anywhere from 30 to 100 hours per week for human workers, according to CEO and co-founder Brad Bogolea.
"Overall, the pandemic has underscored the critical role of store teams on a daily basis: serving customers," Bogolea said in an email. He also said that Simbe has seen an uptick in interest from retailers in the past month, but declined to say by how much.
The coronavirus outbreak will also likely accelerate the adoption of curbside pickup and online grocery delivery. And in order to make these services more cost-effective, retailers will likely have to rely on automation in order to pick and fulfill as many orders as they can, said Jason Goldberg, chief commerce officer at Publicis.
"The unit economics for digital grocery just don't work if you have to pay someone to collect all the groceries for the customer," said Goldberg.
Still, one challenge that no one retailer has been able to solve is that the number of tasks that many of the robots being deployed in retail stores can complete is still limited. "Robots are good at any number of things, but their fine motor skills are terrible," said Bryan Gildenberg, senior vice president of commerce at Omnicom Retail Group. "They are very good at getting pallets off the truck, they are not very good at stocking the shelves."
Walmart's adoption of robotics in-store will likely prove to be a use case that many other retailers will follow. At an investor day earlier this year,  CFO Brett Biggs highlighted the ways in which Walmart was using in-store automation. In 1,700 of its stores, it has deployed technology to automatically scan and sort inventory delivered to stores via truck, cutting the time it takes to unload inventory by about a third.
Additionally, don't expect that retailers will suddenly lay off a significant portion of their workforce overnight and replace them with robots. Kelsie Marian, senior director analyst with Gartner, said that while the firm projected in its annual "hype cycle" report of emerging technologies that in-store adoption of robots would "significantly ramp up," within the next 10 years, she said it may now happen within the next five years as the coronavirus outbreak highlights the benefits of robotics to retailers. Even though robots may be cheaper in the long run than employing workers, they require significant investment upfront.
"[Retailers] are really going to need to understand what the benefit is before investing heavily, so it is likely going to be a phased rollout," Marian said.