How ceramics brand East Fork transitioned to a pre-sale only model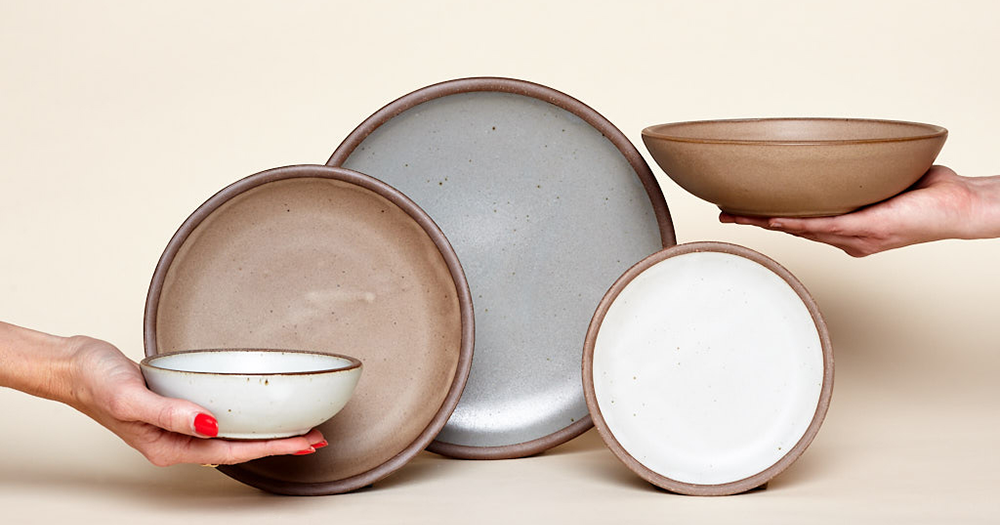 Asheville-based East Fork Pottery had big plans for this spring. In 2019, the company broke even: at 13 cents profitability.
2020 was the year to actually make a profit; the company projected to hit $8.5 million compared to $4.4 million the year before. Much of that needed growth was predicated on a national tour involving multiple business partners to sell items and host events.
When it became clear that a moving event requiring people and products to travel around the country wasn't feasible this spring, East Fork acted fast. The team realized states would soon shut down all non-essential commerce, so the company put $400,000 of its seconds for sale online with very clear messaging: things are dire, supply chains will likely slow down but we need to keep our employees on payroll. "It was all very transparent," said Connie Matisse, co-founder and CMO. "We don't know when these pots will get to you but we're asking you to trust us."
As a result, March was East Fork biggest month in history — by 30% — thanks to the seconds sale. While many of the sales were repeat customers who have followed the company over the last four years, East Fork saw many new customers too.
The ceramics brand realized this laid the groundwork for how it would approach staying afloat for the rest of the year. Usually, East Fork spends a lot of time figuring out what its new lines will look like, has the products fabricated, then puts them all on its website and store floors to sell. Now the company is doing things a little bit differently; it's asking customers to buy products before they're made, giving East Fork a much-needed cash infusion early on. It's a new model, but one the brand is using to pad its balance sheet, which felt the coronavirus hit as soon as manufacturing and fulfillment centers closed globally.
The way East Fork did things before required upfront capital and access to materials — both of which are in shorter supply due to shelter-in-place orders and a receding economy. As a result, said Matisse, "we are transitioning entirely to a pre-sale model for the year." It makes for much easier balance sheet management. The company knows what's ordered and is able to get cash upfront, "instead of having to forecast for a completely unknowable market," she explained.
The company overhauled all of its computer software to make it possible to have orders made before products manufactured; "there was a lot of backend work," she said. The tradeoff is the ability to put a new product line live and iterate from there. But, she went on, "I think it's going to save us a lot of money and stress." At the very least, this lets East Fork cover all of its costs while keeping people on payroll. "Our revenue and production capacity are so intrinsically linked," she said.
A pre-sale model makes for a very different experience. Before, a customer could see a pot, buy it and then have it shipped in a few days. Now the lead time is weeks, if not a few months. For the seconds sales, the company told customers it may take as long as three months. Most people got the goods within four weeks, said Matisse, adding that nearly 80% of those products have been shipped.
These more drastic types of merchandising models will likely become more popular as economic uncertainty persists. Preorders present a great model for certain types of launches, wrote Bain Capital partner Magdalena Kala in an email. "Apart from the immediate balance sheet boost from customers' orders, it has second layer of efficiency because a company doesn't have to take inventory risk, which itself can be a substantial use of cash," she wrote.
This type of model has become popular for businesses that can't produce goods right now — namely restaurants who sold gift cards while their shops were forced to close. "Many are now experimenting with less traditional solutions like restaurants offering dining bonds," wrote Kala. "Necessity is a mother of invention so I won't be surprised if more creative models of growth financing come out of this crisis, along with greater discipline around cash management overall."
There are also potential pitfalls associated with it too — especially for brands that rely on many partners to get their products to customers. "There's the risk of if they spend their money and the stuff doesn't arrive — how do they issue refunds?" said Richie Siegel, founder and lead analyst for retail consultancy Loose Threads. This is an especially precarious position for companies that don't have control over manufacturing. Still, in these economic uncertain times, Siegel added that pre-orders do work for certain brands as long as they're super careful. "It's very much a transparency and communication thing," he said.
Lucky for East Fork, the company manufactures all its own products. Still, the new pre-sale model is by no means a panacea. "We're still having to cut costs left and right," Matisse said. East Fork has always had the philosophy to have two months of cash on hand, and moving to the pre-sale model helped solidify that. The company likely won't reach profitability this year, however, as it once planned.
"It's still going to be a crappy year," said Matisse. Rather than $8.5 million projected, East Fork hopes to hit $7.3 million by the end of the year. "But a whole lot less crappy than companies that had to fire people on their team."