How Bombas is growing its wholesale business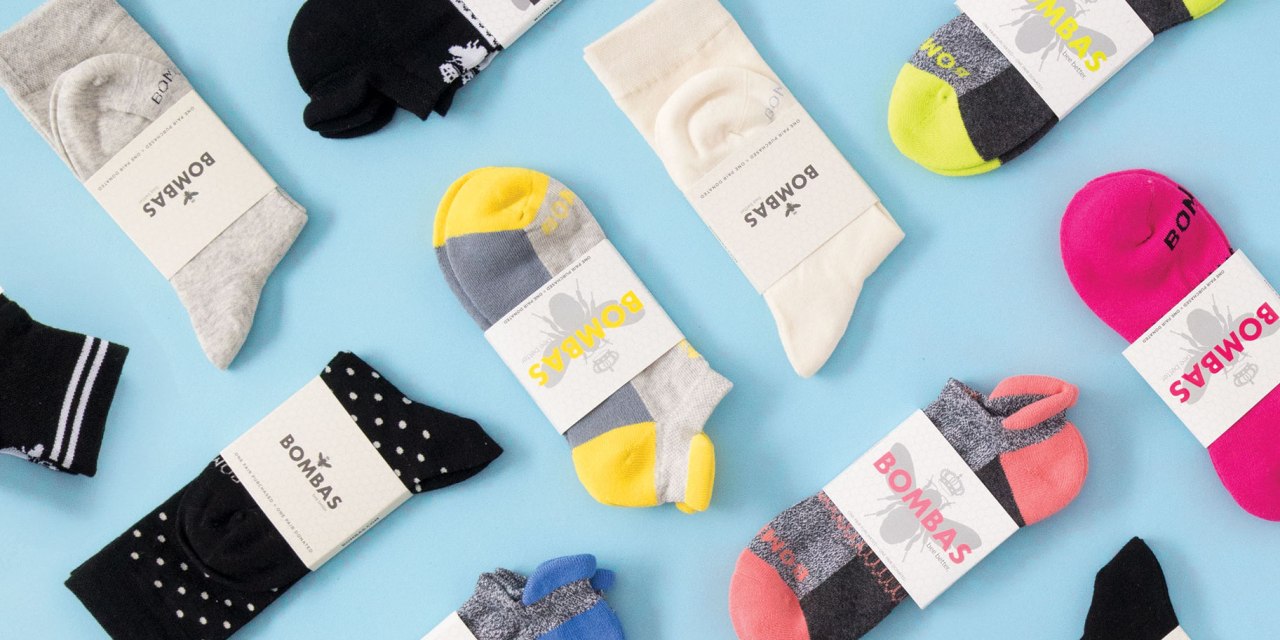 Bombas is slowly building up its roster of wholesale partners, focusing on finding retailers that align with its one-to-one giving model, and have a customer demographic that fits well with new product offerings.
This week, Bombas announced that it will begin selling its socks in Athleta's 190-plus stores, as well as through its website. Bombas first started selling its products wholesale through Nordstrom and Dick's Sporting Goods in 2018. Currently, there are 1,273 stores carrying Bombas products.
Bombas co-founder and chief brand officer Randy Goldberg said that about 97% of the company's revenue still comes directly through its website. Goldberg declined to disclose 2019 revenue, but Bombas reported bringing in over $100 million in revenue in 2018.
Today, brands that start direct-to-consumer rarely stay that way. Retailers including Target and Nordstrom have now developed their own playbooks to court direct-to-consumer brands to sell in their stores. But first, they have to figure out which retailers make the most sense for them before they risk handing over too much control over how their product is displayed to a wholesale partner that ultimately won't generate that many sales for them.
"We've grown the wholesale side of our business slowly, just because we are trying to test and learn how to have success and how to tell our story appropriately," said Goldberg. "Companies that are excited about both the product and the mission make the most sense for us."
Bombas wanted to sell its products through Athleta, for example, because both companies are certified B corporations. Additionally, Bombas launched a line of socks designed for runners and athletes last year, and Goldberg said that a key focus for Bombas this year would be growing that product line.
In order to encourage its wholesale partners to learn more about its mission, Bombas encourages members of their corporate teams to volunteer with one of its "giving partners." Bombas donates one sock for every sock sold to one of more than 2,500 giving partners, which include homeless shelters and youth organizations.
Goldberg said that depending on the wholesale partner, Bombas relies on a mix of in-store signage and training employees to educate customers on its one-to-one model. Bombas also has some information about the company's one-to-one model included on the "belly band," the piece of packaging that holds a pair of socks together.
"We are always thinking about the balance between displaying the product and having the real estate to tell our story," Goldberg said.
For now, Goldberg said that Bombas primarily thinks of wholesale as a product discovery play. And it's not the only way that Bombas is encouraging more people to discover its products. Bombas has also invested more in partnership marketing, the company's chief marketing officer Kate Huyett told Modern Retail last year. For example, Bombas partnered with Delta last year to include pairs of its dress socks in Delta's first-class amenities kit, and launched a corporate gifting program.
"Fundamentally, the driving force for [partnerships] right now is revenue," said Alex Song, the founder of DTC holding company Innovation Department, and partnership marketing platform DojoMojo. "The more that you can make sure that your audience is aligned with the same demographic as another brand's, the higher the potential conversion rate, etc. And people are easier to align with some sort of social good mission."