How Amazon Live is growing its micro-influencer program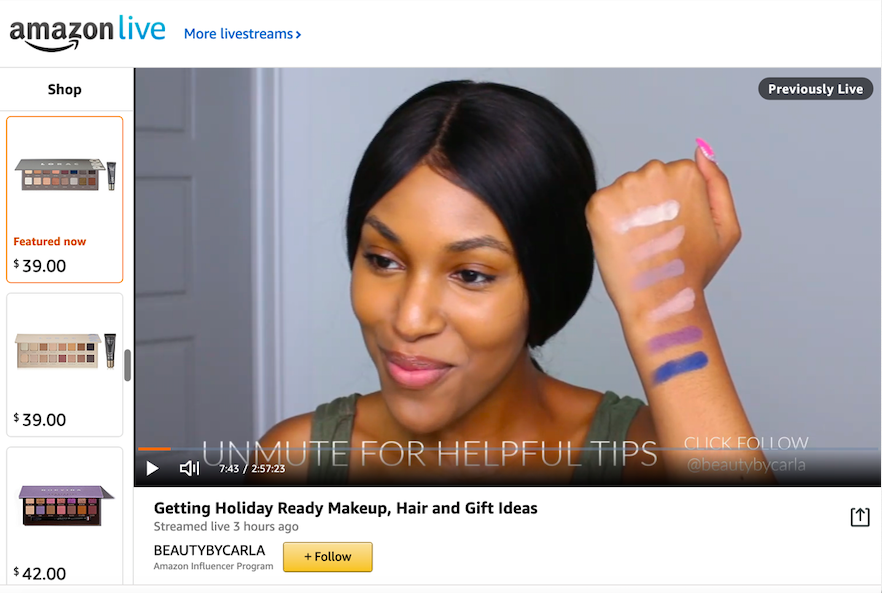 Amazon
When Carla Stevenné streams on Amazon Live, the company's little-noticed live shopping platform, she said it's like a party. Stevenné, a 22-year-old beauty influencer, has been making videos on YouTube since she was 14. But Amazon Live feels more intimate than YouTube ever did.  
Before she unboxes a new eyeshadow palette, she might say, "Drumroll, please" and do a dance on screen. In the chat in the corner, viewers tell her they're dancing at home with her. "The experience for the customer and the viewer watching is different because you're really, truly connecting," Stevenné said. "It's different than getting a comment and replying later."
Outside the U.S., livestream shopping is a massive business. In China, it has driven $63 billion in sales. You can think of it like an interactive QVC: Influencers try on clothes, backpacks and lipsticks while they chat back and forth with viewers. 
Amazon has struggled to replicate that success. A fashion-focused precursor called Style Code Live, launched in 2016, was killed a year later. Then, in February 2019, the company rolled out Amazon Live — and received, for the most part, crickets. Now Amazon is taking a new approach: Recruit influencers to join the platform, and use them to lure more buyers. Since July, Amazon has been trying to woo more influencers, including by rolling out a tiered system that rewards the most active streamers with better placement on the site. The company says it wants to emphasize the "creativity, connection and inspiration" that comes with live selling. The program is still small, but it has the potential to bring a more social-media-like experience to buying on Amazon.
An Amazon representative asked Stevenné to join Live last November. At first, Stevenné was nervous. The company wanted her to do hour-long streams, a daunting amount of time to fill by herself. But she quickly fell in love with it. Now she's on Monday through Friday, usually for at least two hours a day, but sometimes much longer. The day before she spoke to Modern Retail, she said she spent 5 hours painting her nails on Live. Many viewers are her followers from other platforms, but in recent months, Amazon has pushed her to its homepage, and her numbers have spiked 30 to 60 times. 
Focusing on micro-influencers
Amazon likes to highlight the big-name stars, like Gabrielle Union and Jessica Alba, who have tried Amazon Live. More quietly, though, it has recruited a network of micro-influencers to pull in viewers — and Stevenné has watched the platform become increasingly crowded with streamers.
Micro-influencers are effective because they pull in a dedicated, if small, base of followers. But given that so many eyeballs on Live are random shoppers browsing for clothes, Stevenné has found that the way to keep people engaged is to talk directly with viewers.
Amazon sometimes adds Live videos to its product pages, which means that influencers have an extra incentive to show off trending products. Stevenné said she tries to seek out products with high ratings and search rankings, because that is the hot real estate on Amazon. If she winds up on their pages, tons of new people will discover her videos. Most of the time, the sellers provide her with free samples.
Brands are increasingly turning to Amazon Live to showcase their products, Stevenné said. Companies often offer to pay much more to get on her Amazon Live than they would if she were to feature them on her YouTube or Instagram. That's likely because chances of conversation are much higher on Amazon than the other platforms.
So far, viewer numbers on Amazon Live aren't staggering. A big stream might net 400 viewers at any given time, or several thousand viewers over the course of an hour, according to Stevenné. But her numbers have ballooned so much in less than a year that she is steadfast in her belief that Amazon Live is going to catch on. Around Prime Day, for instance, she saw more than double the usual streams. "I would suggest any influencer who's serious about influencing, who really wants to grow a big audience, you want to start now," she said. 
To become an Amazon Live influencer, you have to apply through the Amazon Influencer Program. Anyone with a popular Instagram, YouTube, Facebook or Twitter is theoretically eligible. The requirements are a bit of a black box, although one company advertisement for food influencers requires 2k+ Instagram followers and a 2.1+% engagement rate.
"I have read reports that people with as low as 1,000 followers have actually been accepted," said William Gasner, cofounder of the influencer marketing agency Stack Influence. "What they're really caring about is engagement rates and conversion rates." 
Once accepted, Amazon Live influencers stream themselves trying on outfits, cooking, making their beds, dressing their babies or playing video games. Beneath each video is a slider of the products they use. Every time a viewer buys something, the influencer gets a cut. Commissions vary based on the product; influencers get a 10% cut of luxury beauty sales, while they earn just 1% from Amazon Fresh.
New revenue streams
Brands are also seeing some early upsides. According to a pitch deck obtained by AdAge last year, Amazon claimed that a prominent placement on Live drove more purchases than a Prime Day sale. On average, a prominent Live slot brought a 95% sales bounce for electronics goods and a 131% jump for home brands, according to Amazon.
Amazon has been pushing sellers to set up their own live video demonstrations during major sales days, like Cyber Monday. That might be a smart way to boost customer engagement. But ultimately, if it catches on, Amazon Live may well become an important facet of Amazon's growing media and advertising business.
For brands, getting featured on Live is also a way to spruce up their product pages. Search for "sweatpants" on Amazon, and you'll be bombarded with dozens of nearly identical brands. A great way for one of those pairs to stand out? Have a good influencer video embedded in the page.
"When you're on Amazon, it's such a competitive landscape right now. So many different brands, so many different reviews, and the way you have to differentiate yourself is having enticing content," said Gasner.
That's all the more incentive for brands to pay influencers to highlight their products on Amazon Live. And given that Amazon has started to cut its affiliate commission rates, the fact that influencers have this extra income stream from brands makes Amazon Live more attractive.
It doesn't matter if Amazon itself gets stingy on the commissions; brands are already paying the influencers — and any added commission is a nice bonus. As Stevenné puts it: "You're going to end up making more money on Amazon Live."