'Go heavy now': Brands rush to tap student-athletes before regulations get trickier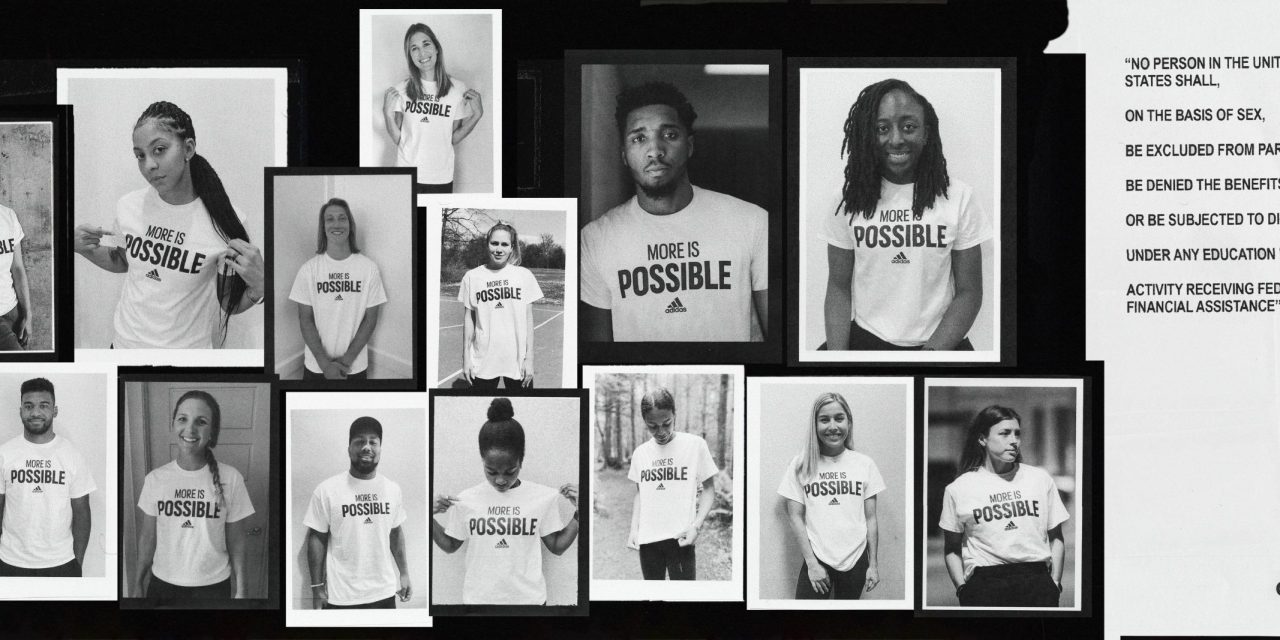 Adidas
Though it hasn't been long since student-athletes were allowed to profit off of their names, images and likenesses (NIL), a flurry of brands and marketers have rushed to cash in despite operating in uncertain territory.
Adidas announced a new NIL network last week that would allow over 50,00 student-athletes to be paid affiliate brand ambassadors. Ohio State freshman QB Quinn Ewers in August signed a $1.4 million NIL deal with GT Sports Marketing. Meanwhile, Fresno State basketball players Haley and Hanna Cavinder leveraged their TikTok following of about 4 million to ink deals with cell phone provider Boost Mobile and supplement brand Six Star Pro Nutrition.
A combination of new state laws and a policy change from the NCAA that took effect in July allowed these deals to occur as long as students are in compliance with state laws and university guidelines. States can have vastly different NIL rules, and colleges can also limit or outright bar NIL activities that conflict with their own brand contracts. It means for uncharted territory for both brands and student-athletes. Experts told Modern Retail that brands are expected to pour in more deals with college athletes now before regulations get more complicated and risky. 
Regardless of the potential challenges, brands are projected to spend up to $579 million in NIL deals during its first year, according to Front Office Sports. Compared to traditional influencers, 61% of marketers said student-athletes drive better awareness for a business than traditional influencers, according to data from Inmar Intelligence released in 2021. 
"I would go heavy now while I can until there are amendments and changes," Hannah Cameron, head of corporate communications at #Paid, an influencer marketing platform. "I do think there will be some more rules, more hoops to jump through more regulations coming that might not make it as great as it is now." 
The challenges of teaming up with a college athlete 
Schools have developed varying policies to address NIL concerns. Experts said these policies could deter brands from forming these lucrative deals with student-athletes, to begin with.
"If the schools start overstepping, and start putting in all of these restrictions and limitations, all they're going to do is hurt their students' chances of getting brand deals," Cameron said. "The more red tape that you have to jump through we all know the less likely that big giant brand is going to want to do that."
Barstool Sports founder Dave Portnoy took to Twitter in July to announce that he is starting an NCAA marketing firm. Since then, the number of student-athletes working with Barstool Athletics, the company's official collegiate athlete program, has grown. However, several schools discouraged certain NIL activities with the company while others stopped athletes from teaming up with Barstool altogether.  
The University of Louisville told students not to be involved with Barstool Sports because the company does not comply with certain criteria under the Kentucky governor's executive order. Montana State University students are allowed to partner with Barstool Sports as long as they avoid being associated with any content involving gambling or alcohol, according to the Bozeman Daily Chronicle.
Ohio State University's NIL guidelines indicate that athletes are prohibited from entering NIL deals if it conflicts with an Ohio State brand agreement. For instance, athletes are not allowed to enter an NIL agreement if it requires them to "wear products competitive to Nike during team activities" such as practices, competitions or team travels. Ohio State athletes are also prohibited from promoting "beverages competitive to Coca-Cola on-campus." The university has 15-year contracts with Nike and Coca-Cola that both end in 2033.
Brigham Young University, a school sponsored by the Church of Jesus Christ of Latter-day Saints, does not allow its athletes to promote certain products that go against the school's honor code, including tobacco, adult entertainment and even coffee.  
"If you're a brand that has an official partnership with an institution, and then a competing brand can come in and sign a player to what would sort of be a competing deal, that's difficult," said Skip Perham, professor at Suffolk University Sawyer Business School. "It's a real challenge for brands, on many different levels, not the least of which is perhaps protecting investments you might already have."
Micro-influencers mean big business
Much like micro-influencers, college athletes are a much less expensive option to be a brand ambassador than, say, pro athletes — and they also give brands the ability to reach a niche community, said Robert Stern, CEO and founder of consulting firm The Social Leader.  
"If you are trying to get into college-level niche followers — whether it's the other students, or maybe the alumni or people in that locality — you now want to use those [college athletes] for their brand ambassadorship," Stern said. 
Several college athletes already have a strong following. Alabama Crimson Tide defensive back Ga'Quincy McKinstry, who has over 82,000 Instagram followers and goes by "Kool-Aid," partnered with the same beverage company he's nicknamed as: Kool-Aid. And Saint Peter's basketball player Doug Edert recently posted a sponsored Instagam post of him eating dozens of Buffalo Wild Wings to his 149,000 followers.
Small and local businesses are also getting in on the NIL deals. Muchachos, a Lincoln, Nebraska-based taco restaurant is paying college athletes to promote the business, including University of Nebraska football player Cade Mueller and volleyball player Nicklin Hames.
"A lot of brands, especially small businesses or even ones that are operating in kind of niche industries, they look for not always who's in the spotlight but more so who their customers can resonate with," said Kimberley Ring Allen, founder of Ring Communications and professor at Suffolk University. 
#Paid's Cameron said more brands will likely release affiliate brand ambassador programs similar to Adidas or creator fund programs targeting student-athletes. More non-sporting brands are likely to form ties with these students as well.
"You're going to see a lot more home goods, a lot more little products, a lot more companies outside traditional sports advertising getting involved with athletes," Cameron said. Brands are going to start tapping into a college athlete's "whole holistic life from studying in class to what they do after practice."