DTC startups turn to partnerships to drum up excitement during a volatile summer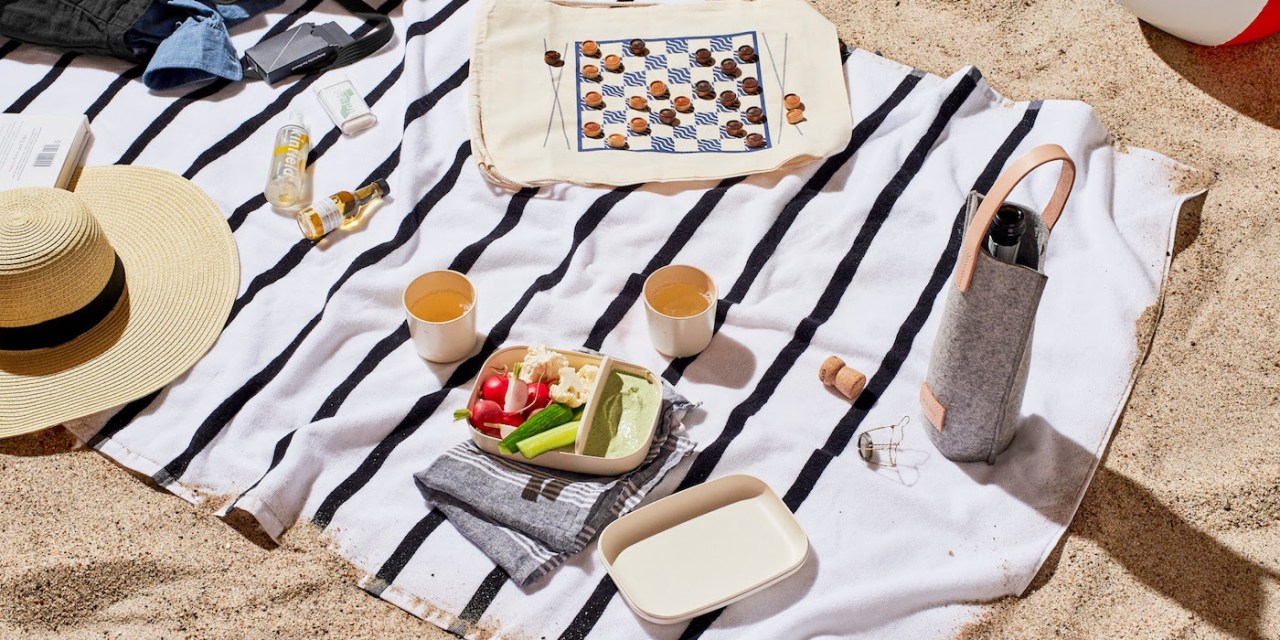 Direct-to-consumer startups are, unsurprisingly, turning to one another to navigate their business' through the coronavirus pandemic.
Partnerships between direct-to-consumer startups were already becoming more popular before the coronavirus pandemic. Over the years, startups have dipped their toes in partnerships in an attempt to find more cost-effective ways to acquire new customers than just spending more money on Facebook ads. But more startups have been turning to partnerships in recent months in order to reach new customers while other marketing tactics like physical pop-ups remain out of the question. These partnerships have included selling co-branded products, as well as giving away or selling one another's products on each other's website.
Andie Swim, for example decided to launch Summer Kits on its website in June, featuring products from other companies meant to accompany Andie's hero product, swimsuits. Products featured within the Summer Kits included towels, sunscreens, tumblrs. The promotion surpassed expectations, CEO Melanie Travis said in an email, so the company decided to do a another similar promotion that will launch next week, featuring products like blankets and a cheese board for customers who want to host a backyard picnic.
The direct-to-consumer startup world is tight knit, so many of these partnerships are formed through mutual connections between vendors or CEO networking groups. Ami Wellness, for example recently ran a limited promotion in conjunction with other wellness brands Hero Cosmetics and Saalt, where Ami sold "period care" kits featuring all of their products. The partnership was coordinated by Ami Wellness' PR firm, LVPR, which represents all three of the companies.
"We are small, so we are having to be very mindful of our resources that we can spend on marketing during this pandemic," said Ami Wellness founder Triniti Gawthrop. Ami launched this year, and has just five full-time employees Gawthrop said.
Using partnerships as an early test for new products
Additionally, even though many e-commerce startups are seeing record growth, many of them are still hesitant about sinking a lot of money right now into developing entirely new products themselves. Their supply chains still remain volatile, and they are uncertain about just how receptive consumers will remain to shopping the longer the coronavirus pandemic drags on.
Mike Grillo, CEO of weighted blanket company Gravity Products said that one of the biggest benefits of partnerships to Gravity is that it allows the company to test out new categories, "before we go all-in on a fully-owned product," said Grillo. Gravity is not new to partnerships. Last year, partnerships made up nearly 20% of Gravity Products' revenue, and the company has previously collaborated on co-branded products with mattress maker Purple and meditation app Calm.
But, Grillo said that using partnerships to test out new product lines, "has become more and more important as resources have become tighter." Grillo said that while Gravity saw sales growth into June, it has slowed down coinciding with when people's stimulus checks and enhanced unemployment benefits ran out.
This week, Gravity released a weighted robe, that was created in partnership fashion designer and founder of Modernist Studios, Ron Chereskin. Gravity licenses' Chereskin's designs, and each party get a cut of the revenue that comes in from the line.
Creating co-branded products has become a bit more complicated thanks to the coronavirus — Grillo said that he and Chereskin had to messenger prototypes between their apartments. Altogether, the product took about six months to put together. But co-branded products — even when manufactured in partnerships with a company who has expertise in that product — can still be too heavy of a lift for smaller startups.
So, another popular approach for startups is to sell products from another company on their website for a limited time. Gravity has also taken this approach, and is launching a "wellness" marketplace on its website in the next few months that will feature products from other wellness brands like Tushy.
Home goods brand Snowe also did something similar last month, launching a new section on its website that it is calling "The Every Edit," which will feature a rotating capsule of seasonally-focused products from other startups as well as, eventually products it will manufacture itself. The first edit, which had a "great outdoors" theme, featured products from Kinfield, Gudee, and Ekobo.
Andres Modak, co-founder of Snowe, said that the idea for The Every Edit had been in the works before the coronavirus. "our customers are constantly us asking our recommendations, even in categories and products that are pretty far removed from the core assortment," Modak said. But, he said the launch of The Every Edit had to be scaled back a bit due to covid. All of Snowe's manufacturers are in Europe, with some of them being in countries that were hit hard by the coronavirus, like Italy and Portugal, and such some of the products that Snowe had initially hoped to launch this year have had to be pushed back.
So, Snowe decided to only carry products from other, smaller startups, who were interested in getting exposure from a larger startup like Snowe. Going forward, Modak said that Snowe plans to release a new capsule collection for The Every Edit about once a month. He declined to provide more details about the revenue model or the first iteration's performance.
"[Partnerships] to be additive to your offering," said Grillo, when asked what advice he would give to startups looking to test out new partnerships. "I would never collaborate with another weighted brand, obviously, but you should leverage it as an opportunity to test out categories that you are looking to get into."