DTC Briefing: Startups eagerly line up for the return of trade shows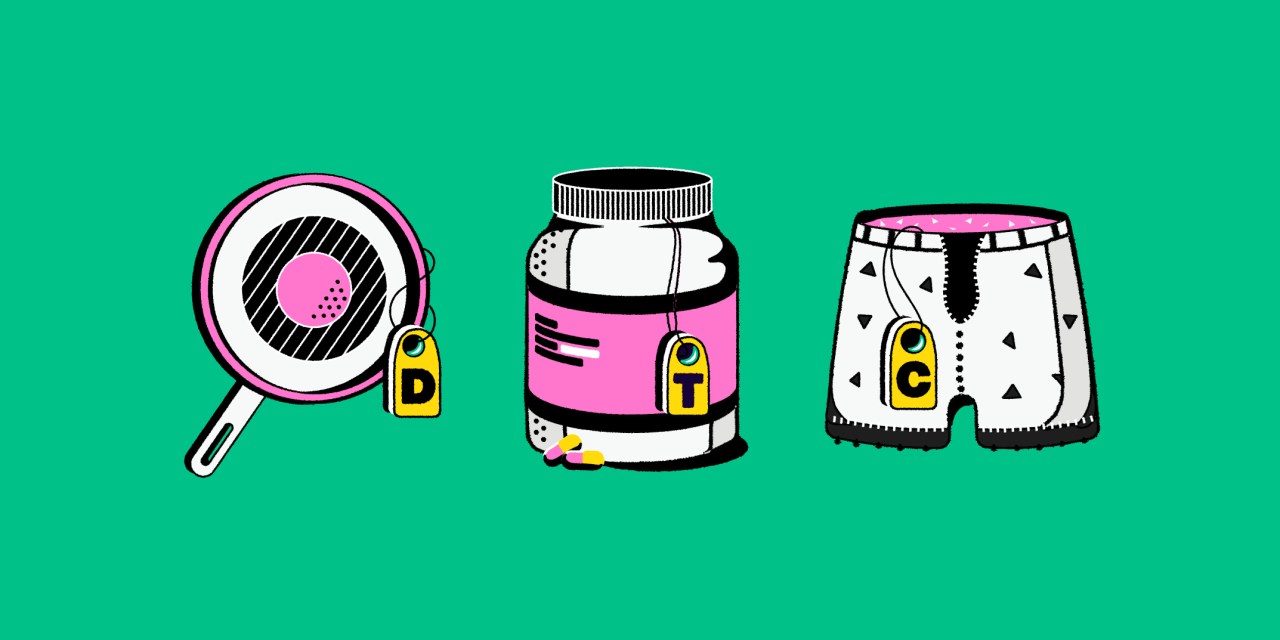 Illustration by Ivy Liu
This is the latest installment of the DTC Briefing, a weekly Modern Retail+ column about the biggest challenges and trends facing the volatile direct-to-consumer startup world. More from the series →
This is the latest installment of the DTC Briefing, a weekly Modern Retail column about the biggest challenges and trends facing the volatile direct-to-consumer startup world. To receive it in your inbox every week, sign up here. 
Direct-to-consumer startup executives are dusting off their lanyards and business cards in anticipation for the return of trade shows.
There have been a handful of big industry trade events stacked up within weeks of each other. Natural Products Expo West and South By Southwest both kicked off last week, while Shoptalk takes place at the end of March. Meanwhile, online chatter among DTC executives in recent weeks has been centered around who is attending what conferences, who is hosting exclusive dinners and happy hours and what the most-talked-about trends and companies are at each event.
But, what everyone is still trying to figure out is how much to invest in these events.
After being relegated primarily to Zoom the past two years, startup executives say they are eager to resume in-person events to form the types of connections they haven't been able to in the past two years, particularly for startups that launched or grew exponentially during the pandemic. But, they're not investing as heavily in these events as they may have pre-pandemic. Haunted by tales of other companies losing tens of thousands of dollars during the rush of events cancellations in March 2020, startups are approaching events more conservatively, opting for cheaper placements or hosting casual events as companies still try to figure out what their events strategy is going forward.  
Though there's a lot of excitement around the return of events, they are still not garnering quite as much interest as they did pre-pandemic. Expo West, for example, said that 57,000 attendees signed up this year, compared to an estimated 85,000 who attended in 2019 (the last time the event was held in person). 
Even so, the overall perception of events is very different now compared to 2019. Before the pandemic, said Sandro Roco, founder of the Asian-inspired sparkling water brand Sanzo, that there was a lot of chatter among founders as to whether trade shows like Expo West were still worth it. Pre-pandemic, larger companies were spending as much as $60,000 on events like Expo West, depending on their placement and how much money they spent building out the booth. In 2020, I spoke with startup founders who had lost as much as $15,000 when Expo West was canceled last minute as the coronavirus started spreading in the U.S.  
Things seem to be changing. Indeed, Sanzo — which first launched in 2019 — is making its first trade show appearance.
"I think [an event like Expo] actually shows just how much we were justifying how much we could accomplish over Zoom," Roco said. "Obviously we all made it work over the last two years, but being in person just [cements] how much more additive that experience is versus doing things digitally."
"Going into the pandemic [the sentiment] was that it had just gotten kind of large and bloated, perhaps buyers weren't there to do deals or really engage with brands," Roco said. "You had some folks really questioning the ROI of the event." But, Roco said as a first-time attendee, he thought the ROI of the event is proving to be worth it. 
Sanzo has gotten a lot of momentum recently thanks to recent partnerships with Pixar and Disney, as well as a $10 million Series A last month. With that, Roco said that at Expo West, "we had buyers seeking us out and being pretty willing and open to really engaging in a dialogue." Roco added that he was also approached by a couple of buyers who Sanzo had previously tried to reach out to via email but had never heard back, which for him cemented the value of in-person events. 
Still, Sanzo, like other brands is approaching the return of events conservatively, opted to go with the cheapest booth placement at Expo West.
Other startups are using the return of events to grow new segments of their businesses, or pursue new types of partnerships that became more important during the pandemic. Rachael Hensley, the director of PR and communications at logistics software startup Shippo, said that the company will be exhibiting at Shoptalk for the first time at the end of March, and is looking at attending more industry DTC-specific events as the company grows.
Shippo, a software startup that launched in 2013 and helps brands calculate shipping rates among various carriers, recently announced a new integration with Shopify. As the company looks to partner with more e-commerce companies, Hensley said events are becoming a bigger consideration for Shippo. For example, at Shoptalk, Shippo is mostly looking to connect with e-commerce tech companies it could potentially integrate with, ranging from marketplaces to live shopping startups. 
"Attending physical events has been a fairly new investment for us," Hensley said. "I think for us the decision is 'is the investment of going to that event worthwhile in terms of the conversations we could have, or what the potential ROI on the backend is?" 
Despite the initial excitement of the return to events, Roco joked that there is "already a little bit of overload right now" as executives have to get re-accustomed to traveling to trade shows nearly every other week, particularly in the spring and summer. Roco said that as a small startup, Sanzo's main concern right now is trying to figure out what events the company has bandwidth for, as well as which executives are best suited for which events. 
"It is almost like a pre-pandemic conversation of: 'ok here are all of these events, where are ones that we think we can actually get value from?'" Roco said. 
Parade expands to the U.K. 
Fresh off of opening its first store in November, underwear brand Parade hit another significant milestone this week as it begins to grow internationally. 
Parade announced on Monday that it has expanded to the U.K., adding a shipping option for U.K. consumers on its direct-to-consumer site; the company will also be expanding to Australia later in the second quarter of this year. 
Parade, founded in 2019, has centered its social media strategy around growing word-of-mouth and integrating itself with different communities; the company is known for reaching out to micro-influencers and offering them for free gifts, ideally in exchange for social media posts. In a New York Times feature from 2020, the company said that an estimated one in every eight Parade customers posted a picture of themselves in their underwear, and that it brought in $10 million in revenue in its first year of business. 
The company appears to be taking a similar strategy in the U.K. On Monday, Parade's Instagram stories feed was filled with posts from U.K.-based micro-influencers, showing off the merchandise they had received from Parade with the hashtag gifted. 
"We will be doing things like out of home across tons of neighborhoods in London, really showing off of [our] beautiful creative and inclusive, sustainable imagery," Kerry Steib, Parade's head of corporate social responsibility and communications told Modern Retail.  "I think that like in the U.S, the U.K. underwear industry has always pushed that one-note idea of sexiness.
All of this expansion is being fueled by a $20 million round of new funding that Parade announced in November, which valued the company at $140 million.
What I'm reading
Fridge No More

is the latest ultra-fast grocery delivery startup to

shut down

. According to Bloomberg, Fridge No More had struggled to raise additional financing, and ran out of money when an acquisition deal with DoorDash fell through. 

The Wall Street Journal reported that

Peloton

is testing out a

new subscription pricing model

 for its exercise equipment. If a customer cancels their subscription, Peloton would take their exercise bike back at no extra cost. 

Hair care brand

Madison Reed

has hired former Dollar Shave Club executive Jose Zuniga as its new

CFO

. The new executive hire comes as the company is plotting an aggressive physical salon expansion; Madison Reed plans to open 80 hair color bars by the end of 2022.
What we've covered 
Subscriber exclusive:

Thanks to recent privacy changes,

zero-party data

is the latest buzzword that's being increasingly thrown around by brands. Modern Retail explains what brands need to know about

zero-party data collection

. 

Resale players like

ThredUp

and

The RealReal

are growing but still struggling to turn a profit as indicated by

recent quarterly earnings

. In 2022, these companies are betting that automation will help them cut losses. 

After skincare influencer Hyram Yarbro posted about

Peace Out

's products on TikTok, the brand sold 15,000 units within a week. Here's how the brand has

built out a TikTok strategy

since then.