DTC Briefing: Startups are out to prove they won't repeat the delivery mistakes of last holiday season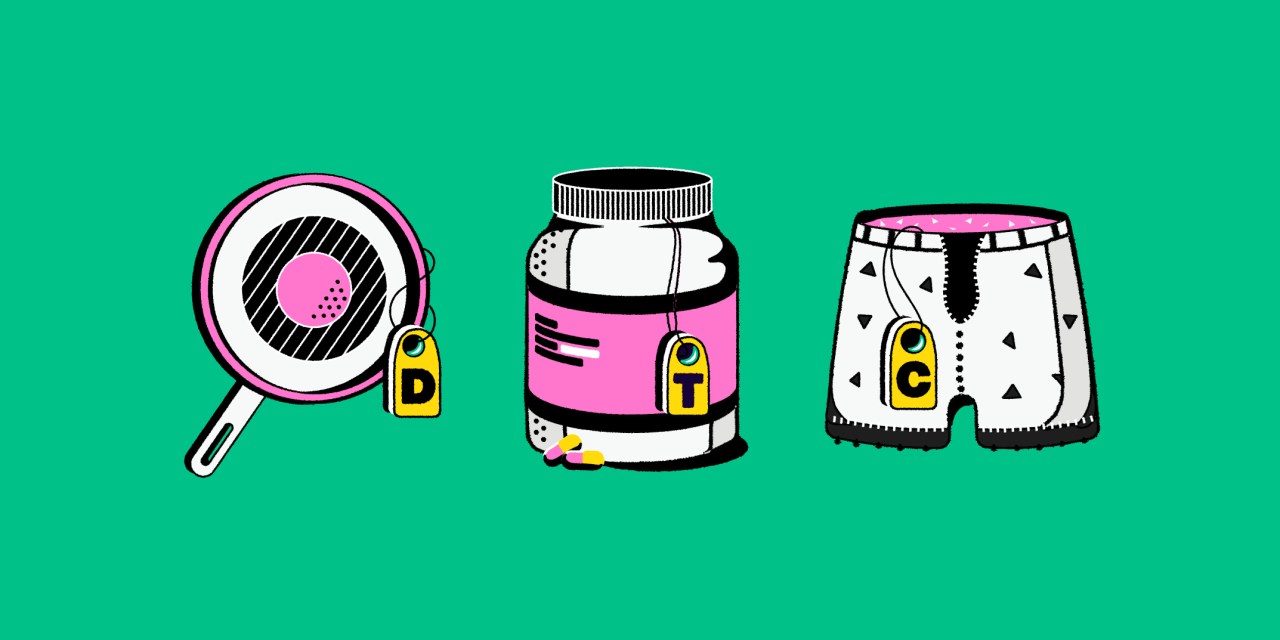 Illustration by Ivy Liu
This is the latest installment of the DTC Briefing, a weekly Modern Retail+ column about the biggest challenges and trends facing the volatile direct-to-consumer startup world. More from the series →
This is the latest installment of the DTC Briefing, a weekly Modern Retail column about the biggest challenges and trends facing the volatile direct-to-consumer startup world. To receive it in your inbox every week, sign up here. 
This holiday season, weighted blanket brand Bearaby is offering a cheeky mea culpa to customers whose orders are unexpectedly delayed. While their blanket is en route, Bearaby has been delivering a knitted stress ball, called the Hugget, to customers with the help of their last-mile partner Deliverr.
"I was born with the mission to bring you a little comfort. When I heard that you might need some extra love, while you are waiting for your blanket, I simply couldn't wait to be woven in," reads a note delivered to customers along with the Hugget. 
The Hugget could come in handy at many direct-to-consumer startups this December, as companies struggle with the Herculean task of getting all orders to customers in time for Christmas. Each holiday season comes with its own series of unexpected shipping delays, but last year was particularly challenging. Inventory shortages combined with higher-than-expected levels of online shopping meant some DTC startups had already sold out of their holiday inventory in early December. And, as FedEx and UPS struggled with the huge swell in online orders, some orders that companies expected would arrive by December 25 missed the important cutoff date. 
This year, DTC startups are taking no chances. To prepare for this holiday season, the DTC executives I spoke with said they've placed production orders months in advance of when they normally do, to ensure they have enough products in their warehouses come November and December. Secondly, they've added more last-mile delivery partners and 3PLs to make sure those products can get to customers on time. And, in the case of Bearaby, they have thought through what concessions they can offer to customers when things don't go according to plan. 
"Specifically for our products — we aim to bring calm and relaxation, [and] better sleep through our weighted blankets," Bearaby CEO Kathrin Hamm told me. "[With] shipment delays — we take them especially seriously, because they cause stress and uncertainty." 
Matthew Hertz, co-founder of logistics consulting firm Second Marathon, said that this year brands are susceptible to many of the same challenges as they were last holiday season. FedEx and UPS are still struggling to keep up with the increased rate of online shopping, and delivery windows as Christmas approaches. There are a few added wrinkles this year — namely, that "we didn't have the issues we have now with containers sitting off the coast of California," Hertz said.
What's largely changed this year, is that brands had more time to prepare. Whereas last year, many of the logistical challenges came out of nowhere as people had no idea how long the pandemic and related stay-at-home orders would drag on. 
"Brands are sensitive to what happened last year, and they don't want to repeat the same mistakes," Hertz said. "That's a difficult story to tell your customers if — pardon my French — but if you fuck up two years in a row with the same issues." 
Hamm said that last year, Bearaby was hampered by the fact that it only had inventory in one California warehouse, so this year it added another 3PL partner on the east coast. Hamm said that Bearaby also started working with Deliverr to fulfill some orders in cases where FedEx or UPS is experiencing severe delays. 
Like many other DTC startups, Bearaby offers 'free' shipping, with orders being delivered within six to ten days. But it will cost consumers who want speedier delivery. Right now, Bearaby is charging an extra $9.99 for customers who want three to five-day shipping, and $29.99 for those who want overnight delivery.
Last year, DTC startup Caraway had largely sold out of its holiday inventory by the first week of December. So Caraway founder Jordan Nathan said that the biggest change the company made this year was buying more inventory further in advance. Caraway placed production orders for its holiday inventory in the first quarter, compared to July last year. The company also shared its 2021 sales projections with its 3PLs and other logistics partners, in order to ensure there was enough space for Caraway products in their warehouses come November and December. 
All of that preparation still hasn't made Caraway from inventory challenges. The company sold out of its first run of bakeware, which it launched in September, and the line is on backorder until March. Its others products, however, are still available.
"I personally am not optimistic on the supply chain fixing itself quickly," Nathan said. All of the proactive steps that brands have had to take to prepare for this holiday season, are ones that brands are likely going to continue to have to take next holiday season.
The big problem, Nathan said, is that all of the various players in the e-commerce ecosystem — carriers, factories, ports — still don't have the manpower and the infrastructure to support elevated e-commerce shopping two-plus years into the pandemic.
"Really the only way this fixes itself is either for shopping to slow down, or for more boats to be built," Nathan said. 
Harry's makes its first acquisition 
Personal care startup Harry's announced its first acquisition yesterday, roughly eight months after the company announced a $155 million round of funding that was intended to in part help Harry's buy more startups. 
The startup that caught Harry's eye: Lume, a natural deodorant brand. Tehmina Haider, chief growth officer at Harry's, said that her team has a meeting every month in which each employee talks about "a brand that they are excited about that they just encountered in their everyday life." Lume was one of those brands. 
The deodorant space has experienced plenty of consolidation over the past several years, with other deodorant startups like Native and Schmidt's having been snapped up by more established conglomerates like P&G and Unilever. What makes Lume different, according to founder and OB-GYN Shannon Klingman, is its focus on all-over body odor control: in addition to deodorant, Lume also sells soap, body wash, and laundry spray. 
While Harry's is mum about its acquisition strategy for 2022 — Haider declined to say how many startups the company would be looking to buy next year — the Lume deal gives some insight into what Harry's is looking for. Lume, founded in 2017, is boostrapped, and has roughly 50 employees. The brand sells through its own website and Amazon, and recently started selling through Walmart's third-party marketplace, according to Klingman. That gives Harry's plenty of opportunity to scale Lume simply by bringing its products to retail stores. Klingman said that Lume is also working on new products for next year, but declined to say what those were.
"As a founder you initially start off with this very informal approach, and eventually you have to grow up and become a real company," said Klingman. "I think that we have started to build those things within Lume, but certainly the foundation that Harry's has built will benefit Lume, especially on legal, teams and recruiting." 
What I'm reading
Peloton released a

parody ad

poking fun at how its bike was used in the 'Sex and the City' reboot. 

While inflation concerns still loom large, some retail experts predict that January will usher in

steep markdowns

, as retailers seek to offload late-arriving holiday merchandise. 

Grove Collaborative is the latest startup to get into the

pet care space

, launching a line of grooming products. The line, in order to fit in with the rest of Grove Collaborative's product assortment, has some sustainability components like using recycled materials in packaging. 
What we've covered
This holiday season, '

American-made

' holds a different level of importance for brands, as it has helped some companies ward off supply chain delays better than competitors.

In its latest earnings report,

Stitch Fix

revealed that its new a la carte shopping option, called Freestyle is growing quickly. But, the styling service has a fine line to toe as it is trying to grow Freestyle without losing subscribers.

Lululemon slashed its full-year revenue forecast for

Mirror

during its earnings report last week. It's the latest sign that connected fitness startups are losing momentum, after experiencing huge gains last year.