DTC Briefing: Peloton's troubles foreshadow demand challenges startups will face in 2022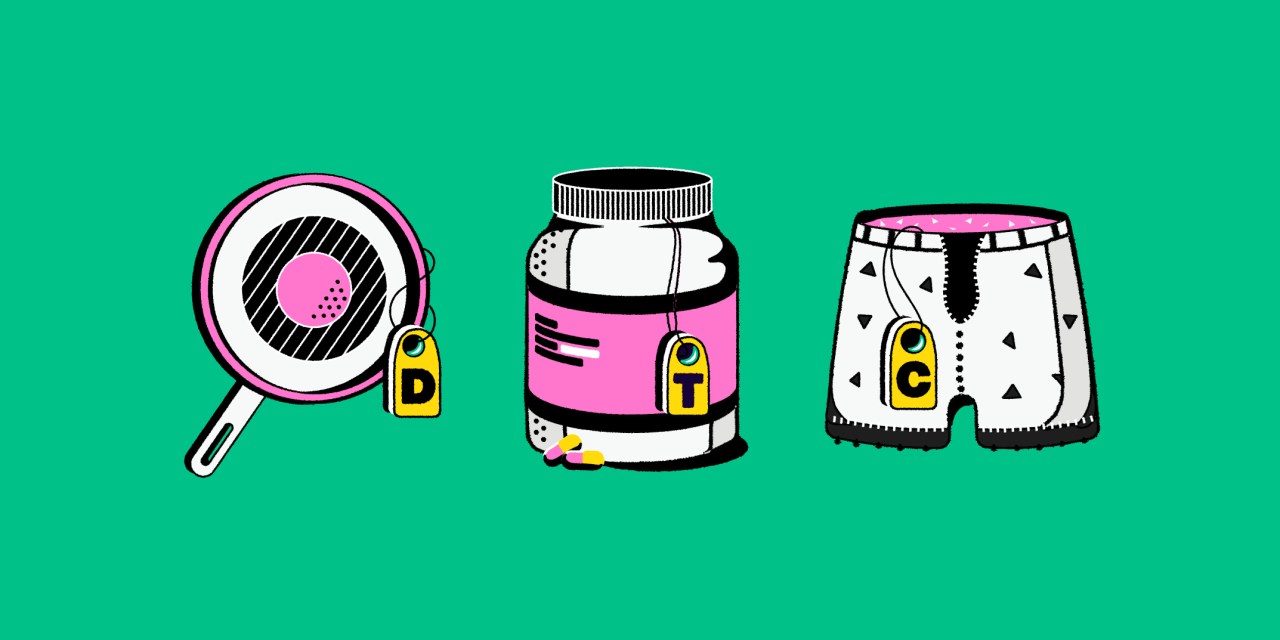 Illustration by Ivy Liu
This is the latest installment of the DTC Briefing, a weekly Modern Retail+ column about the biggest challenges and trends facing the volatile direct-to-consumer startup world. More from the series →
This is the latest installment of the DTC Briefing, a weekly Modern Retail column about the biggest challenges and trends facing the volatile direct-to-consumer startup world. To receive it in your inbox every week, sign up here. 
For the past two years, direct-to-consumer startups have been riding high on a wave of increased online shopping. But that period of exponential growth may be coming to an end if Peloton's fortunes are any indication.
The at-home fitness startup saw an explosion of new customers during the pandemic. Revenue jumped from $228 million during its fiscal first quarter in 2020, to $1.26 billion during its fiscal third quarter in 2021. But over the past few weeks, there's been a steady drip of stories from CNBC about how Peloton is preparing for slowing demand in 2022. The company is going so far as to temporarily halt production of its exercise and bikes as supply outweighs demand and slashing its 2022 sales goals for its apparel unit. 
Peloton might not be the only direct-to-consumer startup in store for slowing revenue this year. While brands anticipated last year that the vaccine rollout would lead to people spending more on travel and less on physical goods, that acceleration didn't happen as quickly as some anticipated, in part due to the rise of the Delta and Omicron variants. 
Now, investors and retail experts say that people are starting to resume their pre-pandemic shopping habits, and have purchased many of the big-ticket items they've long been wanting, like a new mattress or exercise bike, over the past two years. As a result, more direct-to-consumer brands could see a slowdown in growth this year — which could lead to trouble if these companies responded too optimistically to pandemic-induced growth. 
"I think goods-based businesses… especially ones that sell durable goods that are not consumable in nature, are going to see it's much harder for them to continue to compound growth over the record levels that they likely saw in 2020 and 2021," Saron Tesfalul, a principal on the consumer and retail division at Bain Capital's Private Equity Arm said.
She added that, right now, Bain is particularly interested in service-based businesses, as well as the travel and leisure sectors, in anticipation of this shift. 
The other unknown DTC startups are contending with is just how many pandemic-era habits consumers will stick with. If someone bought a new cookware set when stay-at-home orders went into effect in 2020, will they still spend most of their time cooking at home, and continuously want to upgrade their kitchen gadgets?
Dan McCarthy, assistant professor at Emory University's Business School, co-authored a forthcoming research paper detailing how levels of spending on restaurant delivery has changed over the past two years. What his research found, he said, is that how much customers are willing to stick with spending habits formed during the pandemic depends in part their spending behaviors beforehand.
Customers that first started using restaurant delivery during Covid, "they're acting as if Covid never happened." But that customers who used restaurant delivery services before Covid are continuing to spend money on restaurant delivery at elevated rates.
McCarthy said that the takeaway for retailers in other categories is that "the source of the weakness is primarily new customer adoption" — that customers who first adopted certain products and services during the pandemic are less likely to stick with them as the pandemic subsides.
Slowing growth doesn't mean a doomsday scenario for all direct-to-consumer brands, but it could spell trouble for brands that responded too optimistically to increases in demand during the pandemic.
Peloton, for example ramped up manufacturing capacity during the pandemic, spending $420 million to acquire fitness equipment manufacturer Precor. It's a move that may have been too opportunistic, given the company's new demand challenges.
Not every company is anticipating slowing demand. Figs, for example raised its fiscal full-year 2021 outlook in November, citing continued demand among healthcare professionals. The scrubs maker raised its anticipated revenue for the year to $410 million from $395 million.
The company also said, however that next quarter, it would be increasing spend on air freight in the fourth quarter "primarily to ensure we get our limited-edition styles and colors and time to meet forecasted customer demand." Co-CEO Trina Spear said. Again, the company's subsequent earnings calls will indicate whether or not that was the right decision.
Bain Capital's Tesfalul said that over the past two years, the smart retail and e-commerce companies "made measured investments where they made sense. You can't optimize your business for only volatile time periods."
"At the end of the day, you value companies on their future cash flow earnings," she added. "The best companies are building sustainable businesses for the long run."
Daily Harvest goes beyond DTC
For many direct-to-consumer companies launching today, it's not a question of if they will sell their products in more places beyond their own website, but when. 
Daily Harvest, which sells smoothies, flatbreads, soups and other frozen foods primarily on a subscription basis, held off on channel expansion longer than most startups. Founded in 2015, the company is just now launching its first brick-and-mortar location: a "tasting room" in Chicago where customers can sample and buy Daily Harvest's food. And, last week, the company started making some of its products available for purchase through DoorDash, Uber Eats and other same-day delivery services.
Daily Harvest CEO Rachel Drori told Modern Retail said that the company held off on channel expansion until now for two main reasons. One, to collect more data on what types of food its customers wanted, and two, to better be able to personalize offerings for existing customers, which she said was easier to do if Daily Harvest stuck to primarily selling through its own site.
Now that Daily Harvest has been out building its DTC business for more than five years, Drori said the company came to the conclusion that "it's time to start experimenting around where else can we build trust with customers, and be more convenient for customers." 
In November, Daily Harvest announced that it had raised a new funding round valuing the company at $1.1 billion dollars. While the new round of funding helped fuel Daily Harvest's channel expansion, Drori said the company had no immediate plans to open more new stores. 
"The goal here is let's get our feet wet, let's really understand what the customer experience is, look at the goals that we are trying to achieve, make sure we are achieving them… and then make the decision on whether to expand the strategy," Drori said. 
What I'm reading
Business Insider profiled Jessica Glendenning,

Gopuff's general manager of private label, who is tasked with building out a new line of products for the fast-delivery startup. 

Fast fashion retailer

Fashion Nova

paid a $4.2 million settlement fee to the FTC over allegations that it

suppressed negative reviews

on its website. 

Thingtesting takes a look at the new crop of

better-for-you cereals

like

Magic Spoon

and

Three Wishes

, which are trying to catch the attention of customers both online and in-store.
What we've covered
Hims and Hers

chief operating officer Melissa Baird spoke about the

telehealth platform's growing retail presence

. Hims and Hers products are now sold through Walgreens, Urban Outfitters and most recently, Walmart. 

DTC apparel brands that want to launch a

recycling program

are increasingly turning to a company called

Terracycle

for help. 

Digital veterinary startups like

Dutch

and

Pawp are betting on the rise of telehealth, as well as the increase in pet owners during the pandemic, to help fuel their growth.