Cookware startup Caraway is launching a new set in Crate and Barrel stores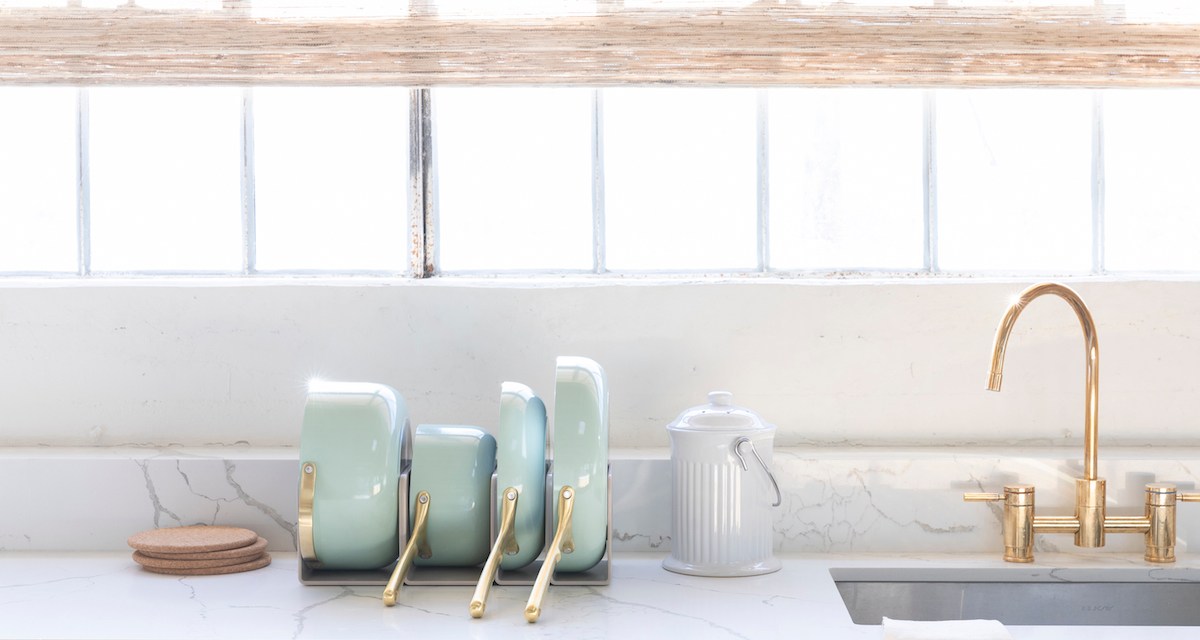 Photo courtesy of Caraway
Caraway, a predominantly direct-to-consumer cookware startup, is kicking off its first physical retail partnership.
The startup announced on Tuesday that it's launching a new cookware set that will be sold exclusively in 75 Crate and Barrel stores starting mid-February, and through Crate and Barrel's website starting this week. The set designed for Crate and Barrel contains the same four-piece items as the cookware sets that are sold through Caraway's website, but in an exclusive color — silt green with gold handles.
Caraway has been selling its cookware sets through Crate and Barrel's website since the fall, but it will be the first time they will be available for sale in stores. Caraway just launched in November 2019, but CEO and founder Jordan Nathan told Modern Retail that he thought it was important for Caraway to start selling its products through other retailers' websites early on, because "we want to be where customers are buying for big stages of their life."
It's a markedly different approach compared to the first generation of digitally-native consumer startups like Everlane, which infamously said it would never open stores and wanted to sell through its own website as long as possible in order to get as much customer data as possible.
"Distribution has been a core tenant of Caraway since the beginning, and you'll see us to continue to expand our distribution base," added Nathan. In addition to Crate and Barrel, Caraway sells its product through a handful of other websites, including West Elm's, Food 52, Zola and ABC Home. Nathan said that for now, Caraway is looking to sell its products primarily through websites that are a popular place for registries. That's so that Caraway can reach customers who are looking to buy their first high-end cookware set because they are getting married or about to buy a new home for the first time.
Despite the early focus on wholesale, Nathan said the majority of Caraway's sales still come through its own website, though he did not share an exact breakdown.
Rebekah Kondrat, founder of consultancy Kondrat Retail, said that in her experience direct-to-consumer startups often start selling their product wholesale when they feel like they've started to near the limit on the number of customers they can reach purely online. She added that when considering wholesale partnerships, startups should look for retailers who have a somewhat similar customer base as them, but "also a potential customer base that you haven't quite been able to tap into online," like an older or more affluent shopper.
Indeed, Caraway decided to start selling its products through Crate and Barrel in particular because not only is it a popular place for registries, but it also has a large customer base of interior designers, according to Nathan. One of Caraway's selling points is that its pots and pans are available in bright colors not typically utilized by traditional cookware companies, like light pink and sage green. So, Caraway wants to focus on a "design-driven" retailer like Crate and Barrel.
In addition to Caraway, Crate and Barrel has been steadily adding products from other direct-to-consumer brands to its stores and website. Most recently, Parachute –which sells bedding, towels and other home goods — created an exclusive collection for Crate and Barrel's website and select stores. Crate and Barrel competitor West Elm has also been trying to recruit more direct-to-consumer brands, as Modern Retail previously reported.
Crate and Barrel's chief marketing officer Alicia Waters told Modern Retail in an email that the company decided to start carrying products from Caraway because "we know our customers look to us for beautiful yet functional cookware," and felt that Caraway was "an innovative and in demand DTC cookware brand."
Nathan said that for now, Caraway will only be selling the one cookware set through Crate and Barrel's stores, until quantities run out. Caraway, like many other cookware brands, has experienced supply chain challenges, and is still trying to produce enough sets to catch up with demand. "We've been out of stock more than we've been in stock the past eight months," Nathan said.
Caraway hasn't ruled out eventually opening its own stores, but Nathan said it's not in the cards for the company right now."
"We're still taking retail step by step to see what Caraway looks like and feels like in the real world," he said.