As competition picks up, grocery chains are investing more in fulfillment centers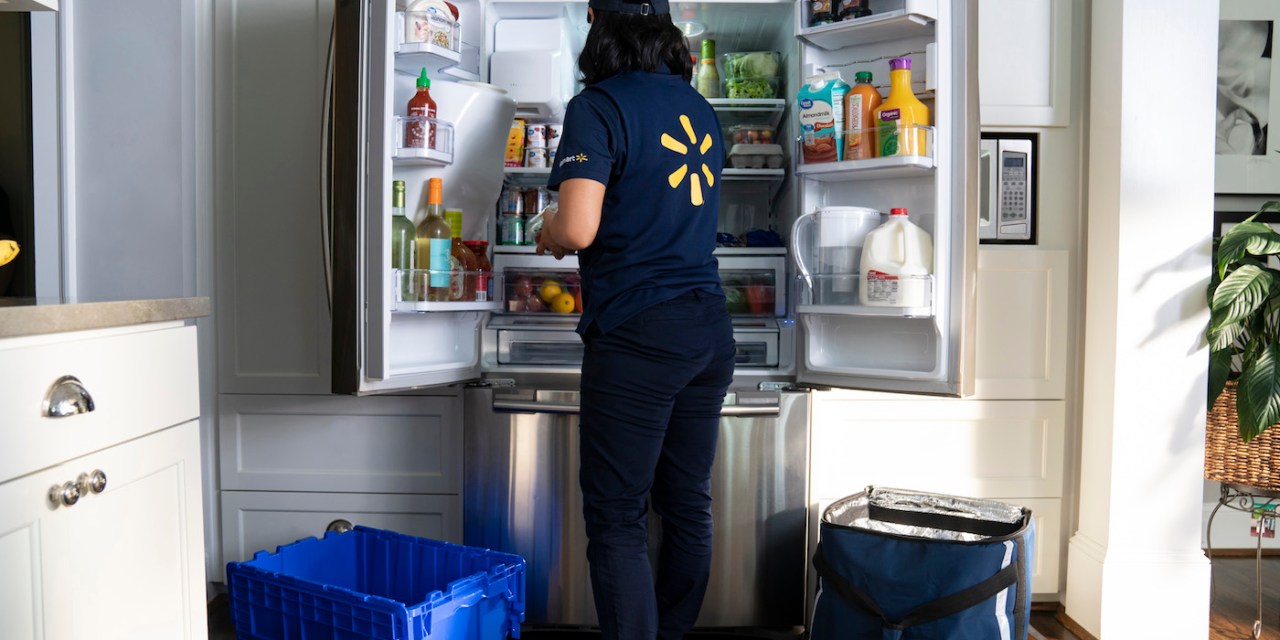 Image via Walmart
As grocers look to generate more sales through in-store pickup and delivery, they're facing challenges similar to other big box retailers, who have found that stores only work so well as fulfillment centers.
This week, the New York Times reported that Amazon's long-rumored grocery store chain may consist of stores that are specially designed to have designated areas for in-store pickup and to fulfill delivery orders. Reportedly, Amazon's found it difficult to integrate delivery into Whole Foods' existing stores. Currently, workers who fulfill online orders have to pick most of the times from Whole Foods' shelves, which aren't optimized like Amazon's warehouses to pick items as quickly as possible. Amazon's also reportedly looking for stores close to existing Whole Foods stores, so it can build spaces that can fulfill orders for multiple stores.
Other grocery store chains are also looking to build new warehouses, in order to get ahead of what they foresee will be rapidly growing interest in online grocery. Wakefern Food Corp., which operates ShopRite and other grocery store chains, announced last week week that it will be building a micro-fulfillment center in New Jersey to fulfill delivery and pickup orders for ShopRite stores in New Jersey and New York. Kroger is also looking to build 20 automated warehouses over the next two years in partnership with British online grocery Ocado, while Walmart broke ground last year on its first high-tech distribution center for fresh and frozen groceries.
"[Grocery companies] are putting a lot of money very quickly into this, and I think the reason for this is they just can't keep afford to keep losing the amount of money they're losing right now," said Phil Lempert, founder of trade publication Supermarket Guru.
U.S. shoppers have been less eager to buy groceries online compared to other products. A May report from Coresight Research found that only about 2.2% of food and beverage sales in the U.S. took place online in 2018. But, the report also found that the number of shoppers who have tried an online grocery delivery service continues to grow. Coresight said that its research showed that 37% of shoppers have bought groceries online in the past year, compared to 23% the year prior. So, grocers want to learn from the mistakes of retailers who were slow to embrace e-commerce in the past, and get ahead of demand for online grocery and pickup.
By investing in automated warehouses, grocery chains can fulfill orders more quickly, store more food than the average store can, and cut down on the number of employees it takes to fulfill orders. Wakefern Food Corp. claims that its new fulfillment center will be able to assemble orders of up to 60 items in "minutes" thanks to automation.
But, grocery chains won't be able to rely entirely on warehouses to fulfill orders placed online, as there's also a growing interest in in-store pickup. Walmart in particular has been heavily promoting grocery pickup. The retail giant expects that 3,100 of its stores will offer grocery pickup by the end of the year, and a March analysis from Cowen projected that around 11-13% of Walmart customers now use grocery pickup.
Grocery chains will then have to strike a balance in building out warehouses, while also retrofitting their stores in order to accommodate pickup. In addition to building out a backroom where pickers can assemble orders, Tory Gundelach, vice president of retail insights at Kantar Consulting who studies the grocery industry, noted that retailers also have to invest in adding drive-up lanes to accommodate curbside pickup, as well as a technology system to alert customers exactly when their orders are ready, if they need a replacement for an item, or if their order has been delayed.
Larger retailers are also building out their tech teams in order to build algorithms that can assist pickers in developing the most optimal route to fulfilling an order. Walmart, for example, added about 2,000 employees to its Walmart Labs division last year, with then-CTO Jeremy King saying that the company was ramping up hiring specifically to assist with grocery pickup and delivery.
Additionally, setting aside more space for pickup order fulfillment allows grocers to redesign their floor space to encourage customers to spend time picking out the most valuable, high margin items. Reportedly, Amazon previously looked at developing stores where customers could walk in, place orders for nonperishable goods like cleaning supplies or dried foods via an app, and then get those orders fulfilled while they shopped in-store for produce, fresh meats, and prepared meals.
"We see that behavior already being mirrored in shoppers when people do a click-and-collect order," Gundelach said, citing the fact that customers may still have to enter the store to pick up items they forgot to order ahead of time, or want to see themselves before they buy. "There is still some distrust [from shoppers] that a retailer is able to pick out the right steak or the right apple."