Why more fashion brands like Princess Polly are signing up for Science-Based Targets initiatives to cut emissions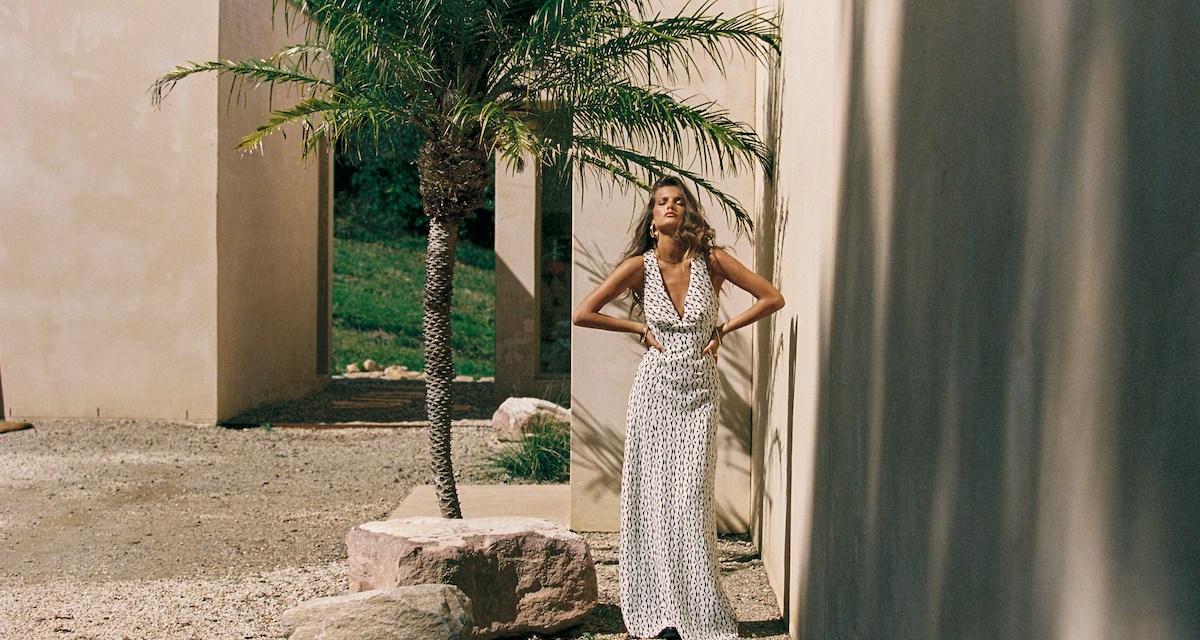 Princess Polly
Since 2010, Princess Polly has grown from a boutique Australian brand to a trendy fast-fashion label embraced by Gen Z shoppers around the world. It launched 100 new styles each week this past quarter, while haul videos of its dresses, minis and sets rack up thousands of views. It's the crown jewel of the AKA Brands portfolio, which expects to cross $555 million in sales this year.
But even while it is eyeing fast growth, Princess Polly is also taking concrete steps to cut its emissions.
In October, the company made permanent, public commitments to reduce its emissions through the Science Based Targets initiative. The goal, said the brand's social responsibility director Alex Peters, is to make sure the brand is consistently shrinking its carbon footprint even as it continues to manufacture clothing. 
"It's a bit of an oxymoron to say we're going to keep growing while carving our emissions." Peters said. "But the world is still growing, we're still expanding, and there's going to be apparel brands popping up every day. What we can do is really just look at it, as we keep growing, as 'Let's keep growing in the best way possible.'"
The Science-Based Targets initiative, or SBTi, is an increasingly popular way for the private sector companies to make a roadmap for reducing emissions. The process requires brands to examine their entire supply chain to calculate current greenhouse gas emissions, and make concrete reduction targets using SBTi's criteria. The process has been criticized for not being strict enough, and for having methods that differentiate based on company and sector. But it's still gaining significant ground: more companies set targets in 2022 than they did in the seven prior years combined, with an 87% year-over-year increase.
The fashion world is increasingly looking at SBTi as a way to measure impact. The list now includes at least 261 apparel companies as of December 2022 — a 45% year-over-year increase. While brands like Nike, H&M, Eileen Fisher and Gap were early adopters, setting targets is becoming more popular with smaller mid-sized brands like Everlane and Allbirds, as well as luxury brands like LVMH. At least 73 apparel companies have committed to set near-term targets this year, according to SBT data.
With shoppers and environmentalists quick to call out brands for greenwashing or paying lip service to climate action — the recent Skims "nipple bra" launch is a textbook example — companies that have committed to SBTi say it helps them create a concrete plan to reduce their carbon footprint. Brands like Princess Polly also say that it helps inform conversations with suppliers and manufacturers in a bid to get them to reduce their own emissions. Its commitments include:
Reducing its per-product emissions from direct and indirect sources by 42% by 2030 compared to 2020.
Reducing emissions from all other sources in its supply chain by 52% by 2030
Sourcing 100% of its electricity from renewable sources by 2025 and beyond.
"It is a really big commitment and a lot of work to go into it," Peters said. "But it also gives us so much credibility. It's not just a target that we've plucked out and put out there. We've really had to prove where we were in 2020, and then what our trajectory would be to 2030."
Why SBTi is taking off
SBTi formed as a way to help achieve the goals of the Paris Agreement in 2015, which means limiting global warming to 1.5°C above what it was before the Industrial Revolution. It lays out sector-specific guidance that companies can take to help hit their emissions reductions goals, and it requires companies to give annual updates. The initiative has seen exponential growth in recent years, with more than 4,000 companies having commitments at the end of last year.
"By setting targets and getting them validated by the SBTi, companies are ensuring their operations remain lean and efficient, and are building resilience against a future where resources will become increasingly scarce and expensive," an SBTi spokesperson said in an email to Modern Retail.
Frank Zambrelli, vice chair of Fashion Makes Change, a project within Rockefeller Philanthropy Advisors that focuses on climate action within the industry, said brands are increasingly drawn to SBTi because of the "clear marching orders" and sector-specific guidance. And there's safety in numbers, with brands more likely to be interested as they see others setting targets.
"Having a target gives the company a goal that they can start setting up programmatic solutions to develop against," Zambrelli said. "This feels like a safe, comfortable and well–vetted approach that many, many peers are doing."
There's also increasing stakeholder pressure. Investors may be looking for what brands are doing to become more environmentally aware. With the potential for the Securities and Exchange Commission to require ESG metrics are part of public reports, going through the SBT process means a brand will be ahead of the curve in knowing what their emissions are and having a plan of attack.
Aileen Lerch, sustainability senior manager at Allbirds, said having SBTi commitments helps anchor the company's overall sustainability strategy. The initiative has been critiqued in the past for not being strict enough to major corporations. And the initial data that companies provide is held private — meaning onlookers don't get a full picture of a brand's carbon footprint.
"There's a lot of discussions about pros and cons, but it's still the best in class to have a long-term commitment with," Lerch said.
Getting the company on board
At Princess Polly, Peters said the brand's environmental approach is a selling point among new hires, even those who aren't on the sustainability team itself.
"When you set a target like this, it can't just be the responsibility of a social responsibility team, it has to be the responsibility of everyone across the business. "
So far, the brand is measuring a 16.9% reduction compared to 2020 baselines, Peters said, above the 7% drop that's required at this point in their trajectory. Strides include making 40% of its new styles come from "low impact" materials like linen and certified organic cotton. It's also switched to sea freight for getting products to its distribution centers.
"We're feeling like already, we've laid an amazing foundation there, and that all comes from our supply chain team and our buying team," Peters said.
At Allbirds, there is a mixture of financial and external pressures to help keep action moving toward the company's overall climate action goals. One way that the company incentivizes action toward the targets is tying executive compensation to reducing the targets, similar to how a company's bonus structure might be tied to financial progress. The company also puts out an annual report about its progress called a "flight plan", which outlines the changes it made and what it hopes to accomplish.
"This combination of (targets) really tied to internal initiatives, goal setting, compensation, as well as the imperative to communicate externally, is a very powerful combination to ensure our targets remain top of mind, and are embedded in the company's operations," Lerch said.
A ripple effect
The way SBT are structured requires companies to take a long hard look at the emissions generated by their supply chain. Greenhouse gas emissions are measured by scopes — scope 1 being direct emissions, and scope 2 being indirect emissions like electricity. Scope 3 is where it gets more difficult for companies. That covers the rest of their supply chain, and all upstream and downstream activity.
Peters from Princess Polly said the brand has worked with its current suppliers to see if they can update their own technologies and get them to share their carbon footprints.
"We don't want to achieve reductions by leaving anyone behind, or just switching to partners who are already thriving at this journey," she said. "Because that is to us, that's not the most impactful way we could be doing this."
Apparel company Everlane published targets in 2021, said director of sustainability Katina Boutis. It was the company's 10th anniversary, and at the time it was one of the first small-to-medium sized fashion brands to mark the targets. So far, focusing on Scope 3 categories like materials and transportation modes have reduced per-product emissions by 22% last year compared to its 2019 baseline, Boutis said.
But the company is still working with factories and fabric mills to continue to lower its Scope 3 emissions. Boutis said doing so will be the only way that the company hits its goal of a 55% per-product emissions reduction by 2030 — and having the third-party accountability from SBTi provides "a clear roadmap" to help inform those conversations.
"All solutions need to be considered if we're going to make rapid changes," she said.