Earnings
// February 21, 2023 ■ 4 min read
Walmart sees higher demand for private label products in the fourth quarter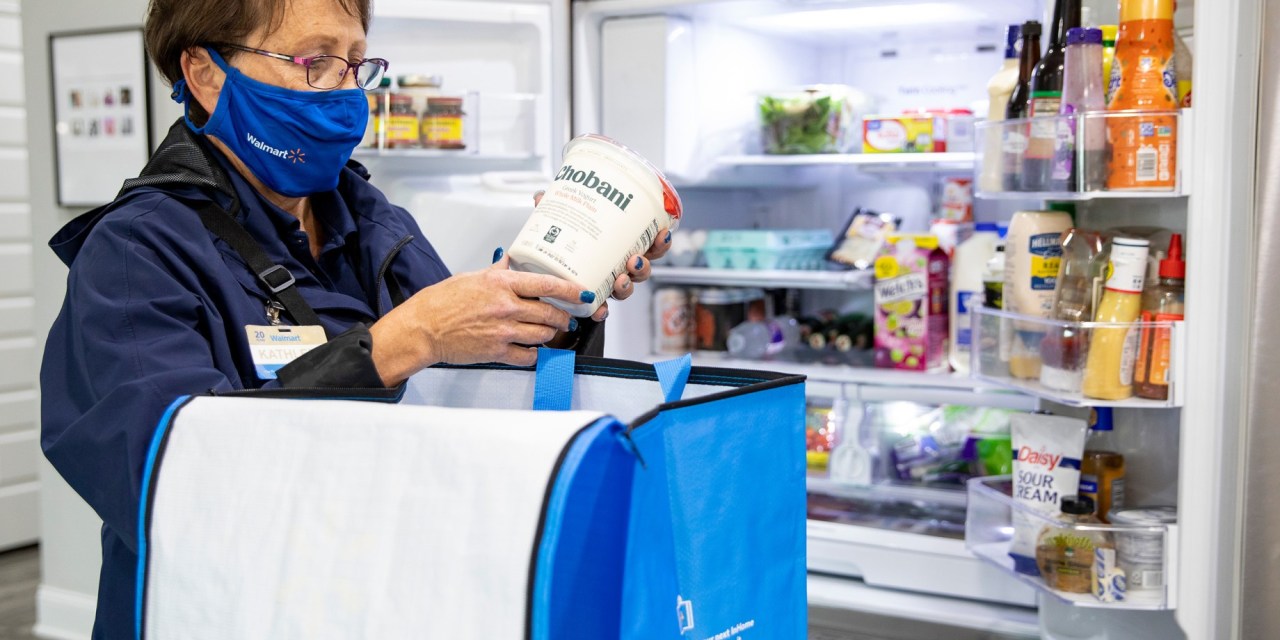 Walmart
Walmart shoppers are gravitating towards private label products in the fourth quarter as they look for value.
The company's private brand penetration grew over 160 basis points. Walmart executives said during its fourth-quarter earnings that they've seen more consumers gravitate towards private labels versus branded products over the last 90 days. Walmart's total revenue growth for the fourth quarter was up 7.3% to $164 billion and its total full-year revenue climbed 6.7% to $611.3 billion.
"​​That shift really began last March and continued all year, and the fourth quarter got a bit stronger," said John Furner, president and CEO of Walmart U.S, said during a call with investors and analysts. "We don't set targets for branded versus private branded. We want to be there for any customer and make sure that quality and value are right across all product lines, but there's definitely some acceleration to private brands."
After consumer packaged goods giants raised prices over the last couple of months, Walmart's private label products are reaping the rewards from shoppers seeking to save money. Executives during the call reiterated the company's value proposition as shoppers manage their budgets and make trade-downs.
Growing demand for private labels coincides with the rising cost of goods. Data from the Labor Department indicate that the consumer price index, a barometer for the cost of goods and services, rose 6.5% as of December. While inflation has slowed, costs are still well above figures from the previous year.
Private labels are particularly popular during the holiday season when costs pile up due to shoppers buying gifts in addition to essentials. "Anytime there's significant pricing pressure, consumers are resourceful," said Greg Carlucci, senior director analyst for consumer goods at Gartner. "They'll find the products that they love or items that they need at the right price point for them."
Executives said the high demand for Walmart's private label goods rings true in almost every market it operates in. Walmart has private label brands in several categories, spanning from home, apparel and grocery. Some of Walmart's most popular low-price brands include Great Value, which offers grocery essentials, and Equate, which offers personal care and health products.
The company's U.S. comp sales growth of 8.3% in the fourth quarter also reflects the strength in its private labels and food categories as well as ​​higher average ticket and store transactions. Grocery giant Kroger is also reaping the rewards of private label growth reporting a 10.4% rise in identical sales for its owned brands in December. 
Charles Lewis Sizemore, chief investment officer of Sizemore Capital, said that the looming recession could also present additional growth opportunities for Walmart's portfolio of brands. Walmart has been growing its portfolio of brands, just recently it rolled out intimates and sleepwear brand Joyspun to replace its Secret Treasures brand. The retail giant has also continued seeing high-income households increasingly shop at Walmart this quarter. Executives said that almost half of Walmart's share gains in grocery came from higher-income shoppers.
"People that might have gone to more a higher-end grocery store or higher-end department store are trading down to Walmart," Sizemore said. He added, however, that lower-income shoppers might also be trading down from Walmart to even cheaper retailers. "It probably also means that Walmart's lower-income consumers are trading down from Walmart and going into things like dollar stores."
Although Walmart's results paint a relatively rosy picture, the company's margins still continue to feel the impact of headwinds that have plagued retail in recent quarters, such as inventory glut, increased markdowns and inflation. Walmart's gross margins were down 83 basis points and gross profit dropped over 100 basis points. Walmart ended the quarter with inventory levels that are about flat compared to last year.
Walmart is also taking a more cautious approach to its full-year outlook. The company said it expects operating income growth to outpace sales growth. It also expects U.S. comp sales to grow between 2.0% to 2.5%, excluding fuel, for the fiscal year 2024.
"It looks to me like Walmart is taking advantage of a generally gloomy sentiment out there to set the bar low so that they can beat it more easily," Sizemore said.
In addition to its private labels, Walmart's e-commerce sales have also been a bright spot in the company's results this quarter. The company's e-commerce sales grew 17% this quarter and 18% on a two-year stack.