'There's lots of growth opportunity': How brands are investing in adaptive fashion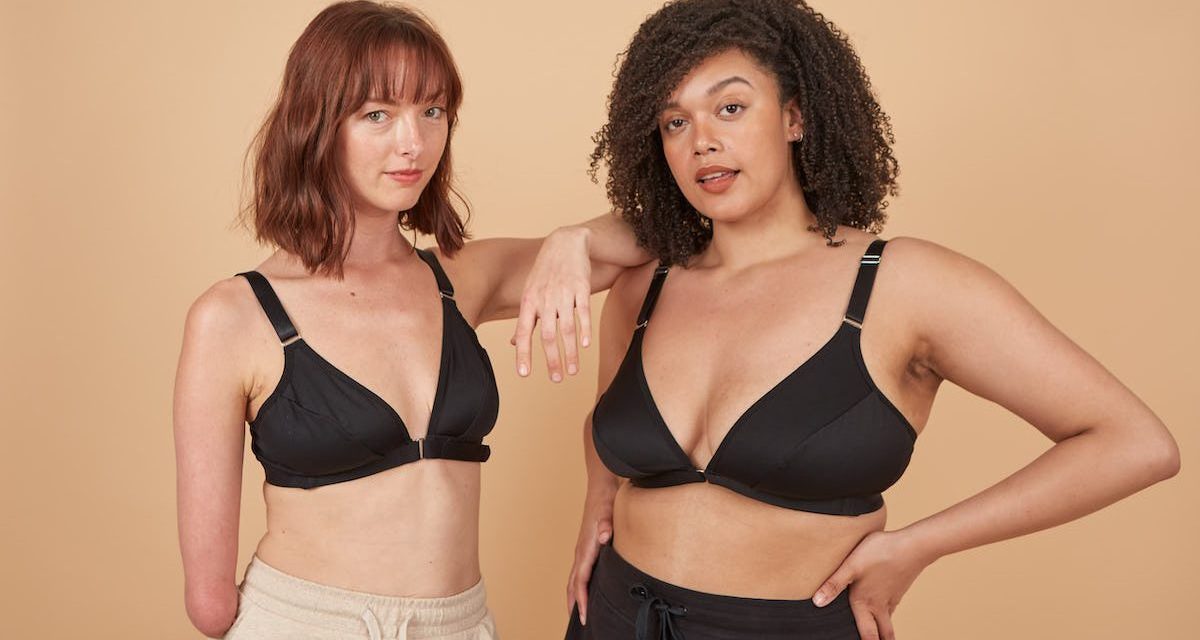 Springrose
Eight years ago, Nicole Cuervo set out to find a comfortable, easy-to-put-on bra for her aging grandmother, who had chronic pain and arthritis. However, "there was nothing really on the market," Cuervo told Modern Retail. She began interviewing her grandma's friends and learned that they, too, were looking for a similar product.
Now — after gathering feedback from 500 women, meeting with 35 physical and occupational therapists and holding user testing and focus groups — Cuervo is providing her own solution. Her company, Springrose, launched its first product earlier this month. The item, a Plunge Front Closure Bra, utilizes a Velcro hook-and-loop closure system and can be put on eight ways, including one-handed and over the head.
Springrose is one of an increasing number of brands in the adaptive fashion sector, which designs products for people who have difficulty dressing themselves due to age, physical or sensory disabilities or a lack of mobility. Adaptive fashions aim to make putting on clothes and shoes easier and more comfortable for those who may be missing a limb, have difficulties with dexterity or are sensitive to certain fabrics. Examples of adaptive fashion include shoes the wearer can step into (rather than tie) or clothes with easy access for medical equipment.
More major retailers have started to release some adaptive clothing items. Victoria's Secret, for instance, released its first-ever adaptive intimates line with magnetic closures at New York Fashion Week earlier this month, and Kim Kardashian's Skims sells bras and underwear with hook-and-eye fasteners on the front or sides. Target, JCPenney and Kohl's have folded adaptive fashions into their private label brands. But, there's a sizable need for adaptive fashions — up to one in four adults in the United States live with a disability, according to the CDC. In turn, startup founders and industry analysts told Modern Retail that there's still need for a greater variety of products that are suitable for people with different types of conditions.
Springrose's Cuervo, who says she has seen average daily orders "double" since launch, says she thinks "it's great that there are big brands that are trying to release in the space because they're category-building." However, she said, when it comes to adaptive intimates, many brands are "serving a very narrow set of customers."
"If you have some minor arthritis, maybe what's out there will work for you," she said. "But for basically every bra that exists, you need some level of dexterity, you need some level of grip strength." Solutions like Victoria's Secret's products, which have a magnet on the front, "are not bad solutions," Cuervo acknowledged. But, she said, not everyone can wear a magnet, due to factors like a Pacemaker or an implantable cardioverter-defibrillator (ICD).
Cuervo says that Springrose made adjustments to its new bra design specifically based on user feedback. For example, the product now has its front straps "end on a tip," rather than lie flat, she explained. That decision stemmed from Cuervo testing the product on a woman with tremors, who had difficulty using the product under its previous construction.
Zappos — which holds focus groups and tests products with those with disabilities — launched Zappos Adaptive in 2017 after receiving a phone call from a woman looking for shoes for her grandson with autism. He was unable to tie his own shoes and needed alternative closures. Zappos' customer service team took a look at its inventory, saw there was a lack of product that fit the bill and spent the next one and a half years curating a dedicated shopping experience for customers with needs like Gabriel's.
Zappos debuted Zappos Adaptive with Billy Footwear and Tommy Hilfiger, but "back then, there weren't enough brands in the game," Dana Zumbo, business development manager for Zappos Adaptive, told Modern Retail. After the initial two launches, Zappos started working with Ugg on a focus group involving people with disabilities, and in 2020, it launched its first universal collection with the brand.
More brands followed; Sorel, Reebok and Crocs soon all developed collections with Zappos Adaptive, and Keen and Keds will launch theirs early in 2024. So far, Zappos has partnered with 13 footwear brands and two apparel brands on adaptive lines.
In addition to its own products, Zappos Adaptive tags certain existing products as "universal," meaning anyone — not just those with disabilities or limited mobility — can use them. It bases this on reviews with statements like, "this worked for my child with XYZ [need]," or "this worked for me," Zumbo said.
Zappos is currently making changes to its website, and "we'll be looking at really streamlining and making sure that we have the broad selection for those" universal products, Zumbo said. Products are currently organized under categories such as easy on/off shoes, AFO (ankle-foot orthoses) friendly shoes, orthotic friendly shoes and single shoes.
While Zumbo could not disclose sales numbers, she acknowledged that Zappos Adaptive is "getting more people, more customers looking for more product."
"There's lots of growth opportunity within this category, and since 2019, we've made a lot of progress on the footwear side," she said. "But, there's so much more work to be done."
"We're hoping at some point, we'll have a lot more brands on the platform that we can continue integrating into our overall Zappos experience," she added.
In recent years, more apparel and footwear retailers have implemented diversity, equity and inclusion policies to point to their efforts to engage wider audiences. The adaptive fashion category, too, should be an "important part" of these initiatives, Sky Canaves, senior analyst at Insider Intelligence, told Modern Retail.
However, she acknowledged, "in the current economic climate, fashion companies may be hesitant to invest in new categories." Many retailers, for example, have created plus-size collections, only to scale them back.
"Though awareness of adaptive needs is slowly rising, it's been slow to translate into action from the fashion industry, so there's a real opportunity for individual brands to step up and stand out here," Canaves explained.
At the very least, Canaves said, brands could connect with advocacy groups and solicit customer feedback to learn about the needs of those with disabilities.
"Even if they're not ready to offer new adaptive styles, fashion brands could offer alteration and tailoring services to help make their products work for these consumers (rather than leaving it to the consumer to figure out), or partner with designers who are already active in this space," she added. "And, beyond products, brands should ensure that their store and online shopping experiences are accessible for customers with disabilities."