Research Briefing: Rite Aid's bankruptcy and its digital future
In this week's Modern Retail+ Briefing, we examine Rite Aid's recent bankruptcy filing and how the retailer stacks up against its drugstore competitors, as seen in recent data from Modern Retail+ Research.

You'll notice a different format in this issue: We are fine-tuning the briefing to better serve your needs for intelligence and analysis.
Interested in sharing your perspectives on the future of retail, technology and marketing?

Apply to join the Modern Retail research panel.
Drugstores amid Rite Aid's bankruptcy
Breaking News: Earlier this week, Rite Aid filed for bankruptcy due to low sales and opioid-related lawsuits.
Questions: How does Rite Aid stack up against competing drugstores? And how are drugstores expanding their digital offerings for the future?
Answers From Research: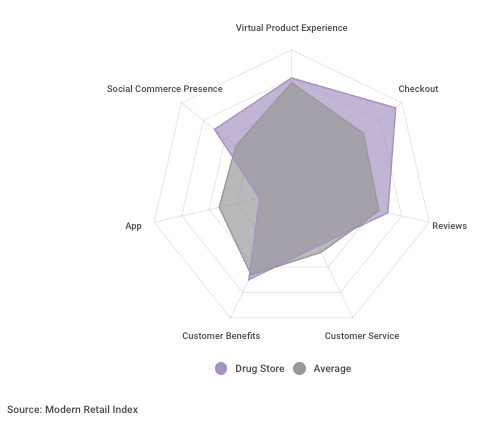 Drugstores have made heavy investments to diversify their post-Covid offerings. Furthest behind in the diversification trend is Rite Aid, which has focused primarily on its partnership with Google to modernize its pharmacy operations. Although Rite Aid is taking a step toward improving its pharma e-commerce abilities, the retailer has to compete with newer pharmaceutical e-commerce sites, like Amazon's Pillpack and Capsule.
Additionally, while competitors in the drugstore category are expanding to other businesses, such as CVS' and Walgreens' acquisitions of healthcare companies, Rite Aid is doubling down on its digital pharmacy experiences. With CVS and Walgreens likely also to bolster their pharma sites' e-commerce experiences to align with their healthcare expansions, Rite Aid will likely have to increase its pharma-focused e-commerce experiences to compete.
Want to learn more: Modern Retail's Index examines how top retailers' digital business models stack up.
In essence, we analyze and rank retailers based on point-in-time data and their performance relative to the other retailers in the index.
READ MORE ABOUT DRUGSTORES' DIGITAL STRATEGIES

See research from all Digiday Media Brands: