'One of the last frontiers of inclusive fashion': Why Dia & Co is launching a plus-size wedding service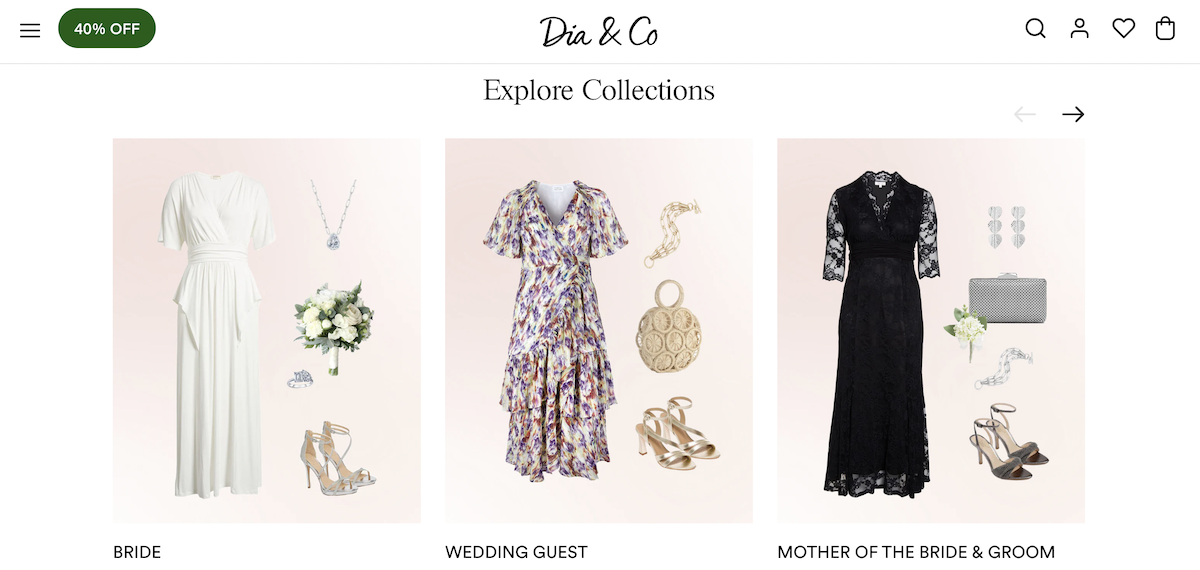 Dia & Co
Just in time for the summer wedding season, Dia & Co is turning its attention to dressing brides, bridesmaids and their families and friends.
Dia & Co, which offers personal styling services and plus-size apparel, now has an online landing page called the Wedding Suite. The page, which went live last week, features 38 collections curated by Dia & Co stylists. These include "bride," "wedding guest," "mother of the bride and groom" and "beach wedding." In total, the Wedding Suite contains 2,200 styles from 64 brands, including Carolina Herrera, Diane von Furstenberg, Ever-Pretty and Eloquii.
In addition to the newly-curated collections, Dia & Co launched a Wedding Styling Service for brides, bridesmaids, mothers of the bride and wedding guests. The service is free, and customers can go online to receive advice and feedback about styles and sizing. While it's still early, the reaction to the styling service has been positive, the brand says. Dia & Co sells dresses directly via its website but also recommends certain vetted salons for those who want to design their gowns in person.
In general, the apparel market still has a long ways to go in terms of inclusion. It's not uncommon for major retailers to start offering plus sizes, only to reduce or even eliminate offerings a couple of years later, citing cost issues or problems with demand. And while it's true that several brands do sell plus-size wedding dresses — David's Bridal and Anthropologie, for example — many of today's dresses do not come in a variety of styles and silhouettes, which makes the process of finding the perfect dress even harder. In addition, as The Cut writes, bridal stores want to stock as many styles as possible, so they typically carry "as few samples as possible" for people to try on.
Nadia Boujarwah, who co-founded Dia & Co in 2015, told Modern Retail she wanted to launch the Wedding Suite after getting married 10 months ago. Finding a dress was extremely complicated, she said, as many of the boutiques she visited had few options in stock. One boutique in New York City told her she could only try on four dresses, while another asked her to just hold a dress up to her body and "see" if it would fit.
"The traditional bridal salon experience can really be very painful. For the most part, these are dresses that are made to fit very, very few women," Boujarwah explained. "It was truly unbelievable to me how challenging it was… I got through my experience with a thick skin and a lot of help, but really came away from it feeling like there's just so much better that we could be doing here. This is one of the last frontiers of inclusive fashion."
The U.S. bridal wear market is a major industry, estimated to be worth $27 billion. Roughly 2.6 million couples got married in 2022, more than any year since 1984, the Wedding Report found.
Before launching the Wedding Suite, Dia & Co had a "pretty extensive" offering of wedding wear, Boujarwah said. However, it did not have true bride or bridesmaid collections, and everything was self-service. With the Wedding Suite, Dia & Co wanted "to really build out that offering of the true wedding bridal wardrobe for both our brides and an inclusive bridal party," Boujarwah said.
For instance, while Dia & Co normally offers sizes 10 to 32, the bridesmaids' dresses now go from sizes 0 to 40. All of Dia & Co's Wedding Suite items come in a variety of styles, as well, with silhouettes as varied as A-line, flare, midi and floor length.
That plethora of options is crucial, Shafonne Myers, editor-in-chief of the plus-size bridal magazine Pretty Pear Bride, told Modern Retail. "So often you see style guides and selections based off of straight sizes, so to see inspiration that looks like us, it's so refreshing and inspirational," she said.
Gabriella Santaniello, founder of A Line Partners, explained that wedding dresses are typically sized smaller than everyday clothes, so a woman who is normally a size four in a regular dress would probably be a six or an eight in a wedding dress. However, very few salons have plus-sized samples on the rack, she explained, which throws the sizing difference off even more.
"A lot of these… brands say that they're inclusive, but when you go to try on, there's really nothing in your size," Santaniello said. "So you end up squeezing yourself into a dress, if you can even do it… It's just not a fun experience."
Santaniello said she's sure there's "a cost involved" to produce plus-sized samples. "But also what would be the incremental business you'd get from it?" she asked. "Probably a lot, if a woman could come in and feel that she had a reasonable idea as to what she'd look like in the dress."
Myers, a wedding and events planner, said there are more options now for plus-size brides than when she got married 19 years ago, But, she added, "not enough brands cater to the market."
"In my opinion, it's because we as a plus-size audience don't demand it enough," she said. "…I would love to see more of the plus-size demographic speaking up about what they want. The louder we can get as a community and demographic, the more of an impact we can have."