How smaller brands lowered their holiday return rates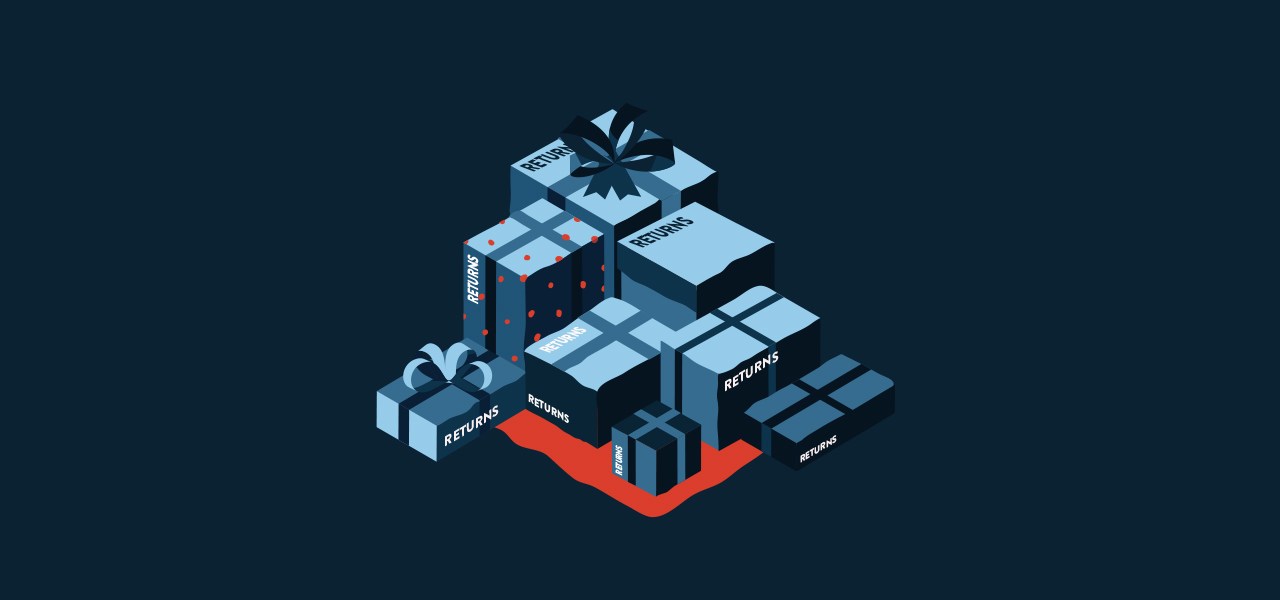 Thanks to Cyber Week and Christmas, the fourth quarter is typically one of the busiest times of the year for retail. But for all of the revenue companies manage to make, they also have to juggle a costly combination of fulfillment, shipping, labor and logistics costs. And while holiday sales skyrocketed in 2022, so too did the number of returns, according to recent data.
Back in December, Salesforce predicted a "returns tsunami" as shoppers re-evaluated how much they wanted to spend on discretionary items. Earlier this month, the company said it found that shoppers returned 63% more gifts during November and December than they had the year before. Some of this may have been due to customers returning items, only to buy them back at a discount, Caila Schwartz, director of consumer insights and strategy for retail and consumer goods at Salesforce, said. In part, "we think consumers were taking it into their own hands to make their own price adjustments," she explained. Meanwhile, the National Retail Federation calculated that people returned 17.9% of gifts, or $171 billion's worth of merchandise, during the holidays — a tick higher than 2021's 17.8% return rate.
Overall, much of the discussion around returns revolves around larger retailers, many of which moved up holiday sales, lengthened return windows and went back on free returns in 2022. While holiday returns may have risen for most of these companies, smaller brands told Modern Retail that they were able to maintain or even lower their holiday return rates. Here's how they did it.
Retooling the website
Apparel brand Untuckit — which sells more form-fitting button-down shirts, sweaters, tees and polos — has traditionally had "very low returns," CEO and co-founder Aaron Sanandres told Modern Retail. Still, he said, "certainly our goal is to shift more of that from returns to exchanges. So that's what we spend a lot of time thinking through."
For the 2022 holidays, Untuckit adapted a new strategy regarding its communication around fit. "When you [went] to return something at Untuckit, it used to just be a series of questions," Sanandres said. "Tell us why you didn't like your shirt: too big, too small, too tight, too long, whatever it may be." Now, the company has a fit finder flow chart that asks a customer questions and then recommends an alternative shirt for them. That new strategy is paying off. Overall, Untuckit is expecting holiday returns/exchanges to be in line with 2021, although Sanandres mentioned that the percent of customers making exchanges over straight returns is increasing.
Jewelry company Jane Win also made changes to its return and exchange process. Up until the winter of 2022, Jane Win had manually accepted and approved returns. Late last year, the company implemented a returns portal for the first time to make it easier for the customer to make a return or exchange an item. "If your only option is return or nothing, you keep it or you return it," marketing manager Emily Bajalia told Modern Retail. "If you can exchange it, and if you have some options, you can kind of walk through this portal and say… oh, I can actually get a chain and a coin that I'm more excited about," she said. Through this, Jane Win managed to cut its holiday return rate in half from 2022 to 2021.
Trying new promotions
Wolf & Shepherd, a men's dress shoe company founded in 2014, managed to drop its holiday return rate by close to 1% from 2021 to 2022, CEO and founder Justin Schneider told Modern Retail. In 2021, the company offered promotions for Black Friday and Cyber Monday, but with that, "when you discount product, what you do is you start getting people that are more tertiary to your brand engaging in buying products," Schneider said. "They're really low intent."
For the 2022 holidays, Wolf & Shepherd "weaned off" promotions and started doing a gift with purchase, Schneider explained. With this, "we saw quite a dramatic [rise] in people's desire to keep the product through the holiday."
Wolf & Shepherd also credits its "seamless returns process" for the decrease, Schneider explained. Wolf & Shepherd has a proprietary footbed system across all its products. When a customer says a shoe doesn't fit, Wolf & Shepherd will send them a different-sized footbed, free of charge. "That actually shaved off almost three points in our net return rate, just by implementing this new proprietary system," Schneider said.
Extending the window
Major retailers often extend the window for holiday returns. But smaller companies, such as Made In Cookware, did the same thing, too. During the 2022 holiday season, it accepted returns of any purchase placed between Nov. 1 and Dec. 31 for 45 days, or until Jan. 15 — whichever was later.
The company's return rate is in the "low single digits," Chad Brinton, SVP of Operations, told Modern Retail. "We think we have a really healthy return rate, especially relative to some of the sort of partner organizations that we keep in touch with," he said. "January brings in a lot of returns, but those returns are right in line on a percentage basis with where they've been for years."
Jane Win usually gives people 15 days to return any unworn and undamaged jewelry, in exchange for a refund. Its holiday policy goes beyond that, allowing customers to return unworn items bought from Nov. 7 to Dec. 25 for store credit until Jan. 9. In 2022, it widened its holiday return policy to cover a sitewide promotion in early October. It did this "to encourage our customer to shop early and take advantage of that exciting offer and not feel scared because of the return policy," Bajalia said.
Finding a niche audience
Companies that appeal to niche audiences typically have less of a problem with returns, because their customers are loyal and require repeat purchases. Tilit, a culinary apparel company, and Brunt, a workwear brand geared towards those in construction and other trades, both told Modern Retail that they managed to keep returns rates low.
Tilit, whose hero product is a culinary apron, "always has a pretty low return rate, mostly because, one, we have a high repeat purchase rate and, two, we're a uniform brand, so even if people don't get the right size, they typically exchange," co-founder Jenny Goodman said. Today, the company's return rate is down year-over-year, even though the company grew its business by 15% in 2022. Tilit's return rate dropped from 6.4% in January 2022 to 4.8% in January 2023.
Fit is often the number one reason people will return a Tilit product, Goodman explained. For the 2023 holidays, Tilit will have a comparison tool on its website to show multiple models wearing multiple sizes, to help customers envision the fit of a particular garment.
With Brunt, "people aren't buying Brunt work boots as a fashion item," founder and CEO Eric Girouard told Modern Retail. "They're buying them because somebody needs them." The company's overall return rate sits at 11%. Pure, straight returns are flat, he explained, although the company is seeing more exchanges. "People will buy boots as a gift for other folks, for their crews," he said. "A lot of people buy them, [but] they'll guess wrong, or they'll be off by a half size. And so those people then need to get in the right boot."
Brunt also has a 30-day, wear-on-the-job, risk-free trial that can help with customer loyalty. Brunt extended this to Jan. 31 for Black Friday purchases in 2022. "A return of a dirty boot costs us money," Girouard said. "But to get a customer into the perfect pair for them and turn them into an evangelist that will continue to buy our product is actually more valuable."
Speaking to Modern Retail, each company stressed the importance of clearly communicating the value of their products. For Wolf & Shepherd, for example, "our positioning on innovation and storytelling around the experience is a huge part of offering a best-in-class process that ultimately turns into great exchange and return rates," Schneider said.