How Eddie Bauer plans to grow its rental and resale programs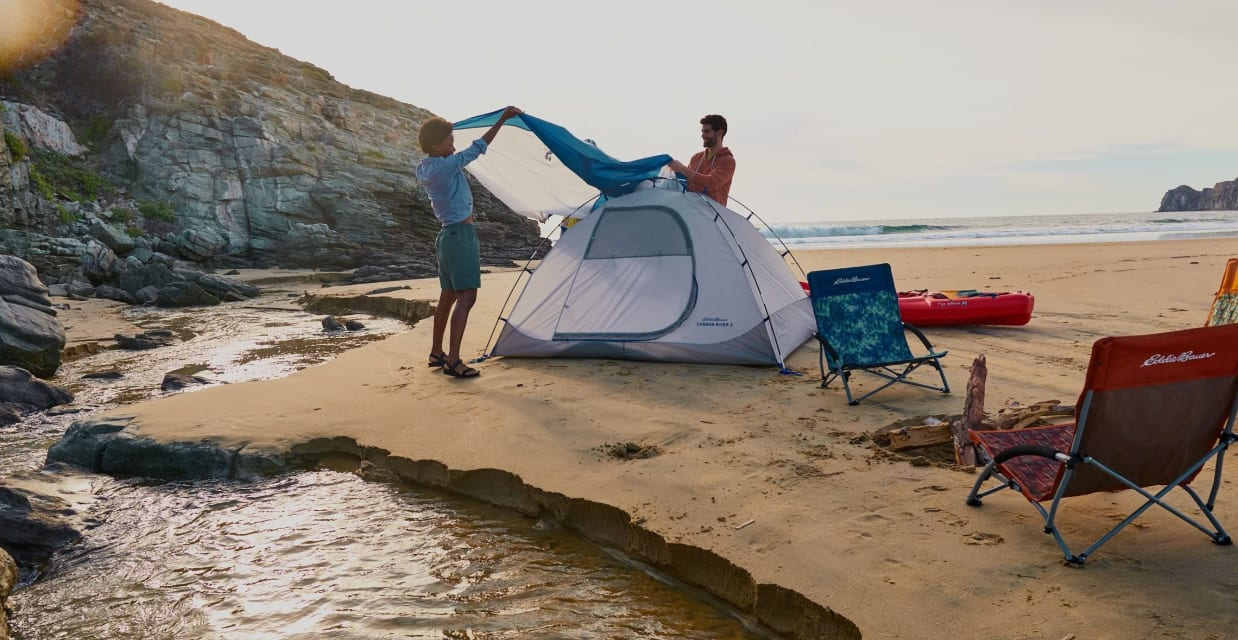 Eddie Bauer
For outdoor apparel retailer Eddie Bauer, its circular clothing and gear program — which includes both resale and rental — is more than just a tool to achieve sustainability goals. The company also sees it as a way to introduce more people to the brand.
The company introduced its (Re)Adventure program last summer, which would set the foundation for its circular commerce strategy. The program initially gave shoppers the option to rent gear and apparel. In July, the company expanded the program to include resale.  
Eddie Bauer's outerwear can range from about $200 to $429 full-priced. But depending on the piece, the (Re)Adventure program lowers the price barrier to as low as $10 per day to rent or $146 to purchase the resale version. Eddie Bauer told Modern Retail that by giving more purchasing options, more people can be introduced to the brand and test out its products without the issue of cost.
"Right away, we saw the number of rental nights start increasing. So maybe people have started renting their gear for two nights and very soon we saw that rise above four nights," said Kristen Elliott, Eddie Bauer's vp of marketing. "People were renting more pieces for longer periods of time and then we just saw the number of people renting increase as well." At the moment, the average rental days have risen to 5.6.
Founded in 1920, Eddie Bauer has about 300 stores and offers outdoor apparel and gear ranging from jackets and footwear to trekking poles to camp chairs. Its rental volumes have grown monthly from February to August this year with revenue from the rental program growing 378% from February to August. Meanwhile, its orders grew by 867% and the units rented grew by 614% in the same period. 
For years, Elliott said that the company had mainly focused on its full-priced physical and online stores as well as its outlet stores. The idea of launching a rental or resale program had been brought up years before its official launch, and the program finally came to fruition upon partnering with Arrive, a tech and reverse logistics firm. Arrive cleans and repairs products and has a full customer service team that operates on Eddie Bauer's behalf.        
"People want the opportunity to try out… as many different pieces of apparel and gear as possible," Elliott said. "We recognize now that people want options in terms of how they outfit themselves in Eddie Bauer, and we want to be able to provide as many options to them as possible."
Some of the top rental categories are tents and camping furniture. The most popular items people rent include the Carbon River 6 Tent, Backpack Chair, Olympic Air 10 Tent and Comfort Camper 2.0 Sleeping Bag.
Eddie Bauer started testing resale through its outdoor gear before broadening the resale program to include apparel this year. Some of the products sold for resale come from the rental program, while others are products that shoppers have returned either through Eddie Bauer's retail stores or through its website.
Dan McCarthy, assistant professor at Emory University's Business School, said that rental and resale programs are growing more popular among retailers, especially now as shoppers are taking a hit from the rising cost of goods.
Outdoor retailers have particularly been active in the rental and resale market. Outdoor clothing brands Patagonia and Arc'teryx have released their own trade-in businesses. Similarly, Dick's Sporting Goods and its Public Lands banner tapped online platform Out&Back to introduce a buyback program in-store specifically for outdoor gear.  
"Outdoor brands, they do appeal… to environmentalism," McCarthy said. "There's a meaningful proportion of their customer base that would find that positioning to be salient relative to, say, a company that only sells fairly broad-based generic apparel."
Melissa Minkow, director of retail strategy at digital consultancy firm CI&T, said that some brands are launching rental and resale programs in-house to win back shoppers who buy their products on third-party marketplaces. Having an in-house rental and resale program gives the brand control over the positioning of their secondhand products, she said.
However, Minkow said rental and resale is an entirely different business from its full-priced counterparts. Adding a rental and resale business adds an extra layer of complexity, in terms of operations and logistics. Additionally, she said brands must have strict quality control for their secondhand items so that the brand's reputation wouldn't be tarnished among consumers.  
"You can't just launch a resale or a rental platform and expect it to go well in consumers' eyes," Minkow said. "I think the retailers that are most successful at this are the ones that have all the dedicated resources specifically for this almost separate entity and are treating it as such." 
Eddie Bauer's Elliott said that the company is currently working on making improvements to the program. She said the company wants to provide more "breadth and depth" in terms of (Re)Adventure's product offerings, such as more footwear options. The company is also looking at the possibility of incorporating a trade-in program in the future.
Customers who want to browse through the (Re)Adventure program are currently are taken to a different website from Eddie Bauer's main website. Elliott said the company is looking for ways to further integrate its full-priced platform with the (Re)Adventure program, both online and in stores.