How beverage brand Wildwonder drives a third of its revenue from B-to-B sales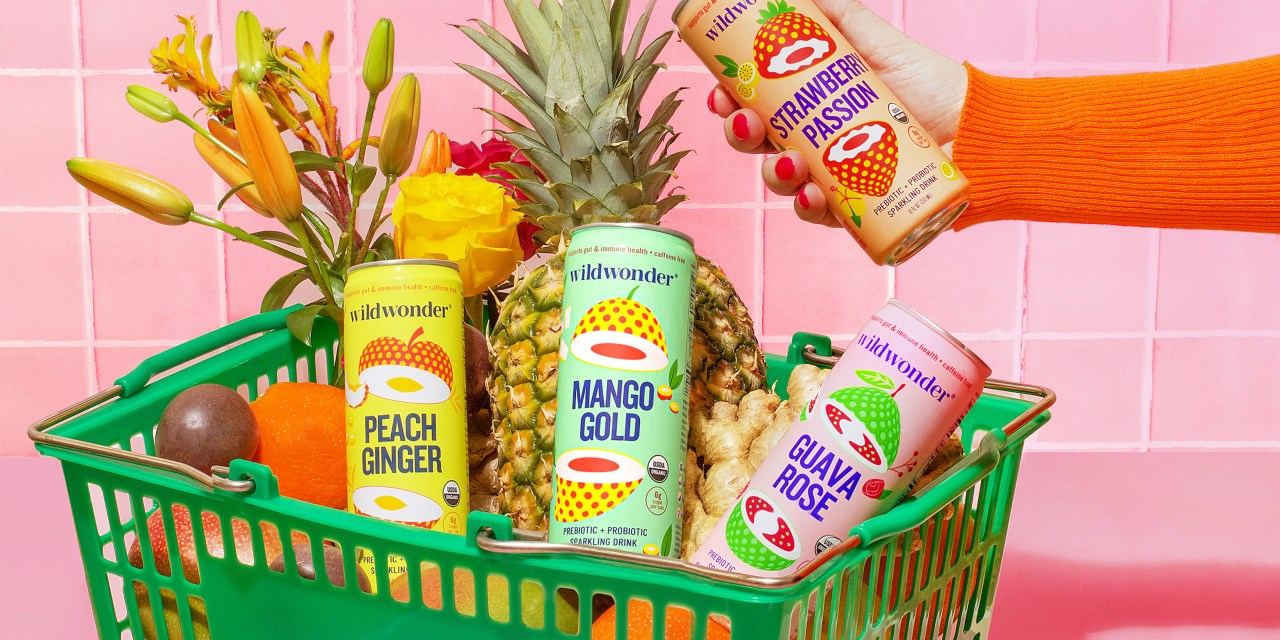 Wildwonder
For many startups, winning a spot at grocery stores might be the obvious goal. Sparkling prebiotic and probiotic beverage brand Wildwonder, however, is aiming to capture corporate office partnerships.
"Most people start a new brand in retail and retail is very expensive," said Rosa Li, Wildwonder's founder and CEO. "I'm always of the philosophy that when other people zig, I zag and really find arbitrage opportunities and to differentiate a channel strategy."
Wildwonder's products are currently stocked at over a hundred offices, including Meta, LinkedIn, Netflix and Google, among others. Its office distribution channel currently accounts for a third of its revenue. Thanks to its unconventional distribution tactic, the company has grown its total revenue by nearly 500% year-over-year.
Its office distribution strategy not only drives sales but also trial and brand awareness. The company also specifically prefers to partner with health-conscious offices where its products would appeal to employees. The beverage category has become increasingly crowded in recent years, which is pushing more startups like Wildwonder to explore alternative distribution channels to stand out.
"When you walk into a retail store, there are hundreds of products on the shelf and it's super hard to distinguish yourself. Our products are very well packaged so it pops on the shelf, but it still takes a bit for the consumer to really trial the product," Li said. "In the office setting, we're one of the very few products on the shelf."
The company was officially launched in 2020 and now has five SKUs available, such as its mango gold, strawberry passion and peach ginger flavors. Apart from offices, the company is also available for purchase in 2,000 retail stores, including Wegmans, The Fresh Market and Sprouts Farmers Market. Wildwonder said it has had angel funding and plans to raise Series A funding soon.
Even before Wildwonder was even officially launched, Li said she had already pitched the brand and successfully landed partnerships with Uber and Square through a blind taste test right before Covid hit. Depending on how its partners operate, Wildwonder's products could be sold in the office cafeteria much like wholesale, which is the case at Amazon. At Google, on the other hand, Wildwonder products are given away for free as part of employee perks.
Due to the competitive nature of the beverage market at the moment, some brands are becoming more creative with their distribution channels. For example, canned water brand Open Water began looking into partnering with zoos and aquariums to serve as both a sales and educational channel. Canned wine company Archer Roose, on the other hand, has been teaming up with hotels, stadiums and JetBlue.
Calla Murphy, vp of digital strategy and integrated marketing at Belardi Wong, said that the office distribution strategy lends itself well to replenishment, which gives brands a stable revenue stream. She added that by being in an office, brands also gain a captive audience that is forced to at least try the brand.
"You have a captive audience and the risk from the consumer side is really low," Murphy said. "If it's free my barrier to entry as a consumer is next to nothing."
One of the biggest challenges for brands that pursue this strategy is the changing nature of work, Murphy said. Some companies are opting to continue letting employees work from home or work fewer days in the office, which means there might be fewer available shoppers in this channel.
When the pandemic forced offices to close and work from home took effect, it "wiped out the entire channel," Li said. That was when Wildwonder decided to enter retail channels. Now, with more employees being called back to work on-site in the office, Wildwonder is going for a multichannel approach. All its distribution channels, including offices and retail, have grown 5x year-over-year.
"A lot of people actually discover us in the offices," Li said. "Our whole thesis is let's touch the same customer throughout their day from when they're working in the office to when they're shopping at the grocery stores when they're shopping online."