DTC Briefing: Balancing DTC and wholesale is the next big challenge for startups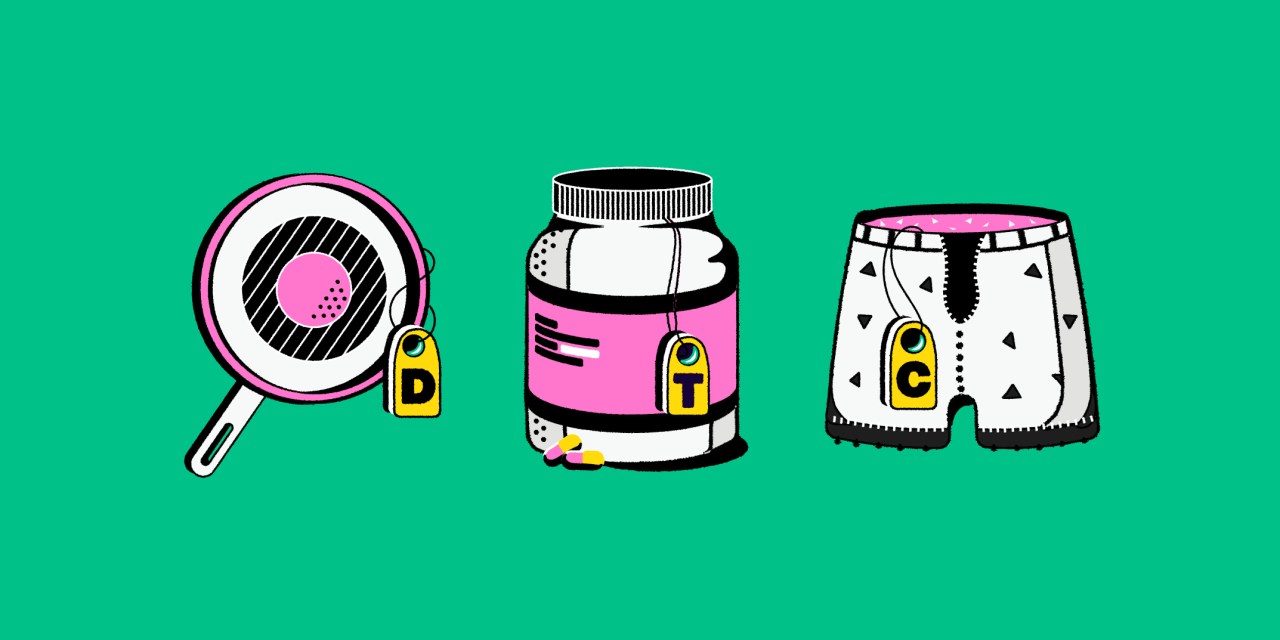 Illustration by Ivy Liu
This is the latest installment of the DTC Briefing, a weekly Modern Retail+ column about the biggest challenges and trends facing the volatile direct-to-consumer startup world. More from the series →
Over the past several years, one of the most oft-repeated truisms in the direct-to-consumer startup space has become: every startup needs to expand to wholesale, eventually. But for many founders, these conversations often overly simplify how difficult it is to balance wholesale with DTC expansion.
At the Modern Retail Commerce Summit in New Orleans last week, one of the most frequently discussed topics was how to expand to wholesale as a digitally-native startup. And, how to find the time and money required to manage multiple wholesale channels as a small startup.
As some founders described it, wholesale is an entirely different beast than DTC. It requires a different purchasing cadence and different level of investment. Many said they were struggling to keep up with all the paperwork, technical upgrades and marketing investments required in order to sell through big-box retailers. What's more, some founders said that while big-box retailers have become more amenable to carrying products from young brands in recent years, they felt that startups aren't being given enough support to stay on shelves.
"It has gotten to be really unreasonable what is asked of founders," Kyle Widrick, co-founder and CEO of Win Brands Group said on stage. "You have to be able to be great at DTC, great at Amazon, great at wholesale… there is a lot of expertise needed to do that properly."
At the event's town hall, founders described feeling pressure from retailers to spend tens of thousands of dollars on a myriad of marketing campaigns, ranging from sampling events to retail media pushes. The solution that many attendees coalesced around was: try to only invest in those significant marketing campaigns during a big moment for your company, like when you are launching a new product.
This rush to grow wholesale sales has been driven by the realization that, eventually, most brands hit a wall trying to grow DTC forever. Some of the biggest venture-backed DTC companies have run into trouble expanding into wholesale too late — Allbirds, for example, said that expanding into wholesale was a top priority shortly after the company went public in 2021. But during its most recent fourth-quarter earnings in March, Allbirds reported that revenue decreased 13% year-over-year, as it has struggled to balance all of its various expansion efforts.
Thus, founders increasingly believe it is better to expand to wholesale earlier, before a brand risks ceding shelf space to competitors. But launch in Target or Walmart too early, and brands risk shooting themselves in the foot if they don't have the right cash flow to manage big purchase orders, or the resources to properly market a retail launch.
"The worst thing that can happen to a brand is they get a big wholesale order that they chase after, they sell it in and it doesn't sell through," Widrick said.
Thus, the first, most important step for brands looking to expand their wholesale presence is to prepare properly. Suze Dowling, co-founder and chief business officer at Pattern Brands, said that one thing she wished she had known before working on wholesale deals was "the level of administrative work that it adds to your operations and logistics team, and to your finance team."
Even working with boutiques can be operationally challenging, Dowling said, as brands have to juggle tracking down multiple invoices, or sending a boutique a tracking number for their next order. "That is just something people should be aware of, and have a very clear plan for how they are going to be really proactive in their planning for it," Dowling said.
Sarah Moret, founder and CEO of natural deodorant brand Curie, is preparing for her first major retail launch in August, in which the brand will launch in thousands of stores. To prepare, Moret said that she is starting to think about shifting Curie's marketing mix, as Curie works to build more brand awareness. That might mean shifting spend away from Facebook, and into more mass channels like billboards or TV.
To accommodate this retail launch, Curie will also likely have to invest in more inventory. Currently, Curie has about four weeks worth of inventory on hand, but that the brand may have to up that to about three to four months. In turn, Moret said Curie is thinking about how to finance that, and is negotiating with vendors to see where the brand can cut costs.
Moret said she is also preparing her team for the fact that, as the company focuses more on wholesale, "we might not have growth this quarter on direct-to-consumer, and that's OK. Because at a high level, if people are buying Curie products, I don't care where they are buying them," she said.
Win Brands Group's Widrick said it is also important for founders to know when is the right time to walk away from a wholesale deal. For example, if a brand doesn't get the right shelf placement in the store, the wholesale deal may be doomed from the start.
Sometimes, he said, founders get into the trap of thinking, "this is Walmart, they want my product, I should do it. You really have to turn down orders that don't make sense holistically for the brand."
What I'm reading
Forbes got access to an

investor presentation

Liquid Death gave earlier this year, in which the $700 million water brand outlined its priorities for the year. Chief among them: reducing freight costs by shifting production from Austria to the United States.
Rent the Runway

has been giving some subscribers extra clothes each month free of charge, as a way to

keep customers happy amid inflation

.

Size-inclusive apparel startup

Universal Standard

has made its

first acquisition

, snapping up plus-size luxury womenswear brand Henning.
What we've covered
Startups like

Care/of

,

Blueland

and

Goodles

are eyeing warehouse clubs like Costco and Sam's Club for their

next major retail launch

.

Meta

is testing a new ad product in partnership with retail media networks called

Managed Partner Ads Lite

, that allows brands to use the data from these networks to run more personalized ads.

Big-box retailers are increasingly eager to strike deals with influencer-led brands. Case in point: supplement brand

Bloom

, whose co-founder Mari Llewellyn has 1.6 million followers on Instagram, is now available in

around 6,000 doors

after launching in 2017.
Want to discuss this with our editors and members? Join here, or log in here if you're already a member.