Casetify ramps up global expansion, launches new retail concept in Osaka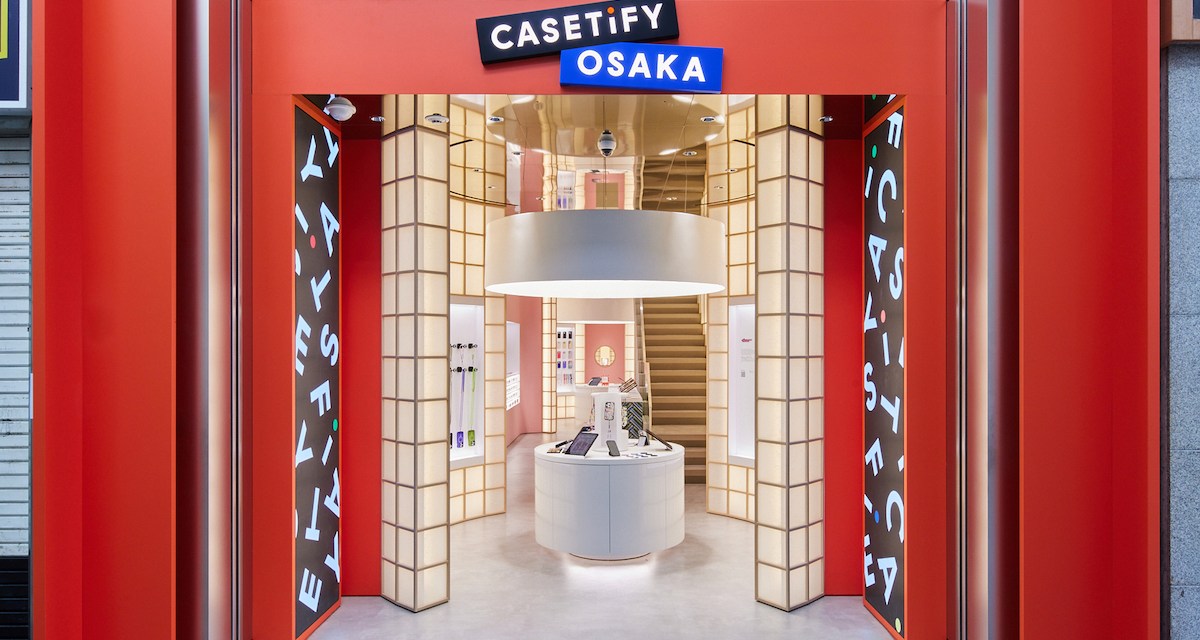 Casetify
Casetify is embarking on a massive retail expansion as it works towards its goal of becoming a $1 billion company.
Casetify, which is known for its customizable tech accessories like phone and laptop cases, is on track to open 100 stores by 2025. This is a significant step up from Casetify's existing 28 locations, all of which are located in the Asia-Pacific region. Twenty stores will be in the U.S., with the remaining 80 in other markets.
At the same time, Casetify is launching a new store concept in Osaka, Japan, this week. Unlike Casetify's other stores — which are known as Studios, and operate as customization stations — Casetify's Osaka store will be under its new Flagship banner. The Flagship stores are more focused on the interests and designs of their home countries and cities and include more local artist collaborations and in-person events. The Osaka Flagship store, for instance, features floor-to-ceiling Japanese lanterns and cylindrical shoji screens, under the direction of architect André Fu.
These developments come at a time of significant growth for Casetify. The company was initially founded in 2011 as a way to turn people's Instagram photos into phone cases. Since then, the business has expanded into other categories such as laptops, AirPods and Apple Watches, inked collaborations with major properties such as the NBA, "Harry Potter" and "Star Wars" and become popular with celebrities including Kylie Jenner and Gigi Hadid. Casetify has sold more than 15 million phone cases to date, and from 2020 to 2022, it increased its revenue by 140%. While Casetify ended last year with $300 million in revenue, it aims to become a $1 billion company by 2025.
Part of that effort involves moving more towards omnichannel — a strategy that involves physical retail. While Casetify is a large player in e-commerce, it has added 10 stores since last December. Casetify recently hosted pop-ups in New York City and Santa Clara, California.
The company sees a lot of value in physical locations, Wesley Ng, co-founder and CEO of Casetify, told Modern Retail. "Our brick-and-mortar program is a huge component of our relationship with consumers — not just how they discover us, but also how they feel about Casetify as a brand," Ng explained.
At Casetify Studios, shoppers can custom-produce products on site by picking different designs and color swatches. They can touch and feel products they might only know from social media, and they can bring in their old Casetify products to recycle under the Re/Casetify program.
Casetify is considering opening more Flagship locations, but likely not within the year, according to Ng. Casetify is planning, however, to grow its Studio footprint in America and Europe and will have more locations by the end of 2023. As far as building 100 stores by 2025, "We are on a good track, but we are not obsessed over a number," Ng said.
"It's more like a horizon we're constantly walking to," he explained. "It is okay if it takes a bit longer than that. We focus a lot on profitability per outlet location in order to ensure we keep remaining strong and healthy as a private company. So as long as we are achieving that and growing steadily, I'm satisfied."
Any company looking to build more stores around the world needs to be aware of how brick-and-mortar is viewed in different markets, Michael Felice, associate partner at Kearney, told Modern Retail. "You can't just lift and shift a product," he said.
Felice said that Japan, where Casetify is launching its first Flagship store, is unique because its consumers are digitally savvy, but that the country's businesses rely more on brick-and-mortar than direct-to-consumer. With that in mind, "you need to be offering a different level of service and quality and innovation in your store," he said. Felice added that consumers in Japan tend to value quality and connection, and that retailers need to cater to those preferences.
Overall, retailers "need to ensure that you're matching the levels of service and innovation that are expected to win in the market better," Felice added. "I think [a good idea is] customizing each market entry. And that may mean curating with local creatives, that may mean changing your levels of service, that likely means changing your packaging."
Casetify's Flagship stores, which vary based on location, can help accomplish these goals. But there's a bonus in personalizing a business: Attracting highly-coveted young audiences, Barry Thomas, senior global thought leader at Kantar, told Modern Retail. "Localizing stores is so paramount for consumers, especially Gen Z and Millennial consumers," he said. And the success of those stores are crucial, as Kantar expects 75% of sales to be offline or in stores by 2027.
When it comes to Gen Z and millennials, "Their preferences, their interactions, their experiences are all customized," Felice added. "I think the idea of allowing them to express that with local creative into a product is one that we haven't seen much of and likely [has] an experiential aspect that ties closely to brick-and-mortar."