Why The Fresh Market is feeding shoppable videos to its newsletter subscribers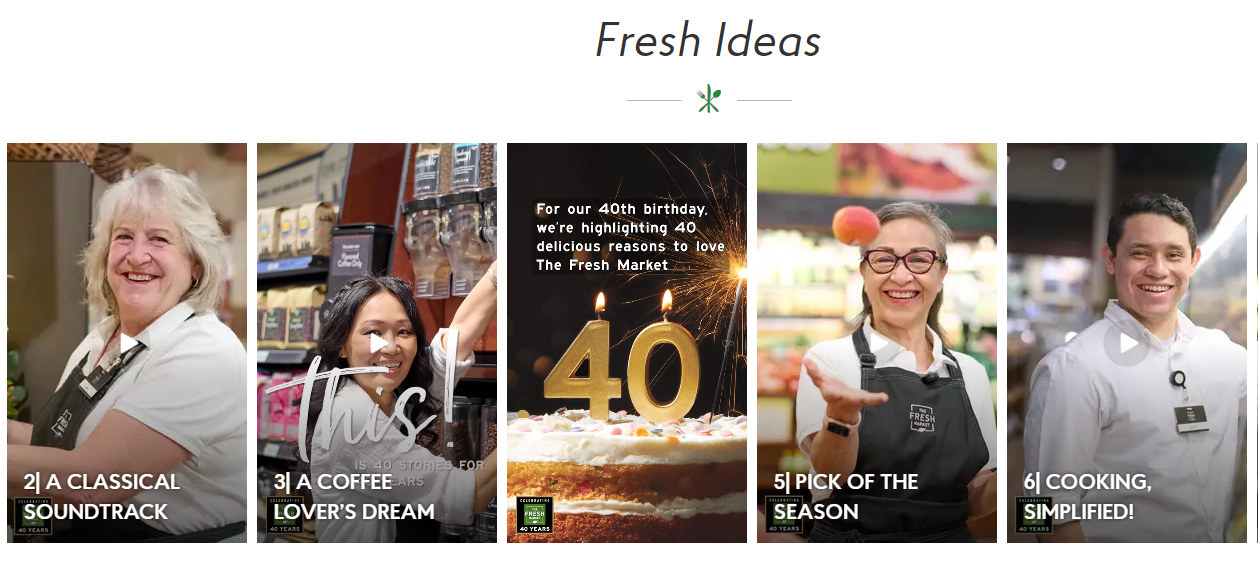 The Fresh Market/Firework
As it dips its toes into shoppable videos, grocery chain The Fresh Market is starting first with its newsletter subscribers.
The Fresh Market, which has 160 stores across 22 states, has centered its shoppable video efforts on promoting videos to existing newsletter subscribers, and in some cases repurposing existing content alongside new shoppable narrative videos. This tactic is meant to drive more engagement, shopping list creation and repeat purchasing among a group of already-loyal customers.
Over the past eight months, The Fresh market has seen a 97% higher conversion rate for its videos on TheFreshMarket.com versus site-wide average sales since launching last fall with its vendor, Firework. The North Carolina-based retailer experienced a 47% increase in click-through rate for shoppable video emails vs. its overall email click-through rate pre-launch. The retailer promotes shoppable videos daily – both throughout website banners and email newsletters – in an effort to move away from solely featuring discounts and sales.
Kevin Miller, chief marketing officer at The Fresh Market, told Modern Retail that when the company began considering video commerce, the marketing team knew they wanted to first test it using its own properties.
"We didn't want to rely heavily on the social platforms out there. Instead, we wanted to take advantage of our existing customer base," he said. "So we used our own email and website audience to build buzz," Miller added.
The Fresh Market has been around for decades, and sends out messages to about 40 to 50 million emails a month, Miller said. "We send out daily emails that entertain and educate our customers about products," he added. "But until now, they've mainly focused on deals and static images."
The grocery chain has been producing videos that highlight a brand or product carried at its stores. Popular examples include imported olive oils or cheese brands. Through these campaigns, viewers can swipe, add and modify their cart with the featured products as they view the video.
As a recent example, The Fresh Market recently sent its newsletter subscribers a highlighted a weekly seafood special geared at summer and BBQ cooking. In the video, the seafood counter employees gave tips on which The Fresh Market private label sauces and marinades sold to pair with ingredients like shrimp, sea bass and salmon. The video was featured on the retailer's website and its newsletter alongside shopping lists with links to the featured products.
"We're a specialty retailer and curate products from all around the world, so we want to showcase them and their stories to our customers," Miller said. 
The Fresh Market is also creating more video content promoting the chain's ready-to-cook meals. Similar to delivery meal kits, these weekly rotating kits offer four dinner servings for $25. "We've found more time spent on these videos, especially during inflation when customers are looking for value." 
Yaniv Navot, CMO of experience optimization platform Dynamic Yield, said that "one major opportunity we see for those looking to maximize the output of their live stream videos has to do with overall product discovery."
Given how important personalization is to today's customer experience, Navot said retail companies have to constantly produce innovative product discovery experiences to keep their viewers coming back.
Furthermore, the shoppable video trend is hot among grocery retailers this year. Companies like Albertsons and H-E-B have been heavily investing in the format to drive engagement and sales. 
To complement its ongoing video content, The Fresh Market has also done two live streams since launching video commerce. The most recent session took place during the recent July 4th holiday, coinciding with retailer's 40th anniversary celebration and deals. Earlier this year, the company also did a livestream touring its new Palm Beach Gardens, Florida. location.
Using third-party platforms, like Instagram or Facebook, has become popular among brands testing live video. However, as a more established retailer, The Fresh Market found that hosting its sessions on its own channels — like its website and email newsletters — ended up bringing in 4.8x more viewers than the event's social media simulcast.
"We also get high engagement from doing polls and real-time chats," Miller added.
While Miller didn't break out specific sales from shoppable videos, he said "we see sales growing month-over-month as we test and learn our way with this new platform." He also confirmed that a halo effect from these videos has boosted in-store sales, although he noted that "it's too early to measure by how much." 
Next, The Fresh Market is working on maximizing views, improving engagement rate and time on its social channels, and working toward better sales conversion. 
"We have a lot of power as a brand, but we need to adapt by reaching and engaging more customers," Miller said. "Obviously video is important, but you want to see results."