Why Silk + Sonder is stepping into QVC to reach shoppers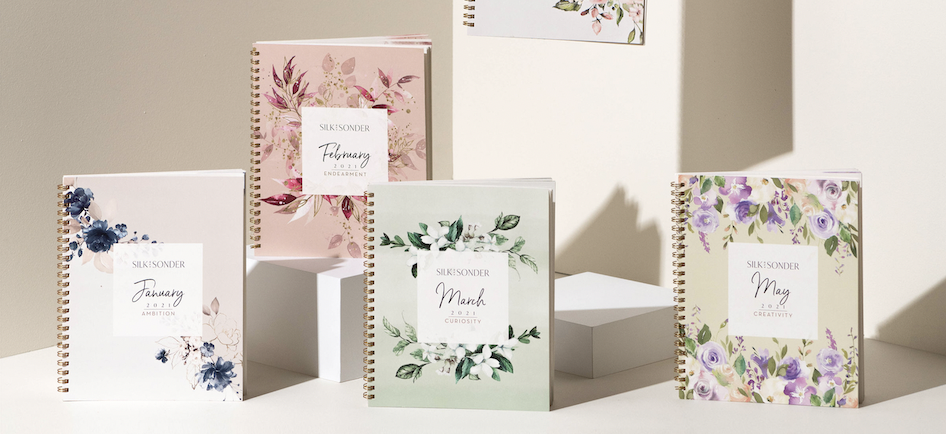 Silk + Sonder
Meha Agrawal, founder and CEO of Silk + Sonder, sits in front of the camera explaining to viewers how to use the company's self-guided journals to set goals and establish routines.
This month, direct-to-consumer brand Silk + Sonder, which offers journal subscriptions with a companion app, aired five episodes on QVC for the first time. In each episode, Agrawal walks viewers through some of the exercises found in the journal and how the app connects users to the Silk + Sonder community.
"It gives us access to an audience that maybe doesn't want to buy the subscription but wants a taste or flavor of what Silk + Sonder is all about in a way that's noncommittal," Agrawal said. "It just gives them a lot of flexibility with no commitment to get to know Silk + Sonder prior to subscribing for a whole year or what have you."
Silk + Sonder joins a number of DTC brands that've begun selling products on QVC in recent years, including deodorant brand Curie, fashion brand Spanx and apparel brand Naadam. QVC can be an effective platform for many online brands to demonstrate their products' qualities and capabilities. QVC and HSN reach over 200 million homes worldwide. For Silk + Sonder, its entry to QVC signals its goal of becoming an omnichannel brand. Apart from QVC, the company also sells some of its products on online wholesale marketplace Faire.   
Founded in 2019 by a former software engineer and product manager, Silk + Sonder has predominantly existed as a DTC company offering a core subscription worth $189 for annual members, $59.85 for quarterly members and $24.95 for monthly members. Members are sent  Agrawal said it has grown 40 times since its launch and said its 2022 revenue "is in the millions." It has also garnered $4 million in funding to date. 
"The kind of path towards becoming a global household name is made possible by the viewership on QVC, obviously, so I think there's a huge brand awareness component," Agrawal said. "Today we're predominantly for a female audience, but as you can imagine, Silk + Sonder wants to take over the entire household." She added that ideally, by being on QVC, the company would be able to gain more lifetime customers.
Already, the company has seen a 20% increase in app downloads since the QVC episodes aired. The company said it expects this number to grow as people redeem their in-app access from QVC.
The brand also offers self-care planners and journals for kids that people can purchase without a subscription. On QVC, shoppers can buy a set of three journals and Silk + Sonder's life workbook, which are also available on the brand's website, without a subscription required. 
The company timed a January release of the episode because this is when people typically set new year's resolutions. Agrawal declined to share specific financial figures on the results it has seen so far because the episodes have just recently been released. So far, she said she has been receiving inbound emails from viewers expressing their excitement about Silk + Sonder's release on QVC. 
The episodes themselves follow QVC's The Total Experience format rather than a direct selling approach and are up to about three minutes long. The format allows Agrawal to share more of her background, the brand's story and the community behind the brand Sonder Club. For example, in one episode, Agrawal explained how customers can connect with Silk + Sonder users and gain access to Sonder Socials, which are special events and classes led by the company's trained facilitators. 
The pandemic has led to a rise in interest in video commerce and livestreaming, with retail giants like Walmart and Macy's even launching their own live shopping events. DTC brands have also begun turning to QVC in recent years partly due to its loyal viewership, said Kimberley Ring Allen, founder of Ring Communications and adjunct professor at Suffolk University. QVC sold $3 billion worth of products in 2021, and back in 2019, 93% of its revenue was from repeat shoppers.
So far, a number of DTC brands have benefited from QVC's reach. Naadam said that the company it sells between f $100,000 to $250,000 worth of goods on average in a five- to ten-minute slot on QVC. Frozen plant-based food company Wholly Veggie, on the other hand, told Thingtesting that it anticipates making around $40,000 to $60,000 in extra sales when the brand appears on the channel.
Allen said consumers also aren't as easily influenced to buy items just based on static images. "We're smarter than that now," she said. "We want to see things in action. We don't necessarily want to get in our car and drive to the store but we want the next best thing."
However, Allen added that before DTC brands decide to join QVC, they must make sure to understand the channel's audience. She said that QVC does have a reputation for attracting an older crowd.
For Silk + Sonder, that doesn't seem to be the problem. Agrawal said that the company had a similar audience to QVC, so it didn't have to adjust the brand messaging. In fact, QVC reached out to the company because a "higher up" at QVC was already a Silk + Sonder user.
Agrawal said the company plans to continue appearing on QVC. "I could totally see us doing exclusive launches with a partner like QVC or announcing at least debuts of those new products there," she said.