Why Shipt partnered with Babylist on a branded content campaign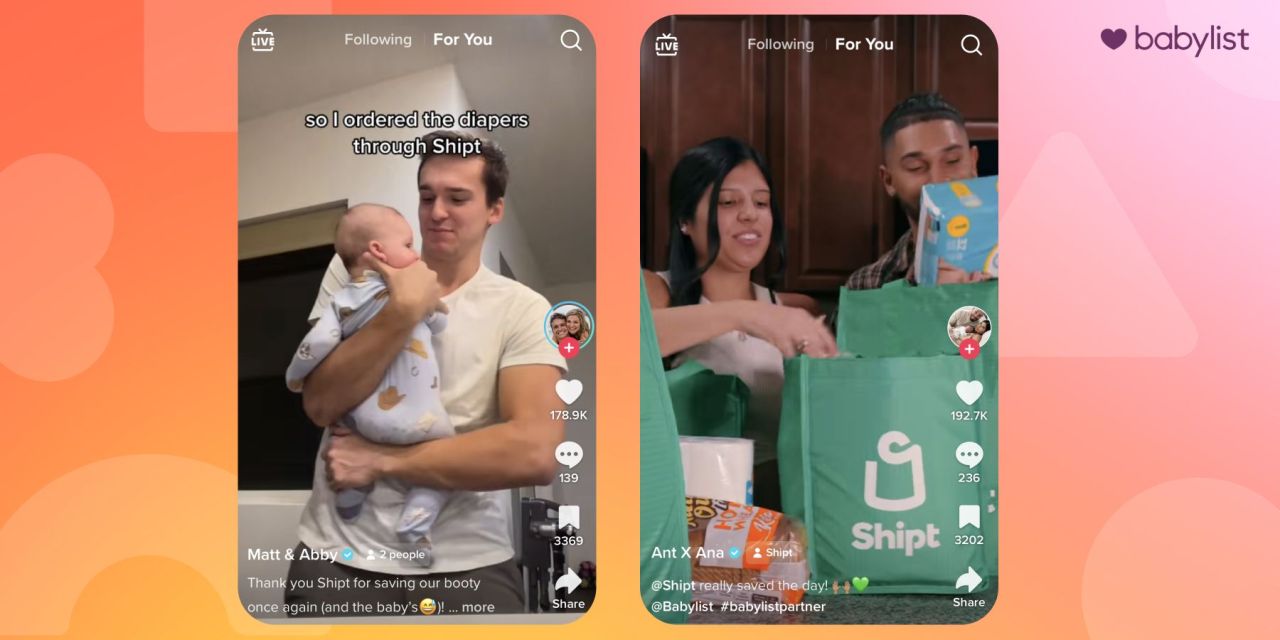 Babylist
When delivery service Shipt was looking to invest in customer awareness last year, it didn't tap a hotshot ad agency or chase clicks on social media ads. Instead, it turned to Babylist, an online baby registry service with a robust social media presence of over 1.7 million followers.
Babylist's branded content studio The Push and Shipt created a multi-channel campaign highlighting the convenience of same-day delivery for new parents. The campaign included static content that highlighted products new parents might want to order — like eight postpartum recovery essentials — and a social video component with Babylist's influencer network. A 90-day trial code for Shipt was also placed into the free sample boxes Babylist sends out to parents who use its registry service.
Allison Stadd, svp of brand culture and media at Shipt, said the results were beyond what the team anticipated. The Shipt campaign have seen more than 12 million views to date, over 400% higher than the original goal. While a big win for Shipt's awareness, the campaign shows how partnering with like-minded companies can give a competitive edge to brands that otherwise might struggle to stand out — like a delivery platform that otherwise might go unnoticed until someone is at checkout.
"Babylist has this large, captive, engaged audience that it made sense for us to tap into," she said. "I think they're really the trusted authority in this category, and so it made sense for us to build a partnership to speak to that really large engaged audience."
Shipt, which is owned by Target, offers memberships for its same-day delivery service and allows users to have a selected shopper who delivers on a regular basis. It frequently taps experimental ad formats, including connected TV spots featuring Issa Rae, and a Roblox experience to promote back-to-school. But with people bombarded with tens of thousands of advertisements a day, getting highlighted on Babylist's channels meant speaking directly to a potential audience who might already be interested in their product.
The Babylist campaign isn't the only example of ad partnerships looking to cut through the noise. Companies are increasingly turning toward one another to tap each other's audiences and come up with creative, sticky content. Anheuser-Busch, for example, has advertised with Drizly delivery service. That might look like cross-selling products, helpful education guides, or themed giveaways. In this case, Shipt and Babylist aimed to show what new parents could achieve if they had access to same-day delivery from stores like Target or CVS via Shipt.
"It really just made sense for us to capitalize on not just what Babylist offers, but also their approach to the way that they offer it," Stadd said.
An authentic approach
Phil Masiello, founder and CEO of Crunchgrowth Revenue Acceleration Agency, said running ads is an increasingly difficult acquisition strategy. That's especially true for delivery services like Shipt, which may be more likely to get discovered by a shopper at checkout than they are with an ad, Masiello said.
"If you do video [ads], you have to really be able to make it so that the customer sees it and wants to look at it," he said. "They're looking for brands that are more authentic."
In the case of Shipt's ads, one popular ad liked nearly 193,000 times featured influencer parents Ant and Ana ordering and unboxing their grocery delivery.
Lee Anne Grant, chief growth officer at Babylist, said it launched The Push as a branded content studio in the summer of 2022 after hearing from brands who wanted to reach its audience. Rather than run ads, these brands wanted to be featured in the kind of content Babylist was already posting. That could include TikTok videos, email newsletter content, or online quizzes shared on Babylist platforms. Brands pay Babylist to create and post the content, though they're welcome to share certain pieces — like an influencer's TikTok — on its own channels.
"It really came from the needs of the brands who are saying, 'We love your guys's content, you know how to talk to this audience better than we do,'" she said.
Since launching in July 2022, The Push has created 1,341 ad placements for several hundred brands including Hello Bello diaper company, Nanit bottles and 4moms baby gear. And the associated hashtag #Babylistpartner on TikTok has more than 26.8 million views.
There are some limitations, Grant said. The content studio is separate from Babylist's own editorial team, and they work with the partner brands to generate the content. And while The Push will work with brands that aren't available in its marketplace or have registry products, it won't work for something that isn't a brand connected to something a new family would be interested in.
"Our audience really wants to learn about new brands. And they are looking for discovery and content about products," she said.