Why Quince, Brooklinen and other home goods startups are all-in on linen bedding trends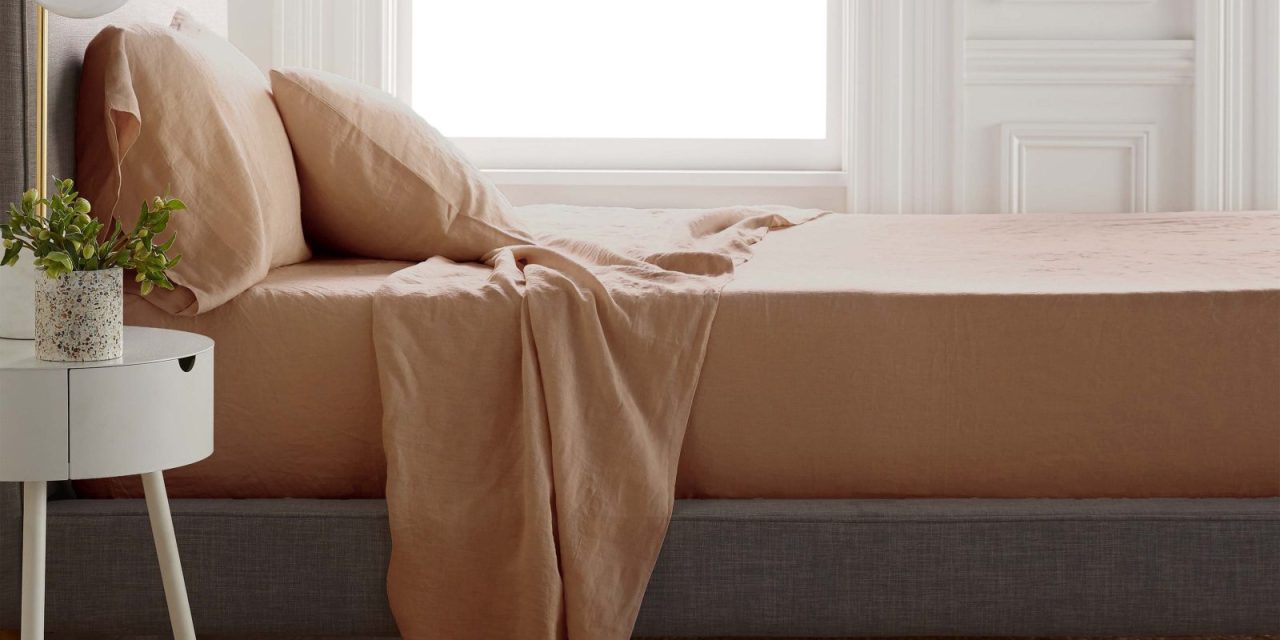 Quince.com
Located at the trendy intersection of affordable luxury and home goods, linen bedding is having a moment. 
Hannah Samlin, Quince's senior buyer of home textiles, credits the popularity of linen to its seasonal qualities and lived-in feel. Five of its past 12 Instagram posts advertise the linen bedding from its collection, noting its breathability, texture and aesthetic. 
"The customer is really responding to this more casual lifestyle and approachable bedroom," she said. 
Linen has infiltrated the bedding business over the past few years, but its during the summer that interest picks up. Google Trends show shoppers searching for "linen sheets" peak in the summer. Overall, searches for "linen sheets" have nearly doubled from where they were two summers ago, while "Are linen sheets soft?" is up 150% in the past year.
In response, brands like Quince and Brooklinen are ratcheting up their assortments of linen sheets and duvets. Both brands put out new colors this season, and offer bundled deals on bedding. But with the price of the raw fibers in flux, retailers are faced with having to decide whether to pass potential price increases to shoppers.
Global marketplace Spoonflower, which includes fabric and bedding in its assortment, raised prices this year on linen as well as velvet and canvas.  Bed Threads, an Australian DTC brand, increased its prices on 100% French Flax linen bedding last year, citing manufacturing and shipping costs. 
Samlin said price swings in linen have been going on for the past 18 months. But Quince has kept prices level this year, including a duvet cover starting at $99 or a queen set of sheets at $109. She said that's due largely in part to the factory direct model it has with its suppliers who can inform the brand what's going on with pricing. This allows for smaller production runs based on what's being ordered, rather than a product order getting fulfilled and resulting in extra inventory.
"Trust the people who are closer to it than you, who are seeing the raw material in the marketplace," she said. "They have their finger on the pulse."
Why it's popular
Samlin, who has been at Quince for about a year and a half, said the popularity of linen in home goods has doubled with the rise of interior design. Both have become more accessible with the rise of e-commerce, Samlin said.
"Linen that really wasn't being sold to the masses. It was being kept for custom made and made to order bedding," via places like Restoration Hardware or interior design services, Samlin said. 
Linen is a flax-based fabric that is stronger than cotton and has natural moisture-wicking properties. At Quince, which bills itself as an affordable alternative to DTC luxury brands, it offers linen as well as luxe fabrics like cashmere and a washable silk. Its linen is sourced from France and Belgium. Samlin said that the direct relationship the brand has with the manufacturers there helps keep the prices low, as the suppliers are able to tell the brand when the price of the raw goods are going up. 
"Our forecasting team is able to be in there with them and say, 'Okay, let's talk about this. What were we forecasting? Where do we think we can either take advantage of bulking up and buying a little bit more now to get us through before prices go up? Or do we think this is just a momentary thing, and we can work a little thinner, and then we'll build back up when the price comes down?'"
Other brands that source European linen are also seeing price swings. Brooklinen first launched linen sheet sets 2017 and its continued to grow its collection to duvets and shams. It sources the materials from manufacturers in Portugal that get their fibers from Europe, which is known for extra-long fibers used in higher-quality bedding, said design director Katie Elks. 
Sheet sets range from $89 to $231 for different assortments. Brooklinen aims "to provide our customer with the highest quality at the best price we can" even as raw materials rise. 
"That kind of ladders up to every level," she said.
Responding to demand
Brooklinen has seen the popularity of linen increase with sheets and other linen items as well; the brand's linen quilt sales are up 100% YoY. Elks said while linen is a year-round business, sales peak during summer.
In response, the brand on July 12 launched a limited edition collection this year that includes five unique colors and patterns, like olive, raisin and a starflower pinstripe. The durable linen fibers hold dye well, meaning the colors pop differently than it might on a cotton or sateen sheet. 
"We do see a lot of people like to purchase a color or something like that with us first with linen specifically, versus the other fabrications we offer," she said.
Elks said the brand also sees linen as a popular "top of bed choice" with its duvets and shams, especially among shoppers who aren't sure about the feel fabric but like the look.
"People are kind of like mixing and matching more like between weaves and wanting to incorporate linen in different ways," she said. 
At Quince, linen bedding comes in more than a dozen colors and patterns . It's a bigger assortment than it does for other types of products, due to the popularity and appetite for variety. This year, colors include an on-trend earthy terra cotta and a rich indigo blue.
"We've kind of unlocked it for the customer," she said. "We've shown her it doesn't have to be stuffy and doesn't have to be expensive, but you deserve premium."