Why grocers like H-E-B and Target are vying for college students' loyalty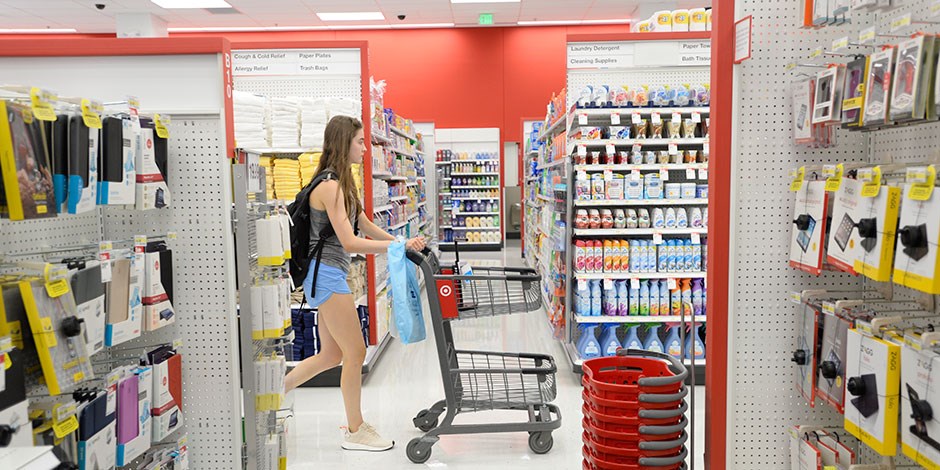 Target
Grocers are eyeing college campuses in an attempt to win over students.
Supermarket chain H-E-B and The University of Texas at Austin partnered up last month to provide same-day grocery delivery to college students and campus employees, according to the school's website. The partnership happened just months after H-E-B inked a grocery delivery partnership with Sam Houston State University in November. Target just recently opened its first small-format store within walking distance of the College of Charleston — one of many locations the retail giant has opened near campuses in recent years. 
College-aged students, while having a smaller purchasing power than their older counterparts, can be a long-term investment for many grocers. Experts said establishing a relationship with shoppers early on can help retailers establish a customer base that's loyal and digitally savvy. Some retailers have established partnerships with the university itself to create delivery hubs, while others have opted to open locations in close proximity to campuses.
"University students comprise of Gen Z, which is a large up-and-coming shopper base that, over time, these retailers will look to hopefully gain the loyalty of," said Rachel Dalton, head of retail insights at Kantar.
Young and tech-savvy
College students are much more comfortable using apps or online delivery services to shop for groceries, said Dhruv Grewal, professor of marketing, commerce and electronic business at Babson College. Students are just beginning to develop their grocery shopping habits, which means they are much more open to trying new methods of acquiring groceries, he said. 
"If they deployed [pilot programs] the students would be more inclined to… provide more input in it," Grewal said. "For a testing ground, it would be great."
In H-E-B's case, everything it offers online, from produce to cleaning products, is available for the University of Texas at Austin students to buy through the H-E-B app or heb.com. It also gives shoppers the option to choose a delivery time and location. H-E-B also partnered with Texas A&M back in 2021 for grocery deliveries. H-E-B did not immediately respond to requests for comments.
"H-E-B has been a proud sponsor of UT academic programs and research since 1976 and is fortunate to have hundreds of Longhorns that work in our company today," Laura Estes, Central Texas marketing director for H-E-B, said in the university's announcement. "Through the years, our partnership has become a source of pride for both organizations. In this spirit, we've launched on-campus H-E-B delivery to the University of Texas at Austin community. As a former Longhorn, I hope this added perk becomes a widely used convenience for all students."
At SHSU and Texas A&M, H-E-B has dedicated delivery zones on campus for easy pickup. The same strategy was employed by Kroger when it partnered with the University of Kentucky in October. The school has made the southwest corner of the Kroger Field Orange Lot a pick-up location for online grocery orders.
Foot traffic all day
With thousands of students residing on campus, Kantar's Dalton said grocers have an opportunity to own a large number of shoppers and gain more market share by targeting colleges. In Texas, where many of H-E-B's college partnerships are in, the average college student spends about $181 per month, according to researchers at the Education Data Initiative. The research firm estimates that the average cost of groceries for a student is $250, while an average individual spends about $356.
Dalton said that, while college students' grocery transactions are smaller than working-class individuals, targeting this demographic can be beneficial for retailers' overall branding and awareness. 
"They have probably lower overall pockets in terms of spending. They're not doing massive grocery shops every week," she said. "But for a grocer looking to make inroads with this particular generation and this shopper, it's really a unique opportunity to do that because it's not only the immediate time [results] that they're looking at in terms of overall basket sale, but it's longer-term if they can make these connections."
But what they lack in basket size, they make up for foot traffic. Because college students have varying schedules, neighboring grocery stores could experience a more consistent amount of shoppers coming into stores, Grewal said.
"If it's near the university, it would definitely have foot traffic at a much broader time horizon than let's say a grocery store in a suburb," he said. "Students are up much later and add a whole  number of them are up much earlier."
Target has specifically designed these stores to match the lifestyle of college students. The stores that are close to campuses — like the University of Southern California, Boston University and The University of North Carolina at Chapel Hill — are made for quick and convenient trips. In 2018, Target opened 10 small-format stores on or near college campuses. The Daily Pennsylvanian reported in November that Target plans to open a location near the University of Pennsylvania. 
Much like Target, Trader Joe's also just recently opened a store in College Park in October. On opening day, 300 customers lined up, including college students from the University of Maryland close by, The Hyattsville Wire reported.