Why confectionary company Joyva is undergoing its first major brand refresh in 116 years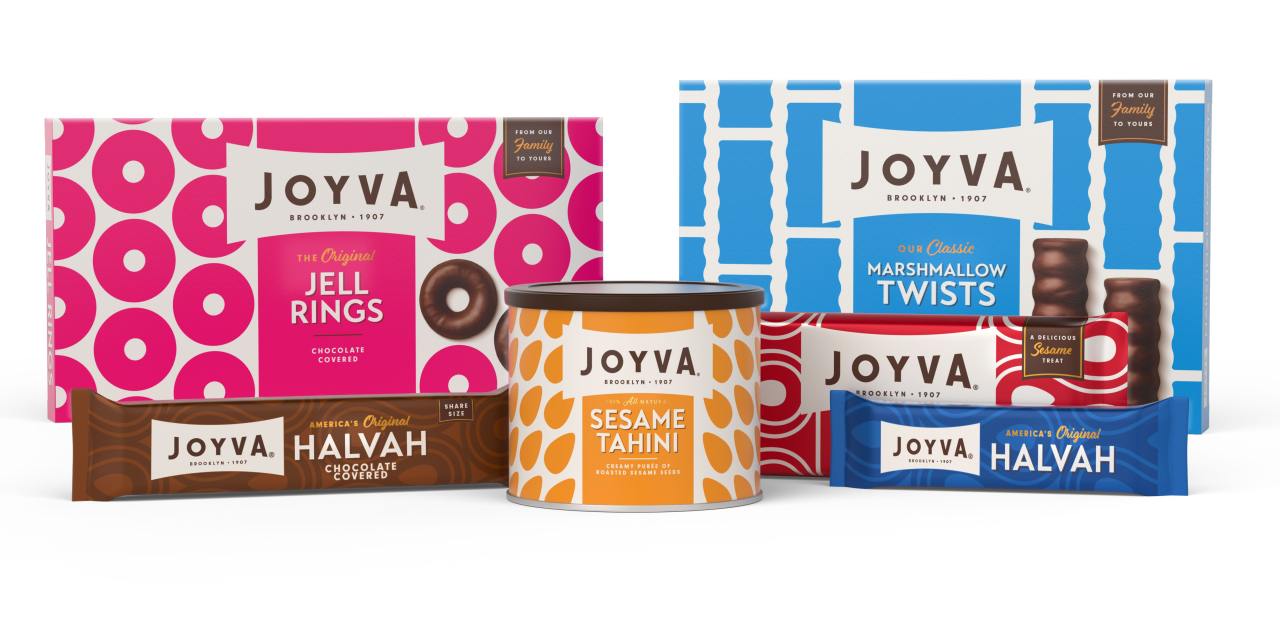 Joyva
Joyva, a brand older than the Manhattan Bridge, is in the midst of relaunching for the first time to stay ahead of the increasingly competitive confectionery market.
The Brooklyn-based company — which sells products like halvah, jell rings and tahini — has been around since 1907. But it wasn't until mid-2020, when the brand started making updates to the brand, including new packaging, website and reformulations to remove artificial dyes, among others. With the new packaging and website already live, Joyva expects the relaunch to be in full swing by the end of this year.
As a family-run business that pulls under $20 million a year in sales, Joyva is betting on the relaunch to double the business over the next three to five years. But the brand is a legacy business competing against disruptive startups that are also looking to grab shares in the market. To stay ahead of the game, Joyva is changing things up, from its marketing, and ingredients to its brand image.
"There were startup brands entering the tahini and halvah space in a more modern way and that was sparking interest from consumers," said Joyva CMO Farrah Bezner. "The other part was just wanting to make sure that this brand that was so rich in tradition and had been passed down from generation to generation had an opportunity to survive for the next 100 years. The team understood that in order for that to happen, there were some changes that have to be made."
From a product standpoint, one of the first changes the company made was with its ingredients. Joyva reformulated its ingredient list by removing artificial dyes and replacing them with natural coloring. Bezner said that Joyva reformulated its ingredients in response to shifting consumer demands, but the products' tastes are still the same.
The company's new packaging began rolling out in the last couple of months and is already available in select stores. Joyva opted to keep the vibrant colors from its previous packaging, but it changed its triangle logo to a new design inspired by the bowtie-shaped logo used during the brand's earlier years. It currently has 27 retail SKUs and its products are available in over 10,000 national and independent retailers throughout the U.S., including Target, Harris Teeter and Safeway.
Back in its early years, Joyva had a prime billboard spot in Times Square. But between then and now, Bezner said Joyva barely did any marketing.
The company is slowly starting to change that now, starting with the launch of its brand new website Joyva.com, which went live in August. Joyva doesn't sell products through its website but rather uses it to tell the brand's story.
The site now emphasizes Joyva's legacy through behind-the-scene videos and photos from the brand's archive. It just recently partnered with slam poet In-Q to narrate a poem on Joyva's hero video, and it plans to partner with more brands and artists in the coming months.
While it is common for consumer product companies to rebrand or relaunch, it's a rare instance for them to wait as long as a century, said Dan McCarthy, assistant professor at Emory University's Business School. By reinventing their brands, McCarthy said that they get the opportunity to reach new audiences. "Consumer preferences have been evolving since [Joyva] started so long ago. [Relaunching] gives them a chance to catch up," he said.
Rebrands appear to be a popular move among legacy brands these days. Arts and crafts retailer Michaels as well as off-price retailer Nordstrom Rack are plotting major rebrands in an attempt to reinvigorate the brand and appeal to new demographics. McCarthy said the challenge for legacy brands when they rebrand is to ensure they don't alienate their current customers.
Joyva is months away from completing its relaunch. Joyva's Bezner said that executing the relaunch smoothly is the company's main priority for the rest of the year. By the end of the year, it also plans to launch new products.
"There are very few family businesses kind of left and working along," Bezner said. "The bigger, ultimate goal specifically for the tactics that we're doing is to just be the brand that our consumers know and love and want us to be, while also being able to resonate with a new audience and grow this business."